The Meal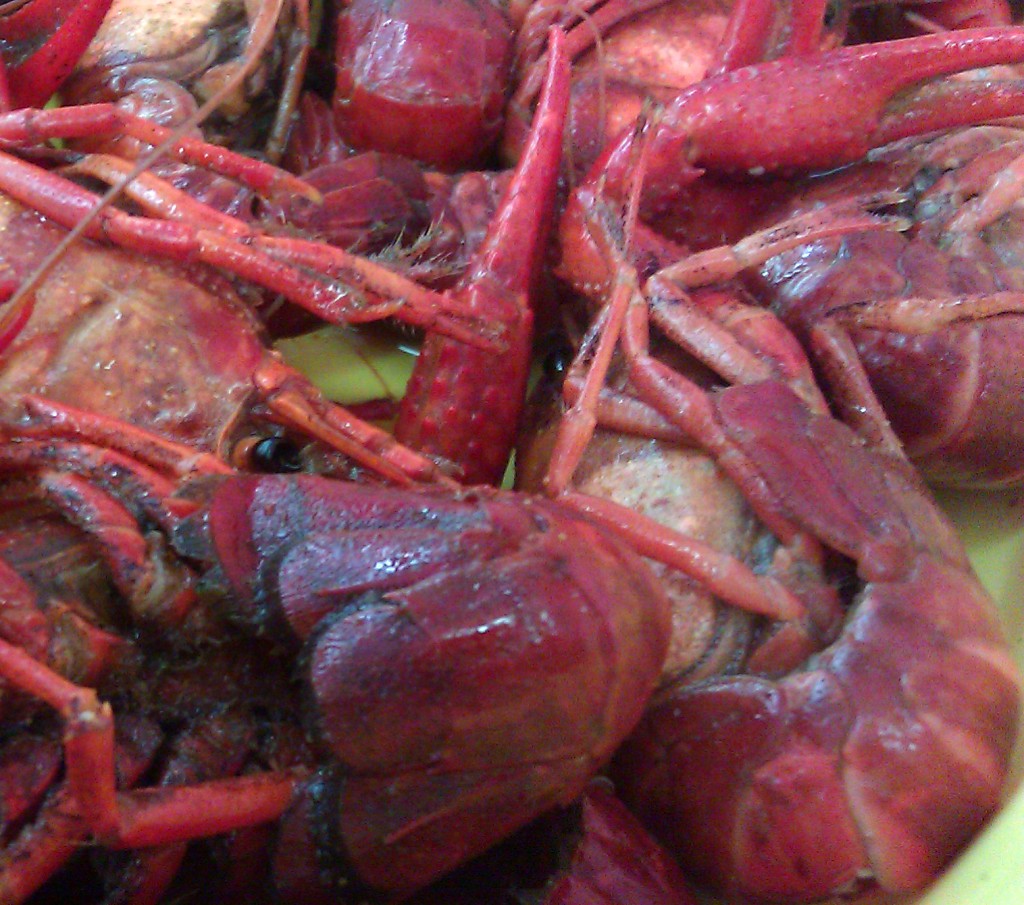 The perfect meal. I ate it the other day, at a gas station in a town called Kenner, Louisianna. I stopped in at the Check in Check out Deli, five minutes up the street from the New Orleans airport because I'd heard online it had decent po-boys and I could kill two birds with one stone by filling up the rental car before hopping my flight home and grabbing one last sandwich for the flight. Lucky me, the wait for brunch at Stanley was too long, so I just took off early to the airport, leaving me plenty of time to enjoy a leisurely afternoon. As I drove up, there hung a plain lettered sign declaring "Boiled Crawfish." I couldn't resist. I pulled over and sidled up to the counter, where possible the world's nicest gas station attendant talked me through the (rather uncomplicated) process. I ordered a pound of crawfish and sat down to await its delivery.
I had no idea how much a pound of crawfish would be here. At home, we order a few 'pounds' each from the local crawfish joint. Here, I was delivered a hula-hoop size tray, a-crawling with red specimens ranging in size from my thumb to my entire hand. They truly embodied their 'mudbug' nickname, and at times their appearance almost made me slow down. Yet, that giant yellow tray, split up into already-sucked-heads and shucked tails on one side, an ungodly amount of spicy shellfish on the other, held my attention rapt. I made my way through the pile, the single ingredient, $3.50 worth of traditional Louisiana crawfish. The Professional Bowling Association championships blared from a TV over my head, catching words here or there, but really, never taking my eyes off the prize. My lips burnt by bug number three–and continued to until well into the second leg of my flight.
The incredible exactitude with which the meal evoked the specific place, the mid-day, rural Louisiana, gas station, without any hint of irony, sarcasm or, like so much of New Orleans, an eye toward the tourists, are what made the meal perfect. That said, the flavors themselves were dead on. They haunted me the next day, as I began to plan that night's dinner.
The Recreation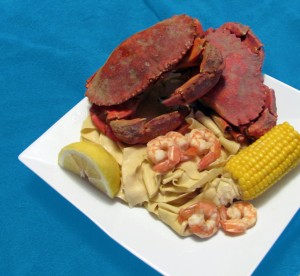 At home, the burn of the perfect crawfish boil no longer tingling my lips, it was still burnt into my mind. In front of me as I ate was a banner advertising the combination of Zatarain's and Budweiser for seafood boils. In the words of one of New Orleans' own, I decided to 'kick it up a notch.' Hanging out in my fridge was a motherload of beer, supplied to me by New Belgium (makers of the famous Fat Tire Ale) through the Foodbuzz Tastemaker Program, awaiting its turn to become a recipe. As I unpacked my freebies from the conference I'd been at, I tossed the Zatarain's Crab Boil in a Bag and a few lemons into a pot of water.
Then it was onto the hard work: picking the right beer for the boil. Just enough flavor that the beer adds to the boil, not enough that it would overwhelm. The 1554 Black Ale, which I hadn't had before was the winner. I added two bottles to the pot, along with a generous heap of cayenne pepper. Then, in went the two crabs (I realize not everyone has two crabs hanging out in their freezer that they caught last summer. But I do). In went the corn. In went the shrimp. Just a few minutes on boil, then resting in the water for ten more.
While I did this, B skilfully rolled beautiful ribbons of pasta, which we boiled in the same spiced beer broth, and we served the seafood over top.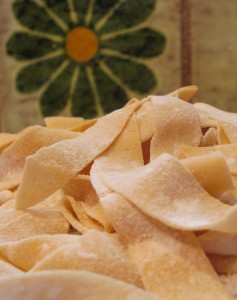 Beer Seafood Boil
Ingredients
2 bottles Beer--New Belgium 1554, if you please
Large Pot Boiling water
2 Lemons
1 Bag Zatarain's Crab Boil in a Bag
1 pound frozen shrimp
1 ear per person Corn
Generous handful Salt
To taste Cayenne pepper
Instructions
Bring the beer and water to a boil, then add the bag of crab boil, and the lemons, quartered. You can also add salt and cayenne pepper at this point, or wait and put it on the finished dish for a bolder flavor
After two or three minutes, add the corn. It will take the longest to cook.
When the corn has begun to soften, add the crabs. Our little red rocks took less than 5 minutes total.
The shrimp should be in for only 2 minutes.
Once these times are up, leave the food all in the pot, and let it sit for ten minutes.
Strain out the fish and serve over buttered noodles.
There was also a failed attempt to make beer and seafood boil sorbet involved, though that's all I'm saying about that.