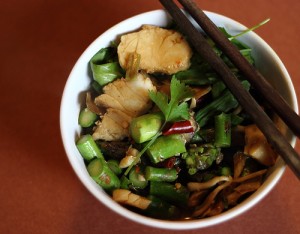 "You'll like it." These were the words that I was told the first time I tasted the Sichuanese dish known as water-boiled fish. That phrase may just be the most epic understatement in the history of my life, up there with descriptions of me such as 'a little competitive' and the usual elementary school report card 'can be bossy.'
For once, I had found a Chinese restaurant that 'got' me. That didn't dumb dishes down when they saw my skin color, that didn't come running with a fork and a glass of ice water at my pronunciation of Chinese words. No, Chiang's Gourmet had made a dish suggestion that let me down a path paved with Sichuan peppercorns, ending with a dip in a pool of fire-breathing broth.
It was only fitting-I was born to love Chiang's. It sits on the location of another, now long-gone, Chinese restaurant (it was a Thai place between the two). Peking House, according to family legend, is the restaurant that we went to on the way home from the hospital when I was born–or later that night, depending on who you ask. Thank god my parents have excellent taste. What if they'd gone to McDonald's? Would I be sitting on this blog right now, telling you of my love for Filet-o-Fish?
As I wound my way through Beijing, I judged each of the Sichuan restaurants (of which there were many) on their execution of this dish. Then came the moment of truth: It was time to make my own water boiled fish.
I'll admit, it sounded intimidating, but just try to tell someone who's 'a little competitive' and 'can be bossy' that a dish is too hard. Just try, I dare you. I bet I can do it first.
So I made it. Once, twice, three times. Tweaking, playing around, eating. It was never exactly right, but it had the elements and it satisfied the craving. It takes some work and some time to make. So one day, returning home with little time and less patience–don't you ever try to get between me and my next meal when I'm hungry–I took those craveable pieces from the dish and created a new one. (Stir-fried) Water-boiled fish. Half the time, all the crave-satisfying flavor and simple as can be.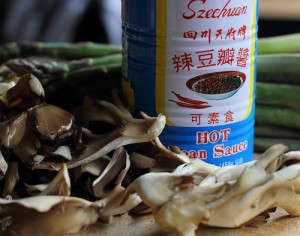 The key? You need this stuff – Szechuan Hot Bean Sauce. I'm sure if you have endless time, money and patience, this is something you can make. However, with 5 minutes and $1.99, you can buy it at your local Asian market.
The stir-fried version, aside from being quicker, can have a thousand variations. In this one I used asparagus and mushrooms. These two ingredients could have been noodles or rice, lettuce , cabbage or sprouts (as in the traditional version), peas, celery, you name it, if it will stir-fry, you can use it. Furthermore, you could substitute the fish out for shrimp or thinly sliced beef, lamb or chicken. Basically, this is choose-your-own-adventure stir fry. The recipe shown here, this is what was in my fridge, and all I can tell you is that it tasted damn good.
---
[amd-recipeseo-recipe:4]