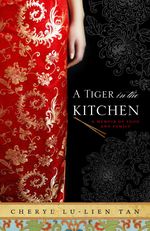 My eye was caught by an invitation that floated through my inbox–meet the author of a memoir about Singaporean cuisine. My mind flocked to everything I knew about Singapore's food: Crab, spice, a mix of Indian, Chinese and Malay. Delicious, complicated flavors served at hawker stands. I was already drooling as I RSVP'ed yes, I'd come learn about A Tiger in the Kitchen
!
With an exclamation point.
I couldn't have been more glad I attended the event, met the author, and read the book, which I devoured in the hours following the meet-up. Despite my apprehension about anyone who admitted to having not liked cooking, the author crafts an entertaining and inspirational tale of the journey from eating out every night to craving kitchen time. So without further ado, I present to you my treatise on why you should read this book today.
5) You are on the fence about planning a vacation:
Within a few chapters, your mind will be made up and you'll be clicking around for best prices on the next flight to Singapore. Author Cheryl Tan, who has lived in the U.S. since college, clearly still has pieces of her heart with her native land. Her appreciation for Singapore's unique mix of languages, traditions and people, shines through in her cravings for home cuisine and comforts throughout the book. By the end of the book, you too will experience pangs of longing for pineapple tarts and popiah (the local version of spring rolls).
4) You need a new bestie:
Either reading the book or meeting her in person, you'll want Tan to be your new best friend. In person she was friendly, laid-back and as interested in what everyone else had to say as she was in talking about her book. In the book, you learn of her perfect life as a fashion journalist, flitting about from runway shows to fancy restaurants–and when that ended, her new life, learning from her family the ways of the Singaporean kitchen. You want her to be not only your best friend, but maybe your baking buddy too.
3) You're over chef memoirs:
Not all chef memoirs are terribly written, but they tend to be more story focused–from the rock 'em, shock 'em style of Bourdain
to the moving, if awkwardly written Life, on the Line
. This, however, is written by a journalist. Tan's experience writing for the Washington Post and other high level papers shows through in the crafting of her prose. One can occasionally feel the newspaper style essay creeping into her narrative style, making it a little different than the usual memoir. Each scene is set, decorated and described so that you can understand what's happening, whether or not you have any clue what if feels like to make jam with three aunties in the courtyard of a Singaporean kitchen.
2) You suck at cooking (or, in my case, baking):
Watching Tan make the transition from noob in the kitchen to the titular tiger, makes you think that you can do anything. Judging from my apple pie experience, this is not, in fact, true. Regardless, Tan's adventures, from bumbling to baking, make you rethink your assessment of your own kitchen skills. It might even get you off your butt, if it's been too long, and into the kitchen.
1) You are dreading going home this holiday season:
If you're not happy about hopping a plane and getting subjected to mom's nagging and grandma's grammar corrections, this book could make you rethink it. Tan's epiphanies about how much she learned in this process, from her aunts, mother and other relatives, and about how she regrets not learning these things from those who were already gone will inspire anyone to jump into the kitchen at the next family gathering.
Have I convinced you? If so, here's the link to find it on Amazon: A Tiger in the Kitchen: A Memoir of Food and Family
.
*I did receive this book for free from Cheryl Tan and her publishers, however, I was under no obligation to write about it and all thoughts are entirely my own. If you have any questions, please see my Ethics page.