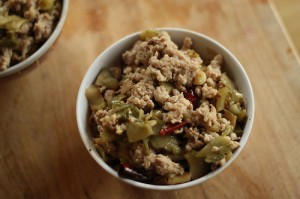 Dan dan noodles, or dan dan mien, is one of my favorite dishes in the whole world. In the five years since I first sampled it, I've tried it everywhere I could find it, in my own city, in Flushing Chinatown in New York, in Beijing, as close to the source as I could get, and even in Korea, just for good measure.
The first time I ate dan dan mien with hand-shaved noodles at Seattle's Seven Star Pepper, I remember thinking it just might be the best thing ever invented. Thick ropes of uneven noodle dough swam about in a sea of peanut sludge, spiked with islands of pork. Later, I would learn that this really wasn't dan dan mien at all.
Despite the shifting form of the illusive 'authentic' version, I've rarely encountered a rendition that I haven't loved: Noodles, spicy, oil, pork–all good.
Somewhere in my flavor quest, I developed own personal ideal dan dan mien. It has the spice and punch of the true version, the thick al dente noodle of the Seven Stars version. Unfortunately, as far as I can tell, nobody makes my version; until recently it may have lived only in my own head. So I set out to solve this problem by creating it myself, in my own home.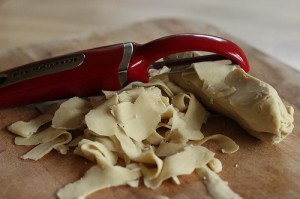 But wait! Before I could appropriately create spice-zinging pork sauce to pour over my noodles, I first had to make the perfect noodle. Searching all my cookbooks, all the internets (all that I could find), I couldn't find the exact recipe and technique for which I was looking.
I managed to deduce a great noodle dough (with many thanks to No Recipes, for the ramen noodle recipe from which I derived it), after making a lot of terrible ones and could move on to the next problem. Without the secret squirrel skills of a trained Chinese chef, I wasn't sure how I would get that uneven, hand-shaved feel–my first attempt, holding a knife in one hand and scraping the edge of the dough, as the trained chefs do, was a miserable failure. And so, as the picture here demonstrates, I improvised. Holding a chunk of dough in one hand, and scraping down the edge with a vegetable peeler. As someone in possession of 3 vegetable peelers and two mandolines, I will tell you that this one and a similar one were the only ones that worked–the mandolines and the y-shaped peeler did not get the right thickness or width.
Then, there it was, when I finished–my favorite dish, my long quest for it's perfect version, over. All I had to do was make it myself–many times–until everything was perfectly tweaked. So, as I give you my recipes, my versions, I encourage you to make your tweaks–as always, mine will lean to the spicy end, yours might not.

Dan Dan
Ingredients
1 Tbsp Roasted, crushed Sichuan peppercorns
1.5 Tbsp Tahini or other sesame paste
1 Tbsp Light (not lite) soy sauce
1 Tbsp Dark soy sauce
1 tsp Chinese red vinegar
3 Tbsp Chili oil
1.5 Tbsp Peanut oil
1 Tbsp Minced garlic
1 tsp Minced ginger
5 Dried chiles (de arbol or similar), de-stemmed
1 tsp Whole Sichuan peppercorns
4 ounces Ground pork
1 packet/3.5 ounces Sichuan pickled vegetable
1 Tbsp Shao Hsing Wine
Instructions
Whisk the first six ingredients (through chili oil) together and split between two serving bowls (or more, if it is to be an appetizer portion)
Add noodles (see hand-shaved noodle recipe or substitute a noodle of your choice-8oz total) to bowls
Heat a wok, then add the peanut oil, and when it is extremely hot add the ginger, garlic, chiles and peppercorns.
Stir constantly--if you stop it will burn and be ruined
When fragrant (45 seconds or so) add the pork.
Stir, stir, stir (they don't call it stir frying for nothing).
If the pork starts to stick to the pan, that's your cue to add the preserved veg. If not, do it after about 2 minutes.
Continue to stir-fry until the pork looks cooked.
Add the xiao shing wine, it will unstick everything.
Keep stirring for another 20 seconds or so, then top your noodle/sauce bowls with it and serve.
Dan dan mien is perfect for a fall evening–other than starting the noodle dough ahead of time, it can be done in thirty minutes before sitting down to eat, and will leave your kitchen warm, feeling loved. It will also leave your mouth buzzing with spice and Sichuan peppercorns.
A few notes:
1) This recipe is based on a combination of Fuschia Dunlop's recipe in Shark's Fin and Sichuan Pepper
and the one from All Appetite for China. Each of these two recipes was okay, but I was finicky about them–too salty, too meaty, not quite Goldilocks' perfect version. So this recipe owes a lot of credit to these two versions.
2) This is SPICY. With a vengeance. If you'd like to make it milder, remove the chiles, and sub out some of the chili oil.