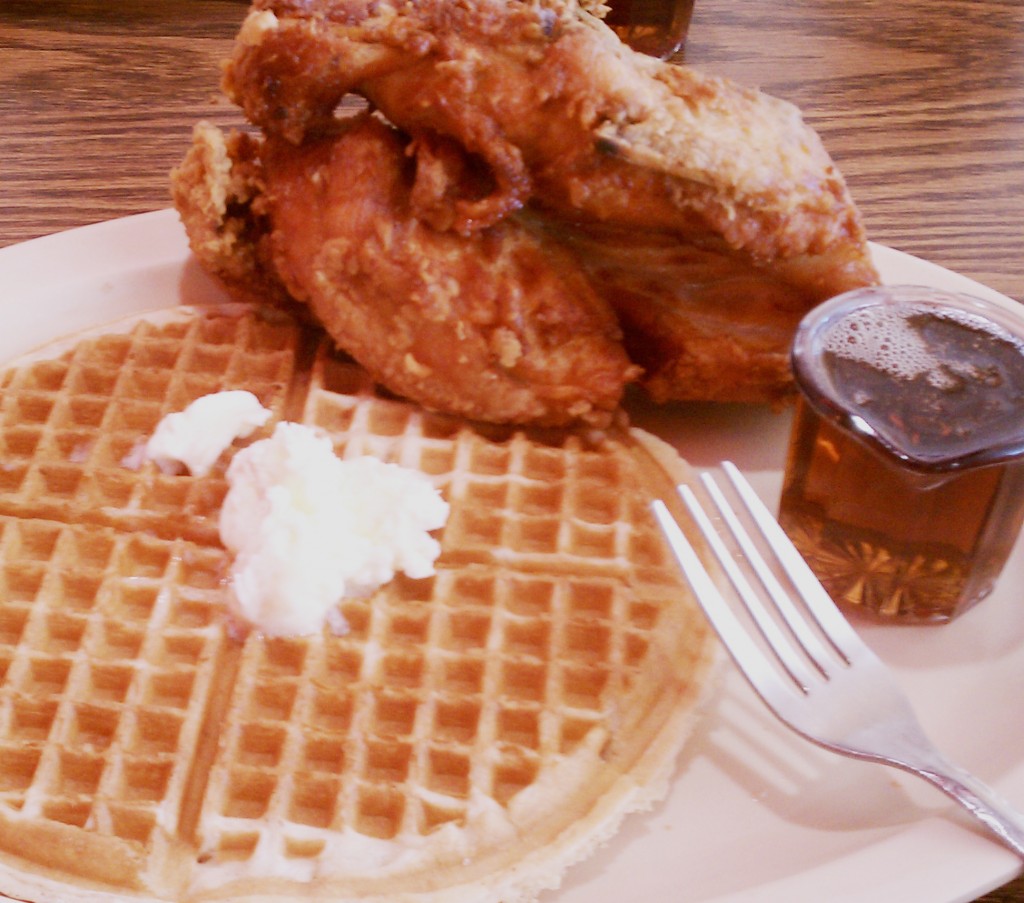 This picture, folks, is the ultimate in chicken and waffle cuisine. Not familiar? Neither was I. I was dubious, to say the least, as all of my friends urged me to try Roscoe's House of Chicken and Waffles while I was on vacation in Los Angeles. I like fried chicken as much as the next person, and well, who can dislike a waffle, right? But together…I narrowed my eyes in wary judgment. How wrong I was! Now, I'm reduced to chasing this delicacy up the coastline, in search of the same succulence. Seattle restaurant owners, I issue you this challenge: Make a chicken and waffle dish that rivals Roscoe's.
Roscoes House of Chicken and Waffles
We turned into a tiny parking lot, filled with a collection of cars that could just as easily have been found on blocks in a nearby yard. A few people spilled out the restaurant door. Quite literally, I mean they spilled–my eyes again narrowed in judgment. Not that having a few strung out junkies in front has ever stopped me from eating in a restaurant, I just wasn't sure what I was in for.
Then the surprises started. Somewhere between your local Denny's and a low brow steakhouse lies the decor of the this 'House' of chicken and waffles. There are more chicken and waffle combinations on the menu than I've got fingers on both hands. I'm often stumped by what to order because I don't know what I want. Here, I knew I wanted chicken and waffles but how many legs, how many thighs, what kind of gravy-or maybe just syrup. Dare I say, this overload of information was causing me to waffle?
Honestly, I don't remember what we chose. There was chicken, there was waffle, there was syrup, there was gravy. It was all a blur of flying bones and tiny little squares. We demolished it. How has nobody ever told me how amazing chicken and waffles are?? Oh, wait. They did. I promise to listen next time.
Now, when I tell people it's their turn not to believe me. I describe how the thin crunch of the waffle edges mirrored that of the chicken, with both giving way to soft interiors. The salty and sweet coming together in some sort of marriage, glued with thick gravy and sticky syrup. Quick melting butter bringing the orgy of un-health to a slippery crescendo.
So, as expected, I went in search of such a culinary delight in my own area.
Try #1: Barrio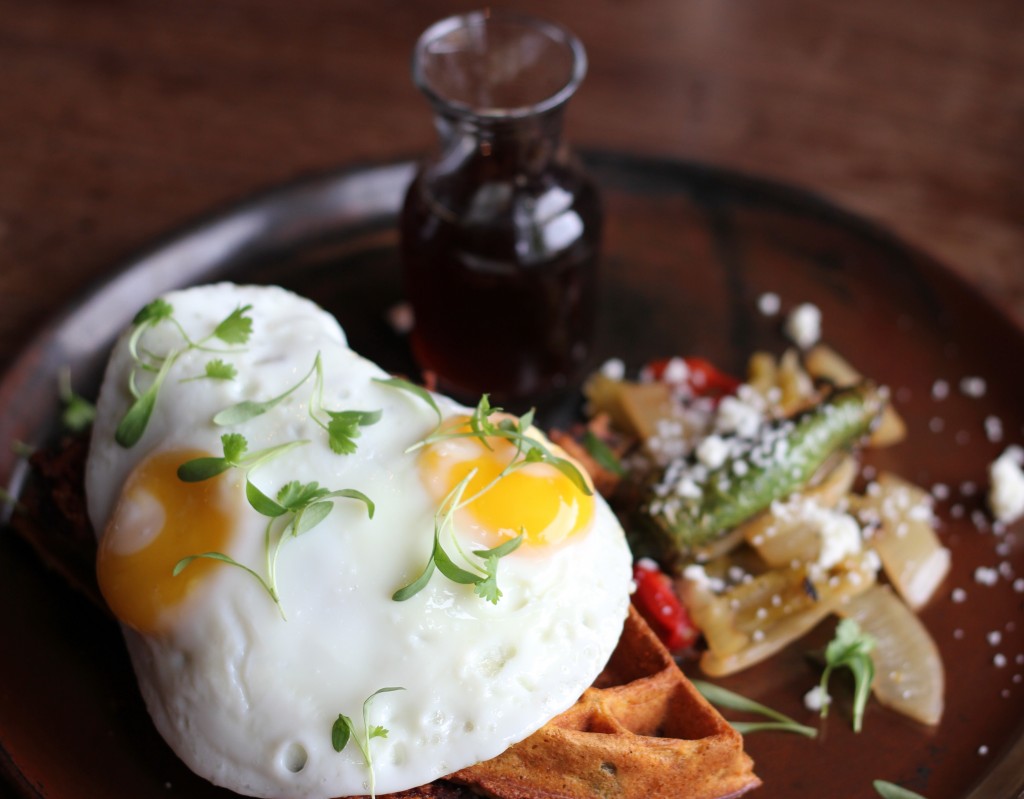 Shortly after returning from LA, I received an email inviting me to dine on Barrio's new menu. I have been there before and again, so I wasn't sure. Until a menu item caught my eye:  Fried Chicken & Poblano Waffles, with fried eggs and chipotle-maple syrup. There it was! I hadn't even had to look for it. We went, we chickened, and we lived. It was a good meal, but it wasn't quite what I was looking for. A thick, soft waffle was great to eat, but lacked the light crunch for which I had hoped. Don't feel too bad–while the chicken and waffles weren't soaring above expectations, we also located the Pork Belly Benedict with chile braised pork belly, toasted brioche, poached eggs, habanero hollandaise sauce, fresh tomato salsa and fried jalapeño served with papas bravas. This actually hit many of the same notes we had hoped for in the chicken–salty, sweet, overwhelmingly delicious…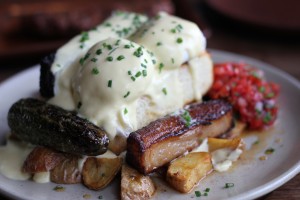 Try # 2: Kingfish Cafe
At the time, we lived next door to Kingfish, but rarely went. People love it, the line was always out the door, and yet, we went maybe twice in a year of living next door. However, one of those two times was to try the chicken and waffles (the other was a 'cake for dinner' incident). The chicken, as its reputation preceded it, was as wonderful. It has a lightly crisped skin and is more about the juicy meat than the crunchy skin, which is fine, though, I learned, made it less successful for the holy grail combo of chicken and waffles. While the waffle itself was also quite good, the match wasn't right and the gravy was both bland and yet overwhelmingly flavored with dried herbs. We moved on.
Try #3 and 4 : Captain Black's and Local 360

An entire bar, purportedly devoted to only two things, chicken and waffles and being tiny and hip? Well, it seemed quite successful at being tiny and hip, as we squeezed onto the bar for Captain Black's happy hour good times and PBR tallboys were had by all. Local 360 was an entirely different scene–I happened to be there for a work lunch. Everyone ordered nice business lunches, salads and sandwiches. I looked around and requested my chicken and waffles. Yes, I'll admit that it was lightly awkward, grubbing down while everyone talked shop and munched politely, but that, dear readers, is what I do for you. Moving on, the results. I grouped these two together, because quite frankly, nothing sticks out about either of them. It was reasonably good chicken and reasonably good waffle, both served together on a plate. But the holy grail was left unachieved.

At this point, I began to think that really, only Roscoe's could make a decent chicken and waffles. They knew a secret, and nobody else understood. To fill my need, I would have to fly to LA. Then, just before giving up, I found chicken and waffles within driving distance.
Screen Door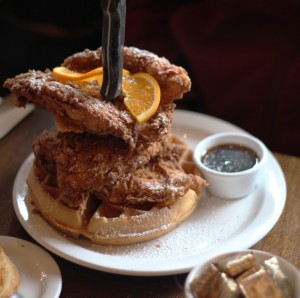 There it was, just three hours to the south, waiting for me in Portland. It proved my conclusions wrong. Not only could someone do a fabulous chicken in waffles outside of Los Angeles, they could do it in a totally different style. Screen Door's chicken and waffles have thick, crunchy skin, soft, tender meat and only a thin veneer of crisp on the waffle. Yet, somehow, the sum of its parts come together into that magical chickenandwaffles, all one word, that I had been seeking out.
So, Seattle restaurants. I issue you this challenge: Go forth and make chicken, go forth and make waffles. Then put them together into a dish that comes together and makes the breakfast gods sing.
Los Angeles has it. Portland has it. Dear Seattle, why can't we have chicken and waffles too?