Warm up a chilly fall Monday morning with the scent of bread baking, the sound of wine pouring and the taste of dim sum on your tongue. A quick round up of all things delicious, in my kitchen, in my city and around the world…
First and foremost: It's all about ME!
I have a new column on the Seattle Weekly's Voracious Blog: On Monday mornings, you'll now find my recommendations for where to eat on Monday nights (when everything else is closed). Check out my first column, up today, on the Leary Traveler.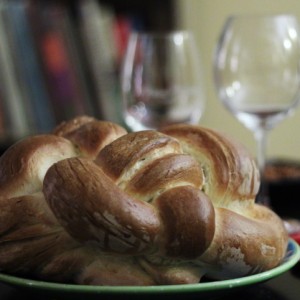 Fresh Baked Challah
The recent Jewish Holidays got me into a baking mode and summoned all of my recipe-following strength to put together this beauty. It is directly out of Beard On Bread
and I highly recommend it. I found the book hidden amongst microwave cooking secrets and low-fat diet tomes, nestled on a high shelf at my local Goodwill, but you can also buy it on Amazon
. The recipe made two loaves, I wove them into one round challah. And by wove I mean, sort of wove and then folded all the ends underneath so it looked great on top. Nobody flips a challah, it's okay.
Chocolate Wine
Lillian, a food blogger and recent transplant to our fine city, invited me to join her for a 'comfort food event' at which I sipped on something called a 'chocolate wine'. Distracted by all the amazing food (Ethan Stowell's Pasta Fagioli was by far the favorite–it was like sipping soup through a sieve of Parmesan), I didn't think much more about it. Until…Three days later, I found myself at the Northwest Chocolate Festival. The festival itself (or rather, the preview event I was at) was fairly small, but full of incredibly good chocolate. I found it to be much better organized and more focused than previous, similar events. And they had the Chocolate Wine.
It was as good as I remembered it being from the previous event. I'm not huge on chocolate–I'd say I like it less than 95% of women–and yet, somehow, this wine spoke to me. It fit a niche that few wines do: Light enough to drink with ice cream, yet heavy enough to be dessert in its own right. Similarly, I was surprised at how cleanly it drank. Somehow I expected a sugary residue on my tongue, a thick coating, like after drinking hot chocolate. The chocolate flavor, while definitely present, wasn't overwhelming, and really loaned a richness to the wine. I was happy to have encountered it at both events, and if you're eating at my house in the near future, you're likely to encounter it yourself, once I figure out where to buy this cool new (local!) product.
New Dim Sum in North Seattle: JB Garden
Hey, guys, did you know I love dim sum? As an ardent lover of this Chinese style brunch, I firmly feel it is part of my duty to help the people of Seattle to locate any and all viable dim sum. So I took it upon myself to scope out JB Garden, a new hole-in-the-wall dim sum takeout shop at the corner of Greenwood and Holman Road. The verdict? They've got some good and maybe even more importantly–unique–stuff. While the curry chicken baked bao was disappointingly, overwhelmingly flavored with some sort of curry powder/bouillon cube mess, everything else was great. All of the baos had crisp, flaky crusts, and all of the other fillings were great–the purple paste inside the sweet taro bun was a favorite. I was also impressed at the big chunks of meat inside the crunchy taro balls. The Vietnamese style Banh Bao (steamed meat filled bun) was perfectly fluffy, releasing wisps of meat scented stem as you squeezed it. The selection was fairly small at 10:30am when we arrived, so I'll have to (it's a rough life) be back to check out more, but I will say one of the best parts? More dim sum than two big eaters could finish, (I believe it was 2 egg rolls, 3 bao, 1 sticky rice and 2 taro puffs), plus a large can of coconut water came to the whopping grand total of…$9. Um. These things were huge. I can't explain. I wanted to give him more money. The two of us have ran up dim sum totals of over $50. Often. Could. Not. Compute.