From the Canadian border straight south to Salem, Oregon, there is Mexican food to be found right off the highway. Food, which, even if not dead-on authentic, beats the ever-loving grandma jeans, diner cleanliness and canned mushroom soup off any other road food you'll encounter. As might be expected, the food gets better the further south you go, which of course makes me want to commit to continuing this series with an episode 2: Salem to Sacramento. If only I had occasion to ever be in Sacramento. Do things happen in Sacramento? Regardless of the eventfulness of California's capitol, there is, despite everyone's incessant whining, pretty terrific and on occasion quite authentic Mexican food here in the Pacific Northwest. Here's where to find it:
La Gloria Market, Bellingham, WA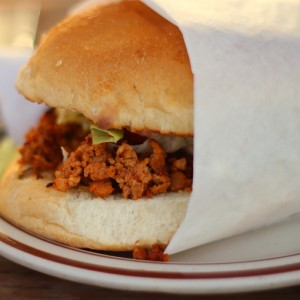 For quite a spell, Bellingham's only food stop for us was the food court at Bellis Fair mall. In recent years we've slowly discovered an amazing Mediterranean market (though rather inconveniently closed on Sunday) and the beer at Boundry Bay Brewery. I won't vouch for their food, but a nice brew makes for a great stop for everyone but the driver.
Now, though, much to the delight of my Canadian friends who claim Vancouver couldn't find a decent taco if it drizzled salsa in Stanley Park, the secret is out. The place to stop in Bellingham is just east from the Bellis Fair I-5 exit and it's called La Gloria Market. There is an actual market here, which is worth a gander itself, stocked full with giant flat sheets of chicharrones, crispy pig skin, and little jars of amazing Mexican candy. Next door to the market is the restaurant, where you'll find all the usual suspects–tortas, tacos, combo plates and the cream of the crop, the treasure to take home, the pre-made tamales.
La Gloria is solid, fairly authentic Mexican–it does everything right, but it doesn't drop your jaw. If you're heading north from Seattle, I recommend you save your stomach space and hold out for Chinese food in Vancouver, but if you're taco-starved and salivating coming south, definitely make this your first stop.

Seattle Stop: La Conasupo
Not really an I-5 stop, since it's more than 5 minutes from the highway, and really it's in the city so it's not even road food. But this Mexican market holds a secret in back, and that secret is the most authentic, delicious Mexican dish I've eaten in Seattle. On most regular days, this hole-in-the-wall (pretty literally) serves up above average tacos and quesadillas. On Sundays, though, it comes alive. Not in a mariachis and white people making 'monos' of themselves with muchas margaritas way, but in a post-church, families of 11 or 12, serenaded by a guy on a tiny guitar kind of way. The food that everyone is crowded in to eat instantly transports me to being 19 and getting out of the car, not knowing why we just drove an hour out of the Mexican village I lived in, and sitting down just feet away from a grandma patting out tortillas from her wrinkled hands and eating one of the best meals of my life. Barbacoa. Right, like barbecue. Only instead of dried out, pre-formed frozen from Costco burgers that your uncle cooked to hockey puck consistency, this is a whole goat, cooked overnight, wrapped in maguey leaves in a hole in the ground. Order tacos or order the meat by the pound, and slurp down some consomme, soup made from the leftover juices while you're at it. La Conasupo is the only place in town I've found that makes this and day-um, do they make it well.
You'll find La Conasupo Market on Greenwood, just north of 85th st., Seattle WA.
 Centralia, WA: La Tarasca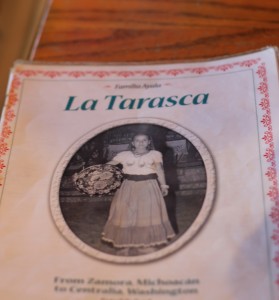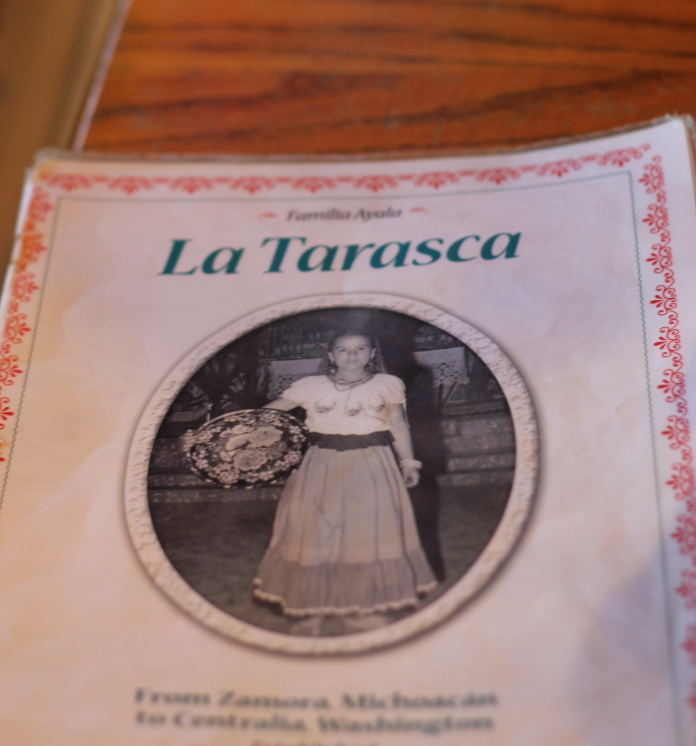 La Tarasca, I was told, has amazing, authentic food. So being the dutiful food blogger I am, I stopped in. Yes, the food is good. It's better than La Gloria but not as good as Taqueria Juquilita (Next stop, I'm getting there). But what drew me in and gave my little road food loving heart a quick squeeze was the service.
I felt a little like I'd walked into a cross between a Mexican family and a tour of an 'Authentic, real-life, honest-to-god MEXICAN restaurant!' Road weary and ready for dinner, the service was proud, like a mother introducing her children. The server, after ascertaining it was our first time, gave us the complete run down of the menu and made sure we knew what we were ordering and how it would come.
Honestly, I truly wish that I could even remember what we had. I can't. It was a while ago and it wasn't that memorable. That said, La Tarasca is still worth a stop from Seattle while soaring south, because of just that hospitality. Sit down, take breath, get your eyes off the road and on to some tacos.
Taqueria Juquilita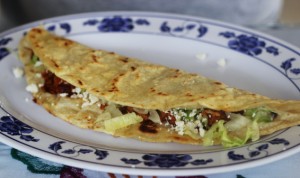 Unlike La Tarasca, I'm not recommending Juquilita if you're looking for a cushy guided tour to Mexican cuisine. No, Juquilita is for those who want the best food in the most authentic setting. You'll look around nervously, first at why there aren't people around, then for why there is no server. You may be frustrated at the lack of functioning restrooms or puzzled at the jewelry cases full of candy. But I can promise you this, everything will relax upon your first bite of quesadilla.
I've written about Taqueria Juquilita before. I stand by every word I wrote. On weekends, when they serve menudo, I still believe it could cure most ailments, but the rest of the time I get their quesadilla, a thing of beauty and an homage to the home-made. The chew of the tortilla, the spice of the meat, it all works together to show what enormous amounts of flavor can be brought forth from this tiny shack in Chehalis, Washington.
Google maps will give you the wrong directions, and you'll wander for a few minutes, in search of the tiny orange building and its big sign. You'll know you're in the right place when the handwritten signs talking to specials and happy hour have misspellings and errors in both Spanish and English. You'll wish you stopped at the 7-11 to pee before you came in. Then you'll bite into your meal and forget all about your worries.
Los Temos Taqueria in Salem, OR
There is no better compliment that I can give a place than to mention how far I would drive for their Birria. Los Temos, If I could convince a partner, I'd drive the 6 hours to eat your birria de chivo again.
The other day a friend of mine mentioned she never really thinks of soups when discussing Mexican food. If you've been reading this post, you can imagine my surprise: Consomme at La Conasupo, menudo at Taqueria Juquilita and now birria at Los Temos. Yes, they are on the stew-y side of that line, but really, they're soup, and to me, they are the heart of Mexican food. No, they don't come with sides of rice and beans, but these are the foods you want when you miss your mom, the ones that warm your soul when you had too much tequila last night, the ones that will make your shoulders slump back and your arms go slack.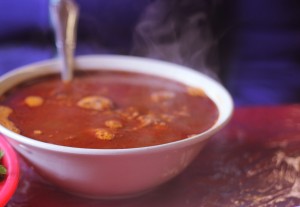 The birria de chivo, a spicy goat stew which glows red with chiles, that they serve at Los Temos is the epitome of those wonderful Mexican soups.  One breath over the bowl and a spicy steam will clear your sinuses. The broth is thick with the juices from the meat and bones–always, there are bones, for flavor. Peel a warm tortilla from the homemade stack, dip it in, use it to grab hold of a chunk of fall-apart tender goat. Yes, birria can be made with beef (birria de res), but there's something special, earthy, hearty about birria de chivo (goat). Something that grabs hold of you and rolls your eyes back into your head in pleasure. This is what food is meant to do and this is why I'd drive 6 hours just to have another bowl of it.
So the next time you've got a trip up or down Interstate 5, make sure you leave a little time for a snack–we might not be on the Mexican border, but we've got a few decent restaurants that can hold their own.