A quick round up of all things delicious, in my kitchen, in my city and around the world…
Cafe Nordo Returns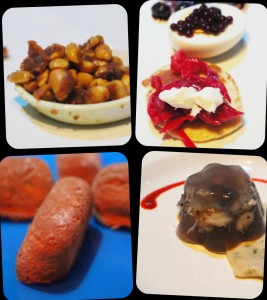 Savor Tomorrow is the latest dinner theater production by the folks behind Chef Nordo. They've abandoned the current time zone and boarded a plane in 1962, heading for Seattle for the World's Fair. In keeping with the Mad Men/Pan-Am trend in cocktails today, we were served a variety of delightful cocktails and 1962's 'futuristic' food. The show is interesting and as the plot unfolds the subtle digs at the food industry get better.
There's nothing about theater that I don't find greatly enhanced by the presence of cocktails and nibbles, so while I wouldn't commend them for leaps of greatness in gastronomy, I am the first to admit that it is a fun way to spend the evening, and in a delightful surprise since my first visit, the price has come down. For $55 total, you get five courses and cocktail pairings (down from $85 at their first production).
Blogwatch
In the opposite direction of future food, I bring you the most natural and beautiful of foods–and writing. My friend Tea has written this great article about our little journey through the woods in search of chantarelle mushrooms.
Speaking of great articles (just kidding), on the heels of my article on Mexican food in the I-5 corridor, my article on Seattle Weekly's Voracious this week is about Mexican food right here in Seattle, at a pop-up restaurant inside Sitka & Spruce.
Pie, Pie, MORE PIE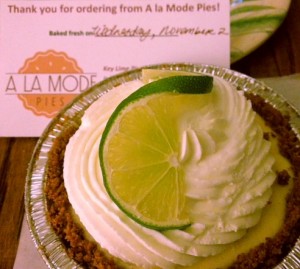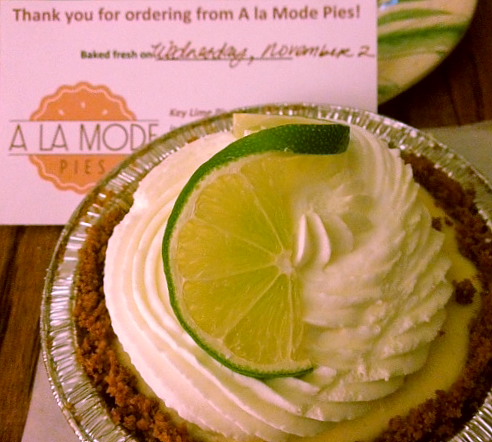 This lovely specimen landed on my doorstep Wednesday afternoon, courtesy of the brand new A la Mode Pie shop moving in just up the street from me. If you know me, I'm not big on sweets, but I'll be damned if this key lime pie wasn't one of the best things I've eaten in a while. I immediately regretted agreeing to share it with B and our dinner guest. That was clearly only enough pie for one person. I told my mom about it and she mentioned considering ordering one for Thanksgiving–oh yeah, peeps, it's coming up! Where's your pie coming from?
If you're looking to make your own pie, I have one more recommendation for you–Grumpy Pie, the roving pie princess of Seattle, is now offering lessons in how to make your own pie. She comes to your house, gives you personalized instructions, then leaves you armed with a pie in the oven and the skills to make many more.
Yet more Pie!
This Saturday, November 12th is Will Bake for Food, a food blogger bake sale that raises money for people who are not as lucky as we are to have access to food whenever they are hungry. While baking is not my forte, I do the press releases for these events each year. It's a great cause and an excuse to feel no guilt while stuffing your gullet full of great goodies! Stop by at the University Heights Center (next to the U-District Farmer's Market) and grab while the grabbing is good. You can exchange canned goods or money for the great food blogger baked goods. See you then!