A quick round up of all things delicious, in my kitchen, in my city and around the world…
The Chaffle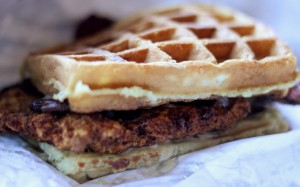 Remember when I told you all about Chicken and Waffles in Seattle? Well, a restaurateur responded to my challenge. Blue Moon Burgers invited me in to try their 'Chaffle,' a chicken and waffle sandwiched. And I'll be damned if it wasn't pretty darn good.
Act quickly though–it's only their burger of the month, so you only have until the end of November (that's next week, for those of you in December denial) to give it a taste test.
Squash on Tortillas
In my own kitchen, I've been brewing up a healthier fall treat: Squash on Tortillas. Homemade tortillas (from Maseca, corn flour available at most large grocery stores) are easy to pat out with your hands while thinly sliced delicata squash roasts in the oven (450 for 25 minutes) and onions caramelize on the stove (brown them lightly then add a teaspoon of honey for well rounded and expedient sweetness). Sprinkle the squash with salt and Mexican style spices (chili powder, cumin, oregano). Once all of the ingredients are ready, pile up in this order: tortilla, squash, onion, and a cilantro garnish. The sweet of the squash and the onions plays off the spice of the chili powder. A quick appetizer that looks like adorable canapés and tastes like fall in Mexico.
My little brother claimed he could eat 20 of these and I regret holding him to that challenge, because it resulted in my getting to eat fewer than I otherwise would have.
Did I mention I write for the Seattle Weekly?
Since I last updated you, I've test driven an Ethiopian joint in my new hood, spent time in a bar that was backed into by a taco truck, and had my heart broken by happy hour at a favorite lunch spot.
Stay tuned at the Weekly, next week I talk about my favorite dish to cure the wintertime blues.