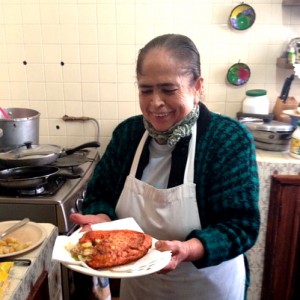 Among the oddities of my childhood were an avocado green washer and dryer in the kitchen of our house, a mild prodigy brother, and a constant parade of exchange students from as far away as New Caledonia. 25 years later and I still have no idea where New Caledonia is.
I do know where San Juan del Rio, Mexico is. It's a small town two hours north of Mexico City, from where hailed many of our exchange students. One of them has become a life long family friend, and on our recent trip to Mexico, his mother taught us how to make a Mexican sandwich called a Pambazo.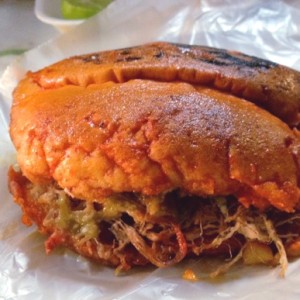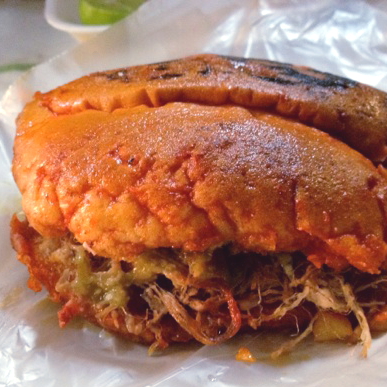 This is the third time I've visited Juan's family, and the first time I've seen Juan's mom (who I'm sure has a name, but in the twenty years I've known her, I'm afraid I've never learned it) step outside of her small kitchen. She was returning from church on Sunday evening when it happened, a tiny woman with the bark of a bulldog. Piece of life advice? Don't mess with a woman who had eleven children, she's seen it all. Crossing the courtyard of the grand colonial home that the family has lived in for over a century, she saw us, and asked us if we weren't hungry. We weren't. We'd spent the time they were all at church wandering the main square. She convinced us (as you might guess, it was not difficult) to come in for some hot chocolate.
"What did you eat?" She asked us. "Pozole, tamales, platanos, and a pambazo" I listed off, trying to remember the various delicacies we'd randomly ordered. "Que típico!" she exclaimed, proud that we'd eaten the specialities of her region. The pambazo had been new to me, and other than saying it was some type of sandwich, at this point I'm not sure I knew exactly what it was. Upon ascertaining that we had fully appreciated the pambazo, a chili-dipped and oil-fried specimen of the sandwich world, she began telling us how easy it was to make.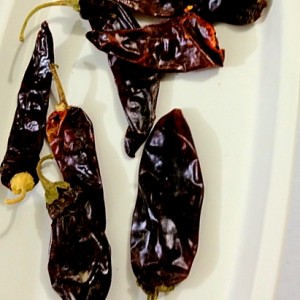 "A few of these chilies, that's all you need." While I smiled in relief that they were a commonly found chile in the U.S.–the guajillo–I looked at them dubiously. They did not look like a sandwich. I needn't have worried, as she wasn't done yet.
"You just soak them, deseed and destem them, then blend them with onion, garlic, and chicken powder." At this point, I'm not sure if she saw that I no longer thought this was simple or if she simply thought I didn't understand the Spanish anymore, but she started gathering props, slicing off how much onion I would need, tearing the garlic cloves from the head, grabbing the bread, pulling out a heaping soup spoon of chicken bouillon. Soon she had given step by step instructions on how to soak the bread in chili sauce before frying and stuffing it, creating the intriguing and 'típico' pambazo sandwich.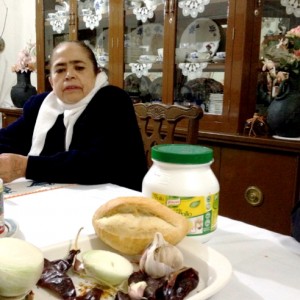 By this point, it was late into the night and we had to leave early the next morning to head home. I thought the pambazo lesson was complete–I jotted down notes from the lesson to remember: it's okay to use jarred beans, make sure you let it cool a minute before eating it, use shredded beef or sliced ham. I was confident that my lessons had paid off.
I couldn't have been more wrong. The next morning, we sat down to a final feast before departing. Tamales, chonchas (Mexican sweet baked goods), etole (a sweet corn beverage that accompanies tamales), fruit salad, and a huevos rancheros that has forever ruined any other version of the dish for me.
We weren't done though. All ears turned to the kitchen as the whir of the blender began. Juan asked what she was doing, and she replied "una muestra." A demonstration. I got up to check it out. Sure enough, pambazo makings were strewn about, my lesson was made hands-on, and soon two sandwiches were wrapped and tucked into our bags for a safe journey.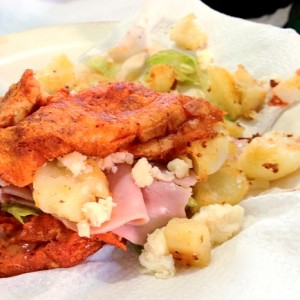 Pambazo Ingredients:
2 dried Guajillo chilies, deseeded, de-stemmed, and soaked
1/2 a medium white onion
2 cloves of garlic
1 heaping soup spoon with chicken bouillon powder
2 Bolillo breads or crusty baguette type rolls, preferably a day old
Small amount of refried beans, cooled (from can is fine)
Oil
Toppings–pick and choose as desired
1 handful queso fresco (Mexican fresh cheese)
Smattering of home fries or similar cubed potatoes
Sliced ham
Shredded beef
Lettuce
Avocados
Hot sauce
To make the pambazo: Blend the chilies, onion, garlic, and bouillon with a small amount of water, until you have enough bright red liquid to soak the breads. This is the same sauce, it should be noted, that you would use to make chilaquiles or enchiladas. A useful one to know.
Heat the oil in a pan large enough to hold the bread, make sure you have about a quarter inch of oil in the pan.
Cut the bread open and spread the inside with a thick layer of the beans. Shut it back up and soak it in the chili liquid for a few seconds, just until it's flavored throughout.
Fry the bread, making sure that you get a good crisping on both sides. In the demo this resulted in four foot flames, I'm not sure why. I'm happy to report in my house, this did not happen.
Drain the fried breads on a paper towel until cool enough to handle, then stuff with the fillings of your choice.