Normal is not what I do best. Thus my end-of-year top-ten list will be anything but. For starters, it's not ten items. Instead, this is a peek inside my brain, where cooking and reading and small creatures in the night all crawl about, mingling and mixing into a delightful stew of tasty tidbits. It's December, and while I'm more likely to look forward to the next year than backwards on the last, here's a few things that stuck in my maw, reminding me why the life of good eating is so wonderful.

Best non-cookbook: Grant Achatz's Life, on the Line
This is not the best written book ever, with somewhat amateurish writing further compounded by confusing narrator shifts and abrupt jumps. It's not for those seeking the secrets to Alinea's fabulous food. There are no recipes and only a skimming vision into the inspiration behind the culinary artistry of Achatz. Simply Achatz's autobiography, co-told by his restaurant partner, offers the most compelling story, the most fascinating inside glimpse to the path from Midwestern school kid and average teenage dirtbag to one of the world's top chefs. With a quick pause for quasi-terminal tongue cancer in the middle.
Best New Restaurant in Seattle: Mike Easton's Il Corvo
As I have written before, Il Corvo is a diamond in the rough. That diamond, the treasure, being beautiful handmade pastas served in simple, reasonably priced portions from the stairs of the Pike Place Hillclimb. The rough is the tourist jungle of Pike Place. In a part of town where the fastest path to big business is a flashy sign and a big view, Il Corvo's got neither. Barely visible from inside a gelato stand, the best view in the shop is not outward, onto the concrete stairs, but inward, over the marble pasta-making surface-cum-communal table, chatting with Mike Easton over the counter. It's with this view you'll catch a glimpse into the mind of a passionate pasta-man, charcuterie aficionado, and occasional amaro-maker.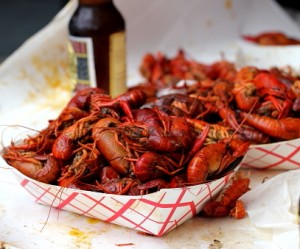 Food of the Year: The Crawfish
Whether I was eating them alone in a gas station near the New Orleans airport or chowing down with family and friends here in Seattle, this was the year of the crawfish for me. Yes, they're old hat for southerners, but for this Northwest girl, these are the things dreams are made of. Crawfish dreams had me driving across town for meals at the Crawfish King. Crawfish dreams had me buying crawfishing gear to dredge my own up off the bottom of Lake Washington. Most of all crawfish dreams keep me booking flights back to New Orleans, where the mudbugs are the most succulent and celebrated. I'm already counting down the days until March–the beginning of crawfish season and my next jaunt to the big easy.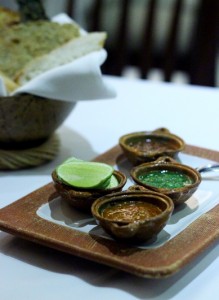 Best Meal: Izote, in Mexico City
It's hard to believe that a meal that costs $125 for two people is worth it in a town where your could just as easily pay $1.25 for a ten-sigh taco. Yet, something told me I should believe Cristina, of the blog Mexico Cooks, as she implored me to try it. When we finished the meal, I couldn't believe how cheap it was.
When the waiter set down the amuse bouche, I translated for Brett without thinking too hard, 'little corn cakes filled with shellfish mousse and sprinkled with shrimp dust.' I giggled at the end. Shrimp dust? A bit over the top, no? And then I bit in. I did not doubt another  move throughout the meal, downing roasted baby goat fried tacos on sticks and tamales so light and fluffy they had air bubbles for which a Parisian baguette would kill. Mexico City is a killer dining city on any budget, but if you can only squeeze in one high-end meal, this one makes it worth saving your pennies.
Best Event: Author talk with Cheryl Tan of A Tiger in the Kitchen
 at Dahlia Lounge
I had not heard of the book when I set off down the hill from my house to this event, organized by Myra, aka Seattle Bon Vivant. I would stop in, I thought, chat with friends, and head off to start my day. Little did I know that those friends would include the author herself, Cheryl Tan, and that I would want to sit and chat for hours. Her personality and enthusiasm for her book and the food contained within it are positively infectious and I could barely stop to breathe before starting the book. The event was simple, yet exactly what was needed. Pastries, coffee, and a table set up for a morning of gals gabbing about food.
I've already told you about the book itself, but since meeting her, I've chatted with Ms. Tan on Twitter, where she is as helpful and interesting as she was at the event. When I introduced her to a friend heading to Singapore, seeking dining suggestions, she flooded us with ten-plus tweets with insight, directions, and tips on eating in her hometown. She embodies the modern way to sell books–through personality and social media.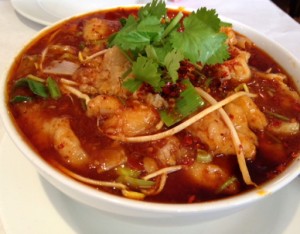 Best Stand-by Restaurant: Chiang's Gourmet
The place you keep coming back. The place where eating is easy: you know where to go, how to park, what the crowd will be like, and most of all, what to order. For me, Chiang's reclaimed that title this year. Yes, we moved to be closer, but now that we've been there more, I'm regretting letting it slip down the rankings. As I've told before, I was born to love the place, but what really keeps me coming back is the fish (pictured) and the noodles.
With the sad demise of Jack's, there is no handmade noodle so humbly wonderful as that of Chiang's. I'll hit Sichuanese Cuisine if I must, or go for the doughy strands at Seven Star Pepper, but Chiang's has what I need in a noodle. My favorite preparation is the pan-fried Shanghai style. If you drive by on a quiet afternoon, you can see the chef shaking flour from making them off his apron, into the alley. And on a rainy night, after a bad day, or even just as a reason to celebrate, the savory sauce complements the springy noodle and all is right with the world again.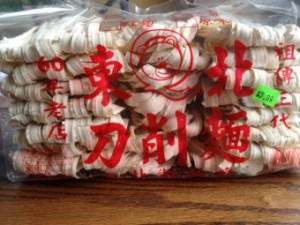 Best Grocery Product: Sliced Noodles
I searched the package today to locate the 'real' name of this product, but the only thing it says in English is 'Sliced Noodle'. While no dried noodle can approach the fresh made ones I described above, from Chiang's, this one lives in my cabinet and can be ready in about 3 minutes. That ease makes it a great breakfast option (sometimes in broth or with an egg), make shift dinner, and it goes perfectly into my Dan Dan Noodle recipe. I'd searched long and hard for the top dried noodle–chewy, thick, without dryness or doughiness– and this version, imported from Taiwan, is the best. I buy it locally from Ping's Food Mart in the ID or HT Market on Aurora.
So, that's it 2011. I'll miss you. But not too much, because here's 3 things I'm looking forward to in 2012:
Ping's (mentioned above) is opening an attached dumpling house in the ID
The up and coming trend of spirit flights (such as whiskey or tequila)–great for learning more about the spirit
This being the year I eat the new best meal of my life, wherever it might be…