Consider this the food bloggers guide to New Orleans. As I say on my About Page, being a GastroGnome is not about sitting idly on the front lawn of culinary cottages. Each year I tell my stories of trips to Beijing, Hanoi, and Mexico, but sometimes I leave out my favorite places right here in the U.S. No more! Here is the beginnings of my 'Eating America' series, featuring the best eating around our fine nation.
I make no secret of my love for the city of New Orleans. I first visited it while on Spring Break from college, in the pre-Katrina days, and the last few years I've made it practice to take my own personal spring break from work and get down there. March is my favorite time of year there, while Seattle is in its dragging days of 'winter will never end,' the magnolias are blooming in the south. The air is sweet and warm, not yet heavy with humidity and the stink of sweaty tourists. On this year's trip, Brett joined and I took the opportunity to revisit a few of my favorite foods and explore new ones.
Parkway Tavern: Bread Pudding (and other good stuff)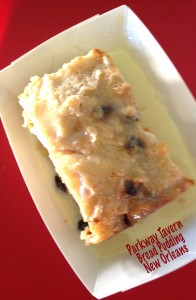 Eat dessert first, right? I've spent the last few years scouring the country for the best bread pudding. There are only two that I consider 'tier 1′ puddings, and one is the Parkway Tavern version (The other belongs to the Bon Ton Cafe, also in New Orleans, but their other food and atmosphere are much less good, so I don't recommend it).
Parkway Tavern's BP (as I like to call it for short–we're old friends) is a simple version, they don't over do it on the allspice (hi, Willie Mae's), or fancy it up with bananas (Dickie Brennan's Steakhouse, I'm looking at you), nor do they muck it up with chocolate. This is a pure, golden bread pudding lavished with a creamy rum sauce. Somehow the fact that it's served in a paper boat covered in plastic wrap only adds to its appeal.
The Parkway is a bit out of the French Quarter, but it's a quick cab ride (about 2 miles, though not very safe to walk), and once you're there, you'll want to make an afternoon of it. The Abita beers are cheap and flow freely, there's an enormous outdoor bar for enjoying the sun or a covered patio to watch it from afar. Inside the bartenders and other patrons are always friendly, and their po' boy sandwiches rank up there with the best of them.
Eat Po' Boys Till you Die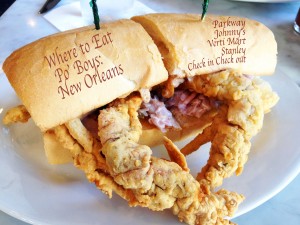 The po boy sandwich is a New Orleans classic and you'll see it, in some version, on almost any menu. Fancy restaurants have their pate and oyster versions, their gussied up soft shell crab (like the one pictured here, from Stanley), while often the best ones come from the strangest holes in the wall (see: Verti Marte). It's pretty hard to go wrong with a po' boy in New Orleans, so my best advice is to eat a shit-ton of them. That's the technical term, you know. Where to eat them? Well, Parkway Tavern (above) is a favorite, as is Johnny's (below) and Stanley (pictured). Verti Marte is worth it for the experience alone (leave lots of time), and they're open 24/7, which is endearing. If you're on the way to the airport, don't forget to stop at the Check in Check out Deli to tide you over for the flight.

Get your Money's Worth at Johnny's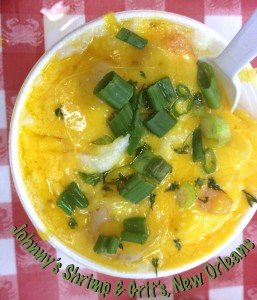 Johnny's has good po' boys, as I mentioned above. This most recent trip I learned they also have a great breakfast that might just be the best food value in the city. They open at 8am, but when we strolled by, the bread wasn't in yet, so sandwiches were a no go. Forced to order from the breakfast menu, we discovered just what $4.00 of shrimp and grits gets you. That would be one styrofoam bowl of grits so creamy you'd want to make ice cream out of them (or at least I would), topped with a handful of shockingly well-cooked shrimp. The real mystery was how do they not overcook the shrimp when they're set afloat in a raft of hot molten cheese? Who knows, but they were good. Accompanied by a $3 breakfast biscuit sandwich, it was more than enough for two people to be stuffed and caffeinated with the accompanying coffee for under $10. While Johnny's has long been in my po' boy rotation for being both good and located close to the CBD (Central Business District, where I prefer to stay), those sandwiches may now be accompanied by some other breakfast foods.

The Best Fried Chicken, Ever. Period. End of Story.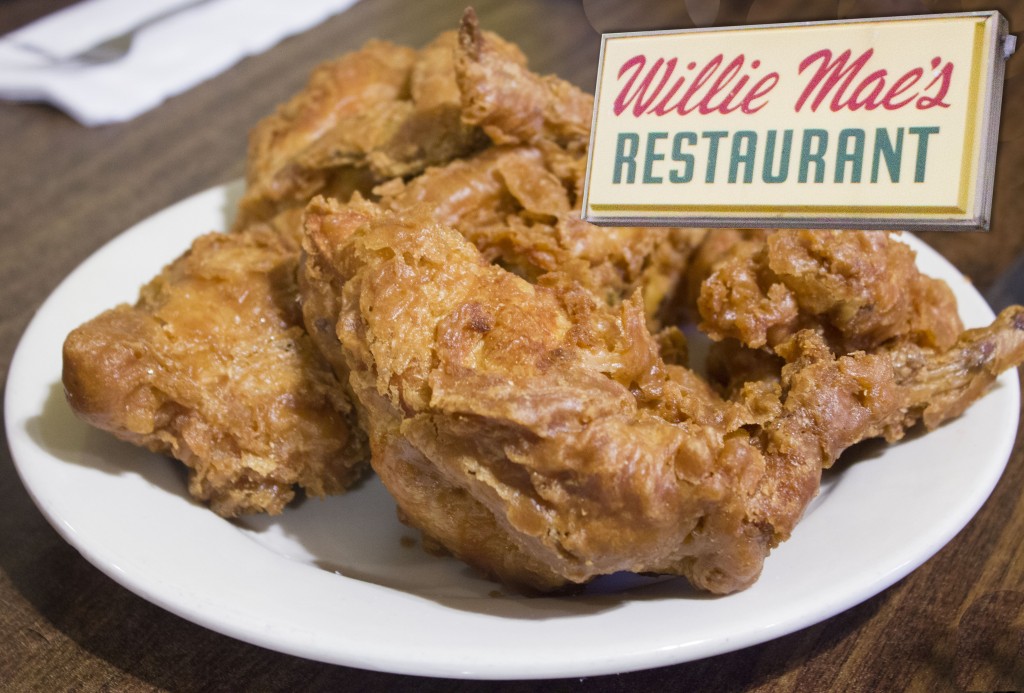 I'm forever ruined for other fried chickens. I may never be able to eat fried chicken again, at least not until I make it back to Willie Mae's. In answer to your questions:
Yes, it's far.
Yes, it's that good.
No it's not too dangerous: go during daylight, take a cab, once you get there, there's a big line. And there'll be cabs dropping off the next bunch of people when you leave. Or, if you're in a group, walk back to Canal Street and take a streetcar, it's nice.
Yes, it's that good.
No, we didn't take up the lady who offered us a ride when we left. Yes, we did laugh when she went the wrong way up the one-way street right afterwards.
Yes, it's that good.
There will be a line. It's worth the wait.
Yes, it's that good.
Okay, so are we all square on this? Seriously, the service was incredibly friendly (as it nearly always is in New Orleans) despite the unrelenting crowds, the sides were top-notch (butter beans, red beans and rice, potato salad), and the chicken was mind-blowing. It was unlike any other chicken I've ever had. The outside was both light and extremely crispy, the meat inside was so tender it nearly melted. In order to properly describe this fried chicken, I'd need to invent new words, because it is truly incomparable. There are people who love to tell you that any restaurant this well-known is 'over-hyped,' but in my mind, Willie Mae's can't be over-hyped enough, it's simply good enough to live up to that expectation. So, I'll see you in line soon?

;
The Most Enjoyable Way to Spend a Sunny Day in New Orleans
There were a few things that led us to the amazingness that is this combination, but mostly it involved crawfish, impulsiveness, and pure, dumb, luck. If you're looking for a crawfish picnic, Big Fisherman is the place to go. Call ahead (we didn't) because they open earlier than the bugs are ready–it was almost 12:30 when we finally got them. You can take the St. Charles Streetcar to get there, but we had run the 2.5 miles, so we killed an hour waiting for them to be ready by walking around. By walking around, I mean we stumbled into Big Easy Scooter Rentals. For less than $60 the two of us rented a sweet 50cc scooter for the next six hours. Next time, I'll do it again, but I'll rent it for at least a full 24 hours and maybe even plan out a route.
Since it was on impulse, we just swung back by Big Fisherman to pick up our 4 pounds of crawfish (you could probably tone that down by at least a half-pound each, if not more), 2 sausages, 2 corns, and a few potatoes. Then we kept riding out along Magazine street (excellent shopping) to Audubon Park, where there is plenty of grass and some riverwalk and shoreline, all excellent for picnicking. Then we scooted away the afternoon, whooshing by the mansions of the Garden District, admiring the campus of Tulane, following the river around its bends to the Marigny, with its southern charm and distinct architecture.
We didn't have a map or a route, so we just rode until the density of check-cashing places got too high, then we turned and rode back the other way, like Forrest Gump criss-crossed the U.S. on foot, so we criss-crossed New Orleans on scooter. It was an amazing way to see the city and, if we'd planned better, to get to some of the further out sites and restaurants. Next time.
If my Brain Invented a Restaurant, it Would be Green Goddess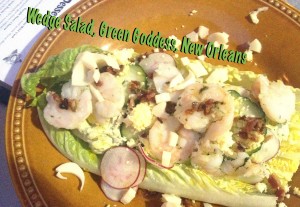 Green Goddess is my favorite restaurant in New Orleans, and I recommend it highly to anyone who loves good food and has an open mind. I ask for the open mind because GG is not a traditional restaurant. It doesn't follow rules or fit in boxes. I can't tell you what kind of food it serves, other than that it tastes great. The ambience can be described as awesome. Helpful, no?
If the deep recesses of my brain were scoured for what makes a great restaurant, though, it would look like Green Goddess. A mad scientist of a chef turning out cultural mish-mashes served under lights strung about a pedestrian walkway, pouring whimsical cocktails that mildly take inspiration from old favorites. It's perfect to me. The wedge salad here seems an odd favorite, amongst the shrimp in a grass skirt and the Indian pancake, but it's all that a salad can aspire to be, both creamy and crunchy, both classic and unique, it's simple, but it does what I need from a salad. The 'Snails and Tails,' an escargot and crawfish twist on shrimp and grits that I ate here two years ago still haunts my memory, the only thing easing the sadness of it not being available is the presence of the bacon sundae, reminding you to save room for dessert. There are lots of fancy places in New Orleans serving up local dishes and great food, but somehow there's only one Green Goddess and it's worth the trip.

And so Much More…
And the best thing about New Orleans is that every time I'm there, I discover something new, whether it's sipping beers and listening to live Jazz at dba on Frenchman Street, or trying my first Sno-Ball (the local take on a shave ice) at a stand that wasn't much more than a cardboard box. So if you've been there, share your local favorites, if not, start planning your trip!