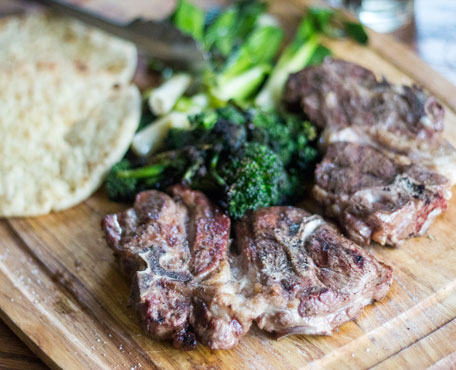 Spring has, as they say, sprung. It sprung in 65 degree days (hey, that's warm here), in crowds walking around Green Lake, and of course, in the form of bounty at the farmers markets. Here's a round up of what spring looks like in my kitchen, my city, and across the interwebs.
In my kitchen:
I had bought these lovely lamb shoulder pieces to remake an incredible yogurt curry. I had made it the first time in late evening and by the time it was done I was hungry and the light was gone. It was Seattle, I was sure there'd be more time to make curry and photograph it for the blog. A few days later, as I had planned, I had the lamb shoulder at the ready. The sun begged to differ, shining down on the barbecue, calling out name. I raided the fridge, piecing together early broccoli, leeks, and a little flatbread to make a dish that simply screamed the season. So while I have no curry to share (yet!), lamb shoulder is a super cheap, incredibly flavorful way to throw the season on to sizzle.
Around the town:
Three great events coming up that I'm excited about! I'm hoping you'll see me at all three:
The Savor fundraiser for Food Lifeline on April 27th is out of my normal price range ($175), but they have kindly invited me to join them, and if it is something you can afford, I hope you'll join because it looks darn amazing. When I first heard about it, I was positively drooling over the menu: Armando Batali doing 'Amalfi's Sea Delights'? I don't even know what it means, but I want it. And I want it now.
Pierogi Fest: when I first heard the words, it was like the clouds parted and dumplings rained from the heavens. Pierogi come from that sweet spot where my Eastern European heritage meets my favorite food group (that would be the dough-wrapped delicacies). $16 buys you not only four and a half hours of all-you-can-eat-dumplings, but also Polish music, crafts, a beer garden and pierogi making demonstrations, among other things. See you May 5th, at the Polish Home.
Mobile Food Rodeo returns to town on May 6th. I'm excited that they're no longer asking you to pay to enter to pay for your food, so I'm going to give them a stop. I'm anti-line and anti-crowd, so I'm prepared to just do a fly-by and see how it goes. I'm just glad to have that option, now that there's no entrance fee. There are a bunch of new trucks that I haven't tried  and I'm stoked to get a crack at Jemil's Big Easy (New Orleans cuisine), Off the Rez (frybread tacos and sandwiches), and Caribreso's Jerk Station (Jamaican).
Around the Interwebs:
In addition to keeping you lovelies up to date here on the Gastrognome, I've been singing the gospel of Seattle's sandwiches over on the Serious Eats website.  I'm excited to share our cities finest things stuffed between two slices of bread, so tell me, what's your favorite around here?