Consider this the food blogger's guide to Chicago. As I say on my About Page, being a GastroGnome is not about sitting idly on the front lawn of culinary cottages. Each year I tell my stories of trips to Beijing, Hanoi, and Mexico, but sometimes I leave out my favorite places right here in the U.S. No more! This is the latest installment of my 'Eating America' series, featuring the best eating around our fine nation.
In my few trips to Chicago, I've mostly had the chance to eat at only a few places while passing through the city on the way to Brett's family's place out in the burbs. Recently we took the opportunity to make a real vacation out of our trip, getting a hotel room on the Magnificent Mile, spending the time to wait for duck fat fries at Hot Doug's, and finally. Finally, FINALLY ate a meal at Alinea.
Now, I'm answering the question I've been asked a thousand times since I got back: Where should I eat in Chicago? It seems to be the hot destination these days, and I've finally done enough research (that would be eating) to answer that question. Oh, and a few ideas for what else to do while you're there. So, we start here with Part 1: The best budget places
Get Back to the Roots: Podhalanka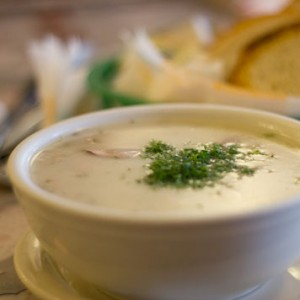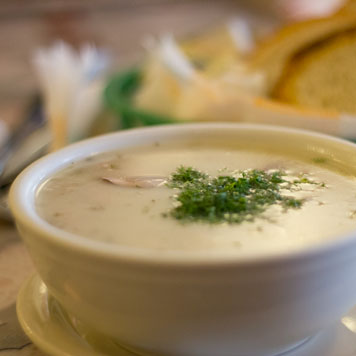 When a proprietor comes up to the table and starts the meal by discussing what he thinks you should order, I find that to be a good sign. If there's a menu at Podhalanka, I'm not sure we ever saw it. Instead we were offered juice, described a few items, discussed our preferences and served a hearty Polish meal. Polish food is doughy, white, and generally heavy enough to stage a boxing match with an elephant. There's no denying the white-ness of all the food, but the green speckles of dill dotting the white borscht lifted it out of the murky pool of bland you'd normally associate with foods lacking color.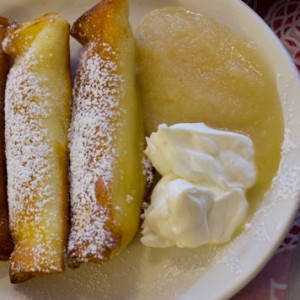 Hot cheese blintzes, like a sweet, Eastern European spring roll, brought gloriously caramelized browning to the party. A plate of pierogi of various flavors would go up against the greatest potsticker in a world dumpling contest. Fillings range from ground meat and cabbage, to the starchy potato, to the lightly sweet and vaguely dessert like cheese versions. Eating at Podhalanka is a little like dinner at Grandma's house—I even think I saw her back there in the kitchen—with the grandson watching Polish cartoons, and a son being sent out for change. So let them bring you a pitcher of the brilliantly purple, home made juice and whatever the kitchen's cooking up, and share in the city's Polish heritage.
When in Chicago…Hot Doug's: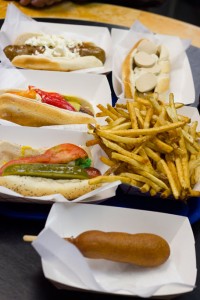 That same Polish heritage is, of course, part of why Chicago is the sausage city. There's no more famous sausage shop than Hot Doug's. It is worth the wait. These were the 5 best hot dogs I've ever tasted (hey, there were three of us!). We tried a classic Chicago dog (it was classic), the corndog (also classic, and excellently fried), the duck fat fries (meh), a merguez lamb with feta (intriguing), one with spicy peppers (good), and the foie gras dog (it was truly one of the most amazing hot dogs ever invented). However, despite what many people will tell you, the duck fat fries were not worth waiting in the extra long line on a Friday (Saturday too). Go on a Thursday or something, get whichever dog piques your interest, and be sure to banter with Doug. He's not hot, but he's pretty feisty and entertaining.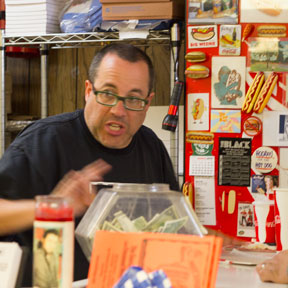 Eat outside your box: Palace Gate
Coming from Seattle where restaurant diversity often means which region your Vietnamese food comes from, I love Chicago for its wide selection of authentic foods from around the world. The Ghanaian restaurant is about as far from American food as you can get, and there's nothing close in Seattle. To quote myself from when I first went there,
"I have no idea what we ordered. We asked, What is best? and the lady said "mumbojumbo….but….you don't want it….its too spicy for you" at which point B and I simoultaneously jumped out of our seats and frantically exclaimed in an effort to make sure that we got that thing. We take that quote as a perfect description of what we know we want!"