Consider this the food blogger's guide to Chicago. As I say on my About Page, being a GastroGnome is not about sitting idly on the front lawn of culinary cottages. Each year I tell my stories of trips to Beijing, Hanoi, and Mexico, but sometimes I leave out my favorite places right here in the U.S. No more! This is the latest installment of my 'Eating America' series, featuring the best eating around our fine nation.
Alinea. Yeah. I went there.
We ate at Alinea.
It was an experience.
It's ranked the 7th best restaurant in the world (a ranking which, having been to others that are further down the list, I disagree with).
It's been hooted and hollered, and god damn it, I wanted to go. And I'm glad I did.
I ate some phenomenal dishes. The 'Scallop in the style of Agedashi Tofu' was one of those items served to me that blew my mind in flavor, technique, and artistry.
Unfortunately, not everything was to that level. For the prices we were paying, I would hope that would be the case.
I didn't take too many photos, but this person visited around the same time and had the exact same meal as me. And took photos of each course, beautiful photos. I agree with a lot of her sentiments, too: Service was fine, just apathetic. Food was good, but wanted for a bit more of the famous Alinea pizzazz at times.
If you've never been to a three star Michelin, modernist-style restaurant, and that sounds like a good idea to you, go in with a sense of whimsy, and enjoy. I definitely did, and I'm glad I did. I just wouldn't bother to return, nor would I recommend it to someone who wasn't already interested in such things.
If you just want to go for a fancy, high-end meal, (and are less interested in the modernist stylings) for that kind of money, my experiences at French Laundry (Napa, CA) and Eleven Madison Park (NYC) were exponentially better, in quality of food and service.
The Triumvirate of Awesome: The Publican, The Bristol, and The Girl and the Goat
These three restaurants are all somewhat similar, incredibly good, and to me, embody the Chicago way of thinking that we found around the city. Service was impeccable, while the spaces were, to steal the words of Carl Sandburg, big-shouldered. Stealing further from him, that food was 'stormy, husky, brawling.'  Flavors were thick, meals were heavy, but they were prepared with such skill, such finesse, that they were some of the best meals I've had in recent history. So which one to go to?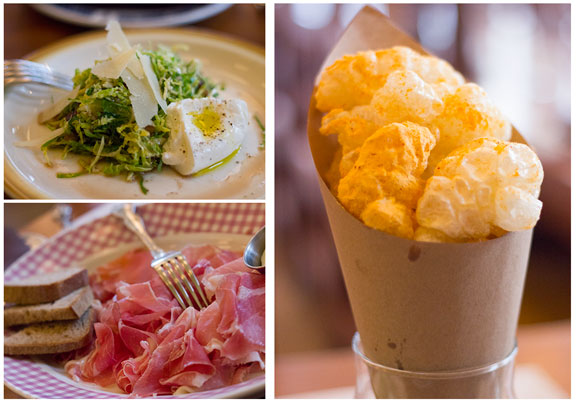 The Publican has the nicest bathrooms of any restaurant I've ever been in. It is the attention to every detail, even the soap in the restrooms, that makes this restaurant so perfect. The fact that our waiter bore a striking resemblance to Vince from Entourage helped, too.


The Bristol is more of a neighborhood place, we were able to get in last minute on a Friday night. The menu is thick, eclectic, littered with offal and odd ingredients of the sort that always turn me on. One of the best Moscow Mules I've ever had. The signature savory monkey bread typified the spins on comfort food with big-kid flavors that I loved about the place.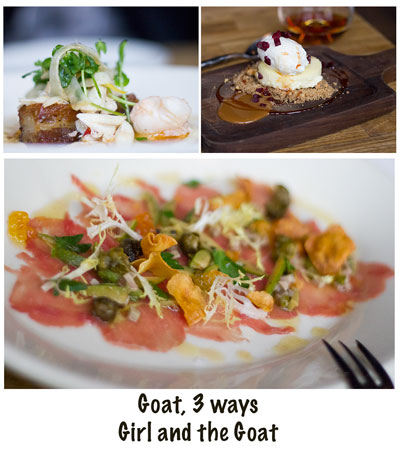 Girl and the Goat has the opportunity for celebrity chef spotting (Stephanie Izard of Top Chef was working expo while we were there). You could hit Girl and the Goat at 4:30 when they open, pop a spot on the bar and have a few snacks and some cocktails, which is what we did, so as to save a dinner for one of the other two spots. We actually did that twice, because the first time I didn't order any of the fresh breads, then I watched them go by and vowed to return.