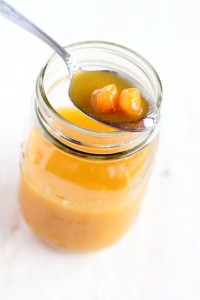 Did you know that the internet doesn't know everything? Hard as I looked, I was unable to find a reasonable recipe for how to make bubble tea bubbles. Just a few people seem to have tried it, and most of them didn't seem to be bothered to write down, you know, like, amounts, and helpful stuff like that. Lucky for me, I had a vague idea of how to do it, since I'd accidentally made something pretty similar a few years back while trying to thicken blueberry sauce (for salmon) with tapioca flour.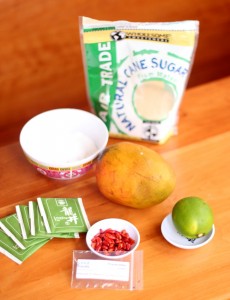 So what I knew going into this was that tapioca flour dropped in, rather than whisked in, to a sauce would form somewhat floury tapioca pearls. I also knew I wanted to make spicy tapioca pearls to drop into a sweet mango tea for that yin/yang, spicy/cooling effect that seems so perfect for hot summer days. The ingredients end up being fairly simple: Tapioca flour (and the peppers that I chose to flavor mine with) is the only thing you might not have in your house.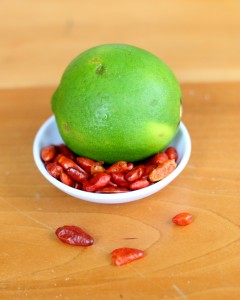 I flavored mine with these amazing little pequin peppers from Marx Foods (full disclosure: I didn't pay for the peppers), because I'm entering this contest. As competitive as I am, I rarely enter blog contests because my blog is very personal and don't like the idea of it being judged. Yet there is little I like more than chile peppers, and I was like a kid who just had a candy store delivered when these landed on my doorstep. I knew right away what I would make, so I searched the pile of pepper varieties until I saw the description on these tiny, adorable little guys: "hot, citrus flavor." Perfect for exactly what I had in mind.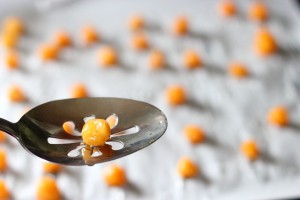 While I made a few false starts – as one might be expected to do while working with something that can only be described as 'oobleckian.' But in the end it turned out exactly as I'd hoped, beautiful (almost) round bubbles, speckled with the tiny pequin pepper flakes, bouncing about in a green tea fancified with fresh mango. Chew into one of those bubbles, and you can't immediately feel the peppery heat, but as you finish, you'll reach for the sweet relief of the mango tea. So goes the endless cycle of a summer afternoon.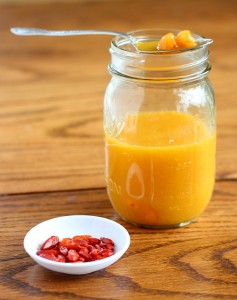 Mango Bubble Tea with Spicy Homemade Tapioca Pearls
Ingredients
3 Cups boiling + 2 Tbsp warm + 5 Cups boiling Water
2 Green tea bags
1 tsp Whole pequin chile, ground, or ½ tsp ground pequin chile
½ Cup Tapioca flour
Pinch + ½ tsp Salt
½ tsp + 1 Tbsp + 1 Tbsp Sugar
¼ Fresh lime
1 Fruit of one large mango (no skin or seed), or 1 cup mango pulp
2 Ice cubes
Instructions
Place the two tea bags into the 3 cups of boiling water and steep for 5 minutes, then remove
Set tea in fridge (overnight) or freezer (an hour or two) to cool
Mix ¼ of tapioca flour with the ground chile (use less for tamer spice, this will have a bit of kick to it) and pinch of salt
Dissolve ½ teaspoon of sugar into 2 Tbsp of warm water
Slowly add the warm sugar water to the tapioca/chile mixture, stirring as you go
Continue to add tapioca flour until you cannot anymore, it will be seizing up and making stirring difficult
Your end product here is an odd texture that seizes up and crumbles with movement, but melts when left alone. If you ever played with oobleck as a child, this is the texture you are looking for. You can add water or tapioca flour as needed until you get there
Leave that for a minute and boil the Tablespoon of sugar and 5 cups of water, bringing to just above a rolling boil
Lay out a piece of parchment paper if you have it, otherwise any non-stick surface should be fine
Pinch the oobleck/tapioca mixture into small balls (or an approximation--mine were sort of pyramidal) and drop into the boiling sugar water
Each pearl should boil for about a minute, but they will tell you when they are done by floating to the top
When they float, remove to the parchment paper with a slotted spoon
Continue until all have been boiled and removed
Blend the mango, juice of the quarter lime, last Tablespoon of sugar, last ½ teaspoon of sugar and 2 cups of the tea, plus ice cubes
Taste the tea mixture and adjust for flavor
Prepare by adding a few of the bubbles to a glass, then pouring on the tea
A few notes from my trial and error attempts: 
If you aren't eating them immediately (or at least within an hour) of making them, boil them again prior to use, as when we dropped them in cocktails (amazing) later, they developed a texture that reminded me of a little rubber bouncy ball.
Don't spend too much time trying to make them round, they all look vaguely roundish by the end.