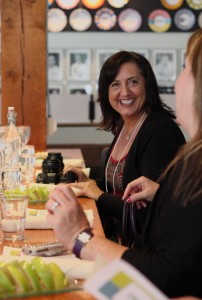 Recently the California Olive Ranch invited a few bloggers, myself included, to join them for an evening of tasting olive oils, eating delicious food, and learning about 'the future of the olive oil industry.' I am under no obligation to write, but this stuff was fascinating, so I want to share it–and the olive oil–with you, so read to the bottom. You can win some tasty olive oil and maybe learn something.
---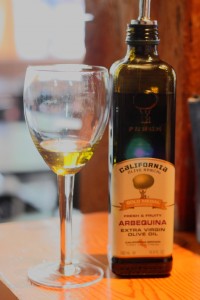 I often refer to myself as the #FoodNerd on twitter. That the phrase 'learn about the future of the olive oil industry' was so ridiculously exciting to me that I've chosen it. So this post is chock full of nerdy knowledge, olive oil love, and a  little bit of food porn to keep you watching in between.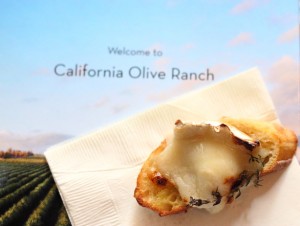 Some goat cheese and olive oil bruschetta came around to start the evening and Adam, the VP of the California Olive Ranch started dropping the kind of knowledge nuggets for which I'd come. First off? That 98% of olive oil used in the U.S. is imported. Remember all that 'eat local' stuff people are into? Apparently not when it comes to olive oil. But I'm more of a taste-driven purchaser, so I was still holding out for more info.
In case you use as much olive oil as I do (I can't tell you how much, that's embarrassing) here's what I learned on using (or rather, storing) your oil: the four enemies of olive oil are heat, oxygen, time, and light. Basically it's a fruit juice; fragile and able to go bad. So keep it in a dark, cool place, tightly sealed and use it quickly.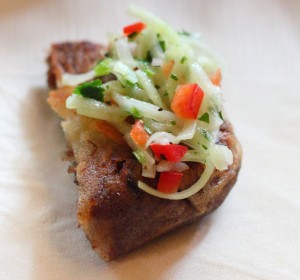 All knowledge goes down easier with braised oxtail bites topped with kohlrabi slaw, right?
Despite having previously attended an olive oil tasting, there was a lot that I didn't know, especially pertaining to the labeling 'extra virgin' which I always knew to look for when using olive oil in raw applications, but never really knew why. Turns out it means that it's cold-pressed. It can't go over 88 degrees in the milling process, meaning that all of the omega 3s and polyphenols (the stuff that makes olive oil healthy) are retained. As Adam explained to us that the industry as a whole is 'broken' we began to see why: in 2010 a study with taste-panel (called an organaleptic test) concluded that 75% of the oil sold as extra-virgin olive oil did not qualify as such. Part of the problem? The USDA standards are voluntary, there are no import restrictions or labeling that importers need to obey, and even those standards are very loose.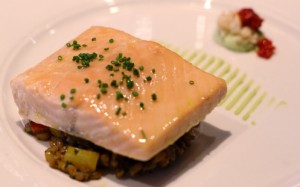 Pause for some olive oil poached salmon. Olive oil poaching results in less color, more flavor, explained the chef. I agreed.
We moved onto the oil tasting portion of the evening. We tasted out of wine glasses, and I'll be honest, I loved it. I told someone this later and they were grossed out by the idea. They probably also never ate butter straight from the stick either. Live a little people, okay? Apparently professional tasters use blue glasses so the color doesn't effect their opinions, but I'm pretty sure our wine glasses were classier.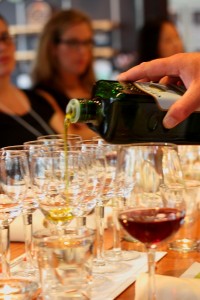 Tasting involved the four S words: swirl, sip, slurp, swallow. It was pretty similar to wine tasting or coffee cupping. And we got to take sips of wine in between, so that was nice. We tasted four types of California Olive Ranch's oils. Here were my notes:
Everyday Fresh: A blend with a strong, grassy nose. Mild flavor with a hint of spice, a smooth richness and not very heavy.
Arbequina: Warm in the nose, no distinctive scent. Smooth all the way down, and very consistent throughout.
Arbosana: Spicy scent, more floral and sweet flavor, very rich and thick.
Miller's Blend: Spicy nose, strong grassy scent. Pepper flavor, a thick oil with bang at the end.
To win a bottle of your choice of the above oils, leave a comment with your favorite way to use olive oil on this post before August 7th, and I'll randomly choose one winner for California Olive Ranch to send a bottle!– UPDATE: The contest has ended. Congratulations to Jill, the winner of the bottle.

At the end of the night, though, I felt a little like I wanted to know more. I questioned how I know that the oil I am buying is TRULY extra-virgin, how I can use my spending to drive the olive oil industry toward producing the tastiest oils so I can make the most delicious food. I don't know all those answers. But I'll keep tasting oils to look for the best, and maybe I'll figure it out on the way.