This post is for a contest being put on by the folks at the American Lamb Board. The prize is cool (cooking with a chef at an event) and I'd like to win, so please vote for me! Also, that means the lamb used here was given to me by the lamb folks. Thanks, lamb folks!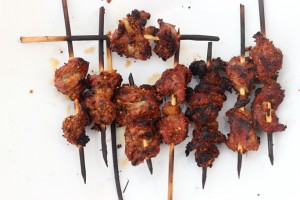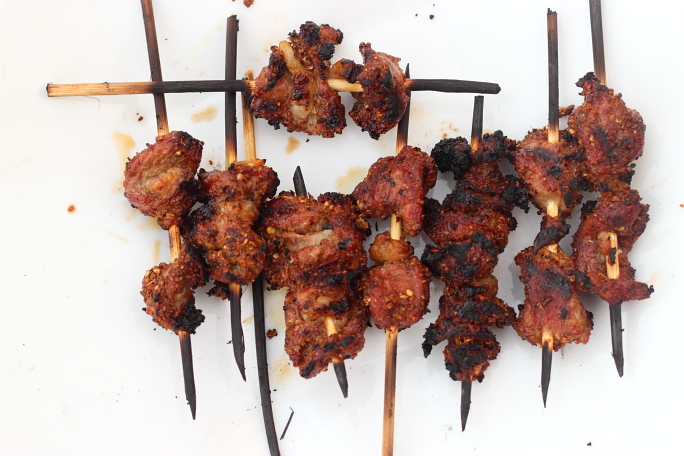 Xinjiang lamb skewers are the best bar snack you've never had. Unless you've been to Beijing, in which case, they might just be the best bar snack you have had. It's been almost three years since I came back from Beijing, but the many tasty skewers I had have stuck with me. It was high time to recreate them at home.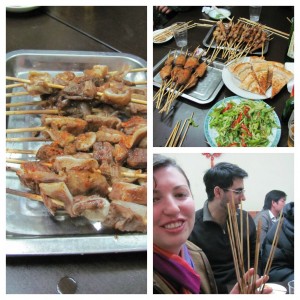 There are western-style bars in Beijing, but my friend Nick (visible behind the skewers here), explained that Chinese people do their heavy baijiu (rice whiskey) drinking at Xinjiang restaurants. Rickety tables and bland storefronts are the norm for these, but inside tables are filled with baijiu bottles and piled high with lamb skewers. We had more than a few good nights at these places in Beijing. The skewers are from Xinjiang, in Western China, and are made from the fat-tail sheep that live there. So each skewer of lamb alternates lamb meat with tail fat, which melts into the meat, super-charging the flavor and texture.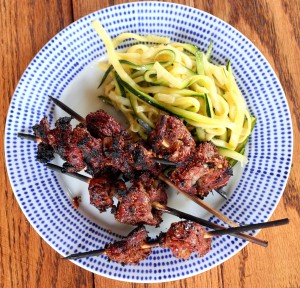 I wanted to recreate these for some time, but we generally have a lamb cut called shoulder steak. Shoulder steak is a cheap cut, because of the oddly shaped bones in it. That's also why it's so flavorful, so I'll take it. In a pinch, the steak grills up like a champ, and can be served along some vegetables for a complete meal. If the grilling weather has gone, I chop it up a bit and make a fantastic curry out of it, letting the goodness seep from the bones into the sauce. I don't understand why people don't eat lamb more often. The flavor is so deep, so rich, compared to the meat that you find in today's supermarket. But shoulder steak has little fat, so I'd never made the skewers.
Enter the American Lamb Board and their contest. We didn't know until we picked up the meat what our cut would be. When it turned out to be leg, I was slightly concerned–that's not a cut I use often. Then I saw the beautiful fatty pieces running through it, looking easily separate-able and I realized it was time: Xinjiang lamb skewers at home!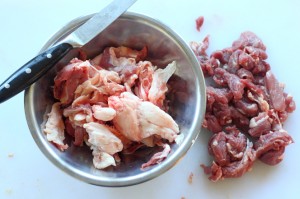 I took a small piece of the leg off and broke it down into meat and fat, getting ready to thread the skewers. The dog watched more intently then he ever has before.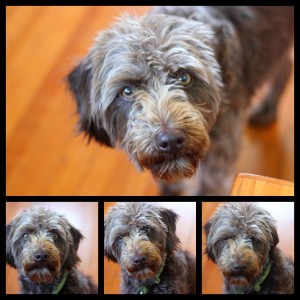 The four stages of dog-not-getting-lamb grief:

Whatcha doing?
Don't you think I could help with that?
Really? You're bumming me out.
I give up. Just going to sit here with sad face.
Okay, back on track after adorable-dog interlude. Time to get out the spices. The four spices used in this (plus garlic) are very easy to find.
With the exception of Szechuan peppercorns, every grocery should have these (cumin seed, coriander seed, red pepper flakes). You can find the peppercorns at a spice store or Asian grocery.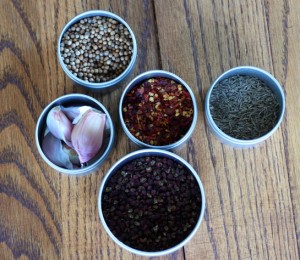 Then you just combine it all: grind the spices, mince the garlic, mix it into a spice paste. Then thread the skewers–this is a very important step. Each skewer will have two pieces of meat, separated by a small piece of fat. So each skewer goes lamb-fat-lamb. Once that's done, rub the spice paste all over your meat.
Grill your meat over high heat. The idea is to char the meat, while the fat actually melts out onto the adjacent pieces of meat. This gives you lamb skewers with a dark, crispy coating of tasty spices, and a lush, soft interior. It's pretty great.  It takes about 3-4 minutes on each side, even though the skewers are tiny, so just be patient. Let the flavor burn on, a little dark color is okay.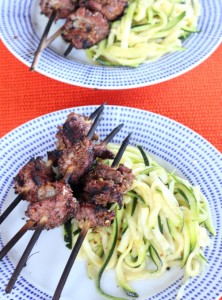 I served mine with zucchini noodles, as the spice on the lamb is quite strong, and julienned zucchini with a little sesame oil and salt makes a nice palate cooler.
Xinjiang-Style Lamb Skewers
Serves:
Dinner for 4, or appetizers for 8-10
Ingredients
16 oz Lamb (scrap meat from leg is ideal), cut into half-ounce pieces
3 oz Lamb fat (can also scrap from leg), chopped into small pieces--no bigger than a pinky fingernail
3 Cloves Garlic
1 Tbsp Szechuan peppercorns
1 Tbsp Coriander seeds
1 Tbsp Cumin seeds
1 Tbsp Red pepper flakes
Instructions
Get your grill going so it is super hot by the time you are ready to grill
Soak skewers in water for at least twenty minutes to minimize scorching
Thread skewers with two pieces of lamb, with a piece of fat between them
Finely mince the garlic
Mix and grind all of the spices together
Combine the garlic and the spices will, so you have a slightly stick spice rub
Rub the spice rub all over the lamb
Grill the lamb skewers over high heat until they are quite charred, about 3-4 minutes per side
p.s. Please don't forget to vote for me. I'll remind you on twitter if you follow me! Thanks.