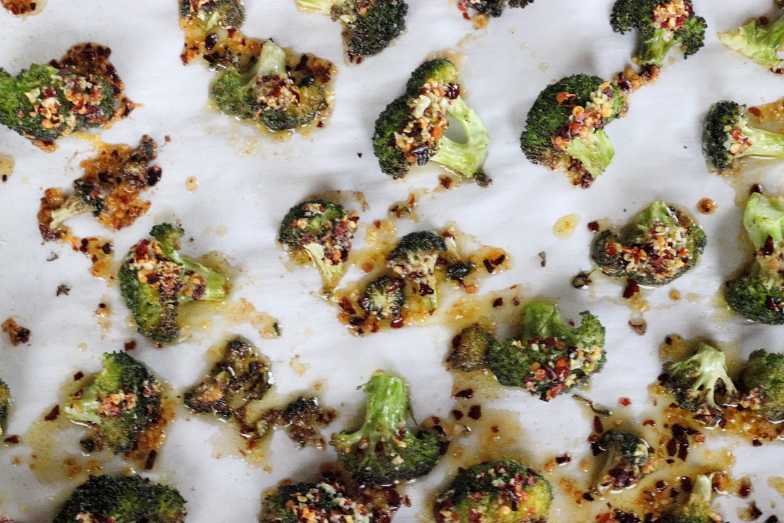 Nobody ever believes me when I tell them the rain doesn't start until my birthday (October 7th). Summer ends at Labor Day, they insist. Nope, it's not true. As the center of the universe–or, my universe, anyway–summer doesn't end until I turn another year older.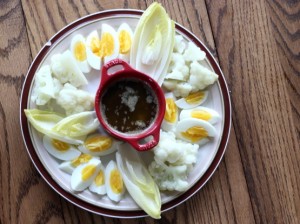 So until that happens, I will continue to make the kind of simple summer suppers that are easily eaten outdoors, even if it's getting dark at before dinner time. I'll let the green in my vegetables, the yellow in my egg yolks, the bright flavors in my olive oil, light up the night.
One of the cardinal rules of a summer supper is that it cannot require a recipe. If there are cookbooks or blog posts required, then you've lost that loving feeling, and you're back on the couch in the doldrums of fall, you're one step from the slow-cooker stews of snowy nights. We're not there yet, we're still care free. The sun's shine may have slowed, but we're not dropping out menus with the leaves. We're still roasting the bounty of broccoli and making bagna cauda.
Broccoli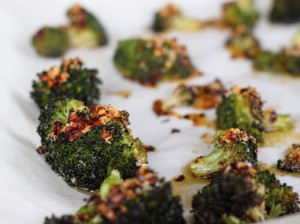 This broccoli is not my own making, but when I was told of it, I immediately made it. I rarely repeat recipes, but I have probably made this 10 times in the last two months. I make extra now, for lunches, because it's the most perfect vegetable I've ever loved.
Chop up just the florets of the broccoli, add a little oil and salt and roast for 8 minutes at 450 degrees. While that is happening, I (using a mini-food processor, because I'm lazy) chop a few cloves of garlic, add in red pepper flakes, and mix with olive oil. After 8 minutes, I sprinkle this over the broccoli, and put it back in the oven for 8 more minutes.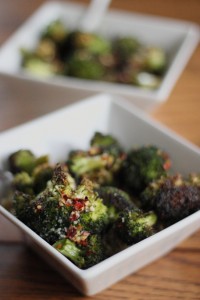 Because I'm lazy, I always put parchment paper under the broccoli while it cooks. Summer suppers have an element of laziness, and easy clean-up contributes to that. Simply toss the parchment paper, rinse the tray, and you're done. Serve the broccoli over rice, quinoa (shown here), or just in grilled pita breads.
The garlic will have caramelized, mind-melding with the olive oil, offering intense flavors, which, despite the hot hot roasting, are fresh a the summer garden.
Bagna Cauda
Again, not exactly a recipe I invented, just one I've long loved. Get the scent going in your kitchen with chopped tinned anchovies and chopped garlic, on low heat with butter and olive oil. That's your dip right there.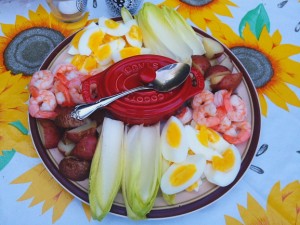 While that simmers, chop up your dippers. Anything can go in, so clean out the fridge. I recently learned from An Everlasting Meal
 (affiliate link) that endive's bitterness is excellent in the salty-sweetness of bagna cauda. Potatoes are a classic–use leftover roasted or boiled. Soft-boiled eggs, shrimp, bread, or cauliflower all work. Anything that can pick up the lovely flavors, that's simple to chop while the sauce simmers for ten minutes will make a meal. Put out the sauce while it's warm–bagna cauda means warm bath–and let everyone dip at their leisure.