I've repeatedly explained to people that some of the best eating in Seattle is in White Center. Which technically, isn't Seattle, so perhaps that's why people are so scared to venture down there? Formerly a piece of unincorporated King County, recently annexed by the city of Burien, White Center picks up where West Seattle leaves off, at the south end of the city. Culinarily, White Center holds much of what Seattle lacks: authentic, cheap foods from all parts of the world.
Having worked in West Seattle for over two years, I've spent a lot of lunches dining on the cheap tamales, the lovely lumpia, and sweet Salvadorean treats. I've had numerous requests to lead a tour or a crawl of the neighborhood, and while I've obliged a few times, it's time for everyone to get out there and explore it themselves. So I'll get y'all started with a few of my favorites, but be sure to report back with what else is good!
The Salvadorean Bakery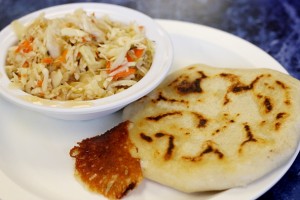 Probably one of the best known places in the area is the Salvadorean Bakery. Their array of sweets is to be marveled at, and I've celebrated many a birthday with the bakery's tres leches cake. But I like this place best for breakfast. Cornmeal cakes, called pupusas, come stuffed with cheese, refried beans, chicharronnes (pork skin), or, if you're me, all of the above. The slightly bland but crisp circle comes with a side of curtido, a fermented cabbage condiment, which cuts through any fattiness from the filling and perks up all of the flavors.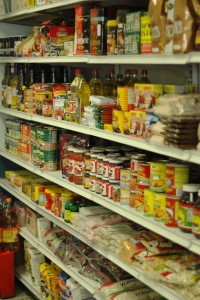 In addition to the hot food and the endless row of pastries to take home, the bakery has a small grocery area in the back. In just a few shelves, the store supplies White Center's latino population with many of the ingredients needed for cooking their cuisines: aji amarillo from Peru, dulce de leche from Argentina, and various cheeses and creams that cover clear across Central America, a variety for each country.
Rosticeria y Cocina El Paisano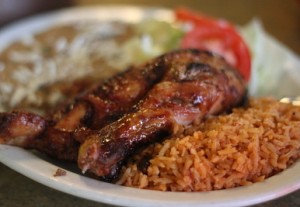 'There's no good Mexican in Seattle' is an oft-repeated refrain that I wish would die in a fire. Not only because I live and die for La Conasupo's barbacoa, but also because it's not true, it's just lazy and generally, said by people who don't actually want Mexican food. They want the breakfast tacos of Austin, the burritos of San Francisco's Mission district, or even San Diego's beach cuisine and fish tacos. They want what they grew up with. What El Paisano serves is Mexican food like what they have in Mexico. Roasted chicken, as the 'Rosticeria' in the name implies, is the dish to get. Shown here as a meal, the beans and rice aren't worth the bother. Just get the chicken, a few tortillas, and go to town on some of the best rotisserie chicken in town.
Like the Salvadorean Bakery, El Paisano has a store attached as well–actually, a butcher shop, store, and tamale stand rolled into one. It should not be missed, no matter how full of chicken and horchata you are. Roll around the corner to the separate entrance, check out the meat, buy some sauces and spices, and get a few tamales to take home for a snack later.

Sarap Cafe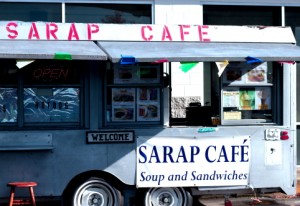 There's no store attached to Sarap Cafe. Unless you count the Chevron mini-mart whose gas station the truck is parked in. There's no frills here, just straightforward lumpia. Oh, there's a few other things you can order, some chicken adobo and what have you, but you're here for the little Filipino egg roll-like lumpia.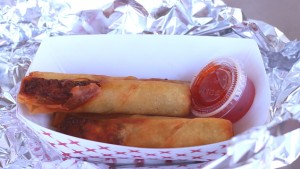 There is a story out there, somewhere, about me, as a 4th-grader, eating an entire party's worth of lumpia, but that's for another time. All I can say for now is that I'm firmly a lover of these tiny treats, and that the ones Sarap Cafe is serving up are worth working your way out to White Center. A conversation with the friendly owner, Victor, is also an excellent use of your time.
Seattle Roll Bakery
I've said it once. I've said it twice. I'll tell you until I'm blue in the face. Seattle Roll Bakery is the best Banh Mi in the city. And that pate chaud on the right there, it's pretty freaking amazing too, though it's hard to go wrong with Vietnamese-spiced meat encased it puff pastry.

Queen's Deli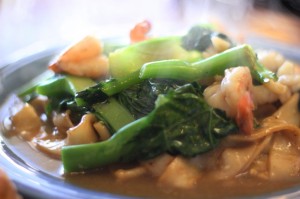 I have to admit to a lack of familiarity with Cambodian food. I know only what I've eaten at Queen's Deli (and a few other places, notably Phnom Penh in Vancouver).
Despite entering with no knowledge of the cuisine, the friendly ladies behind the buffet have always helped steer me towards some great hot noodle dishes from the menu (all the better to add their hot sauces to), and a few of the treats from the case they stand at. 
So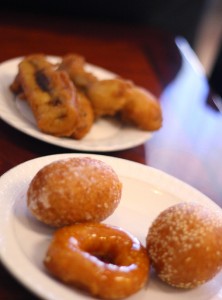 while I can't tell you what any of the sweet treats shown here are. Or what the noodle dish up above is. I can tell you that the food there is worth a stop, and having no idea what you're doing or what to expect is a poor excuse to skip this culinary-knowledge-expanding stop on your tour of White Center.
Whatever Else you Might Run Into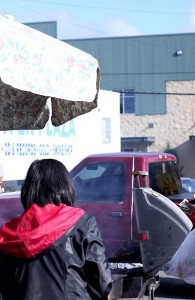 On any given day in White Center, delicious could be just around the corner. One sunny Saturday on a winter afternoon, we found this young lady by her plume of smoke, rising from the parking lot where she was grilling chicken, ribs, and lamb.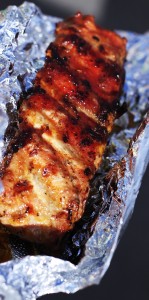 Dirt cheap and amazing, this is not the only time I'd found random good eats in the area. Another time, shopping in a Halal market garnered me an invitation to sit down to Somali milk tea before I completed my shopping. White Center is not Seattle, but it's where some of the city's best unique eats are kept, and a place where you never know what you might stumble on tomorrow.
So take a trek to the south end today, try a few bites and report back with your favorites in the comments!