Not too long after I got back from my trip to Philadelphia, I heard a story on NPR about Philly residents wearing sweatpants more than people in any other city. It explored a variety of reasons: climate, influence of Rocky, high proportion of college students, and so on. I know the real reason, though, I learned it through experience on my recent trip there. It is the only comfortable attire when you're consuming such amazing sandwiches in such high quantities.
Coming in, with only a rudimentary knowledge of Philly cuisine, I expected it to be all cheesesteak all the time, but in fact, of the five sandwiches I ate in my three days there, less than half of them were cheesesteaks. All of them were delicious.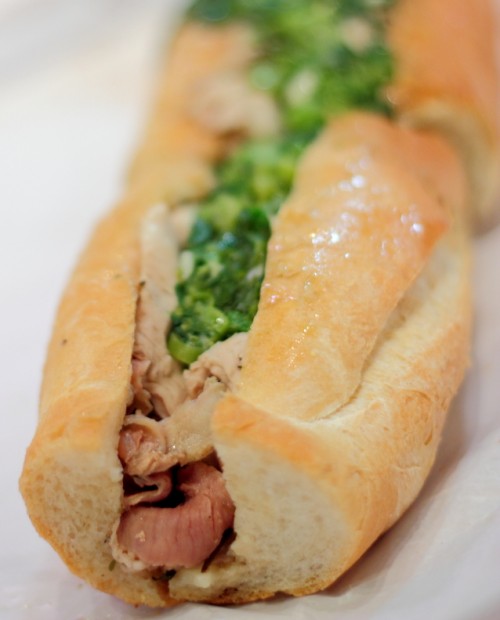 Between my planning to go there and my actually getting there, DiNic's Roast Pork was named 'Best Sandwich in America.' Harumph. Now all these people were going to be in line, waiting to try this sandwich too. We got there early and the line was not so bad. While B held our place, I picked up a little something a few stands over to fortify the troops.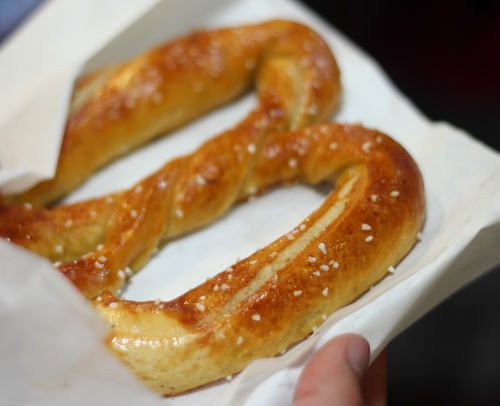 It was the perfect savory snack to tide us over until we could order our roast pork sandwich, with sharp provolone and broccoli rabe. The sandwich was great: soft bread, seemingly glistening with the grease of the the pork, the greens cooked until just before the crunch disappears, sharp provolone melting quickly under the heat of the thinly sliced pork. It was incredible, I wanted to tell B he had to get back in line and get his own, that sharing was not meant for foods this delicious. Inhaling the garlicky goodness of the greens, biting into the balanced layers of sandwich, I agreed with the hype that this was an extremely good sandwich, one certainly worth the twenty-minute wait in line. Was it the best sandwich in America? I would never throw my darling, my personal favorite, the Roli Roti Porchetta under the bus (food truck?) like that, but I'd definitely keep it in my top ten.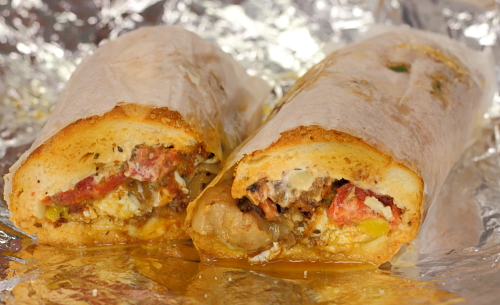 Upon the crowning of DiNic's Roast Pork, talk bubbled up about whether it was even the best sandwich in Philadelphia, nevermind the entire country. I listened to the chatter and the name that kept coming up was Paesano's. So off I went, to explore another sandwich. The menu at Paesano's is amazing. The Arista is a roast pork, similar to what we had at DiNic's. The Liveracce (take your best guess what's in there) and the Gustaio (lamb sausage) were both recommended to me, but I'm a sucker for a namesake and a fried egg, so I went with the Paesano. Beef brisket, roasted tomatoes, provolone, horseradish mayo, and that pesky egg. Why pesky? Look at the flooding wrapper, filled with yolky-goodness, spilling out of my sandwich. This was the messiest thing ever. It was also really good. The meat fell apart, mingling with the saucy roasted tomatoes and taking the brightness of the mayo. It was barely eating that I did with this sandwich, more accurately, I shoveled it into my mouth, racing against the clock of the entire sandwich ceasing to hold together in any way. That's not a complaint though, maybe just a warning to have napkins at the ready. If Idid have to lodge a complaint on this sandwich though, it lacks a little bit of balance. It's POW meat, POW egg, POW tomatoes and mayo. I just need a touch of recovery time in between punches. Like a masochistic prize-fighter, though, my tastebuds left Paesano's bruised, battered, and happy as a pig in shit. Or maybe a cow in a sandwich.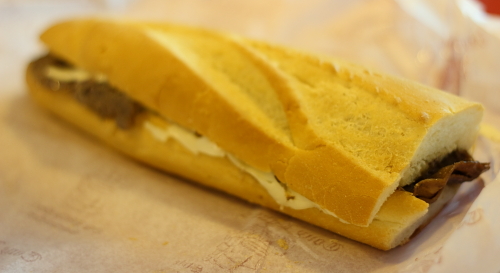 Then we started venturing into cheesesteak territory. When I say venturing, I mean it. Tony Luke's was really far from where we were staying. It required trains, buses, and a fair amount of walking to get there, and I'm not sure it was worth it. Cheesesteaks are a personal preference type of thing, and I'd repeatedly been told that Tony Luke's is the best, but it's not my favorite. It's a clean sandwich. It's a cheesesteak that's been given a shower and a shave, made presentable, you can take him home to your parents. But that's not how I like my cheesesteaks, I'm not marrying them, I just want a good one night stand with them. I want them dirty, mean, I don't want to worry about them calling for a second date. So while Tony Luke's was very tasty, its one-napkin cleanliness, whole slices of beef, and lily white bread didn't do it for me. If you're in the area, I'd recommend stopping in, but don't make the cross-town trek to try it.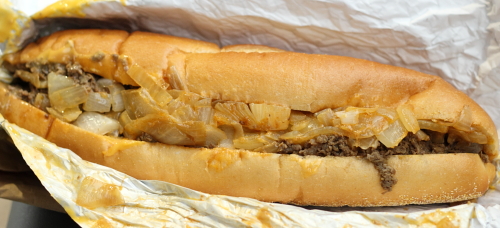 Now, this is a cheesesteak sandwich. Conveniently located about a mile from where we were staying, this was the sandwich I would trek around to eat. Disgustingly large piles of meat sit on the flat top at Dalessandro's, small portions pulled for each sandwich, a somewhat frightening prospect from a food safety point of view (luckily my standards on food safety are fairly lax). The meat is piled high in the soft bun, which collapses from the moisture in the meat, cheese, and onions, melding the whole thing into a food that is no longer meat in bun, but a true cheesesteak sandwich, all one word, all one food, greater than the some of its parts.
If you're heading to Philly, I recommend a beeline to any (or all) of these sandwich shops, plus any others that happen to be near by. I didn't even touch on the hoagie scene… I have to save something for next time, right? Only then I'll remember to bring my sweatpants.