Part 3 of my food blogger's guide to Mexico: Fine Dining in Mexico City
Did you miss part 1 or 2 of my food blogger's guide to Mexico: Eating well in Mexico City (aka D. F.) and Mexico City: A dive into street food?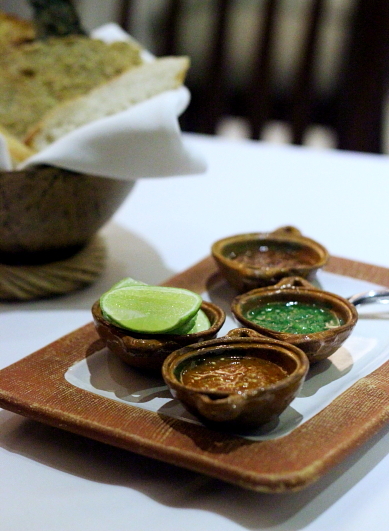 In a year when I was fortunate enough to enjoy meals at the likes of the French Laundry and Alinea, my favorite high-end meal was in Mexico City, at a place called Izote. The cost, for two of us, was less than a quarter of what I paid for one person at French Laundry, and the service, ambience, and food were not a step behind.
Sure, I'm a big fan of street food, but what made Mexico City such an eye-opening experience, and cemented it in my head as a premier food destination, was its quality (and value) at both ends of the dining dollar. What you see above here is the bread plate at Izote, my favorite meal in D.F., a meal that makes me want to hop the next flight to Mexico City.
The interior of Izote is white, plush, with cushions on the bench seating. We were attended to by our own waiter, in the upstairs section. The only other people there were two men, either on the world's most awkward date, or the world's most friendly business meeting. Other than the slight distraction as I tried to decide which, the entire ambience made it easy to focus entirely on the food being set in front of us. Here's just a sampling of what we ate.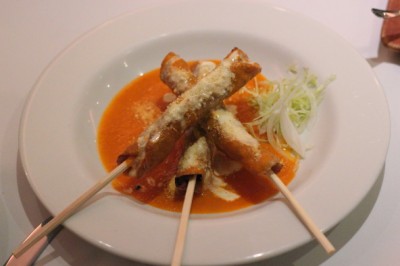 For $125, drinks and tip included, the two of us enjoyed nine courses of brightly-hued and deeply-flavored Mexican food. Each dish was based on a food we were familiar with from more basic versions, but taken to a top notch level. The lovely meat on sticks shown above here are Izote's Taquitos de Cabrito. Baby goat, braised and flavored, wrapped snugly in a taco, crisped and bathed in a stunningly orange sauce.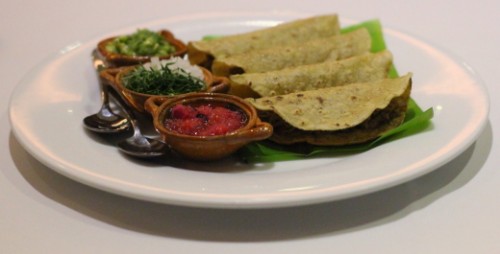 Similarly, Barbacoa is a dish we ate many times throughout our trip. Here, though, the texture of the tortilla was just slightly tweaked to better pair with the meat. The array of condiments featured brighter flavors, a pickled onion that cut through the rich meat.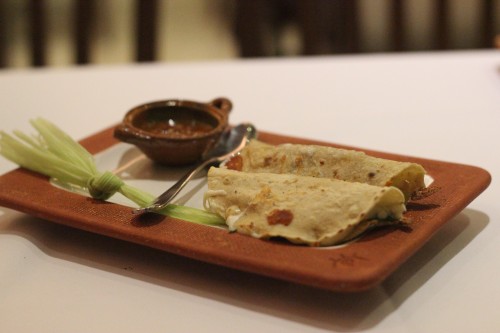 The quesadilla was simple, it had the same ingredients of any other quesadilla: cheese and tortilla. Yet, to compare it to the many others I've eaten, would be to compare a hot dog from a dirty water stand to one at Per Se.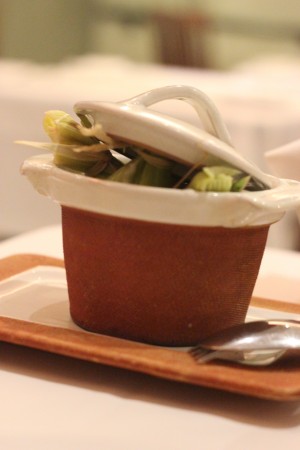 The tamales were my favorite. As a lover of tamales of all stripes, these were a revelation. The thick, dried corn husk-wrapped version that is fairly common are great. The soft, creamy kind that come in a banana leaf were always my favorite. These, though, these just blew my little mind. Wrapped in fresh corn husk, these smelled of sweet corn, like you just took a nose dive into a farm stand. The fresh vegetable scent permeated everything it held within, which–surprise!–was not masa and filling, as expected. Each one held together a tiny package of cheese and flavorings. One was huitlicoche, living up to its nickname as Mexican truffle. That earthiness, that savory flavor you expect in truffles, combined with melting cheese and the corn wrapping. It's unfair to compare to anything I'd had before. Sure, they were tamales, but they brought flavors and styles of food that I'd never experienced before. The meal, in its entirety, was an experience like that. The setting, the service, the food.
---
While Izote stood out as amazing, we ate at a few other nice places that deserve a mention.
Azul Condesa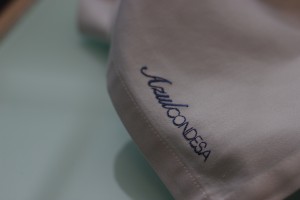 Located just a few blocks from our hotel (in the Condesa neighborhood, natch), Azul made the perfect mid-afternoon snack stop for us. Of course, we're on American schedules, so everyone else there was having brunch.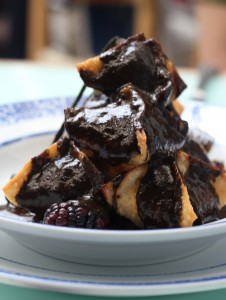 Seated in an open air courtyard, we enjoyed the bubbly ambience of the Mexico City upper class enjoying their mid-day meal. We dove excitedly into the Duck Bunuelos, a meat doughnut, if you will, topped with a rich mole sauce (pictured above).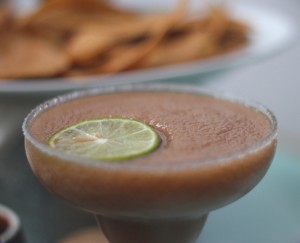 Along with the duck doughnuts, we sampled their specialty drink, the best tamarind margarita you'll ever find. Slightly sweet, spicy, rich, cold, and beautifully salty, it was my first hints of the great cocktails Mexico City would soon reveal to me. A pair of drinks, and a table full of dishes for our snack at restaurant whose ambience and service beats the pants off anywhere in Seattle? That must be expensive right? I believe we paid $25 for the privilege. I'll be back, to either Azul Condesa or its two partners, Azul y Oro and Azul Historico.
 El Bajio
Less formal than the first two (um, it was in a mall), this mini-chain has a few restaurants around town. A big menu offering foods from all over the country and televisions playing American football games, on first thought I was concerned we'd stepped into a Mexican Applebee's.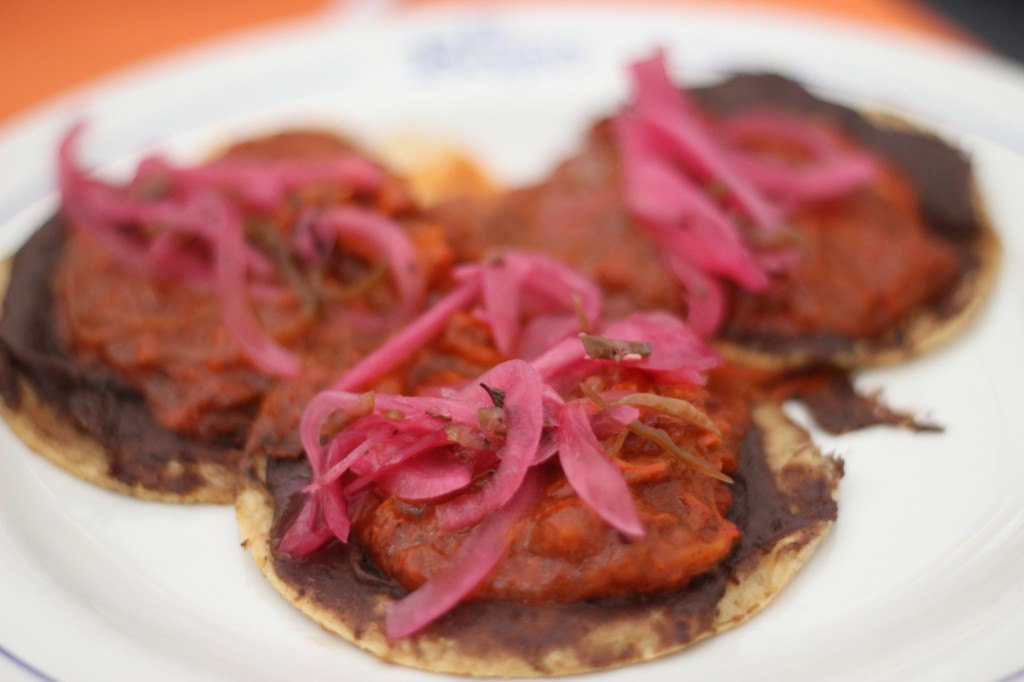 These Yucatecan-style tacos (panuchos) erased any possibility of that. Creamy black beans on a crispy tortilla, bright red sauce and brighter pink pickled onions made sure I knew I was in a serious food spot.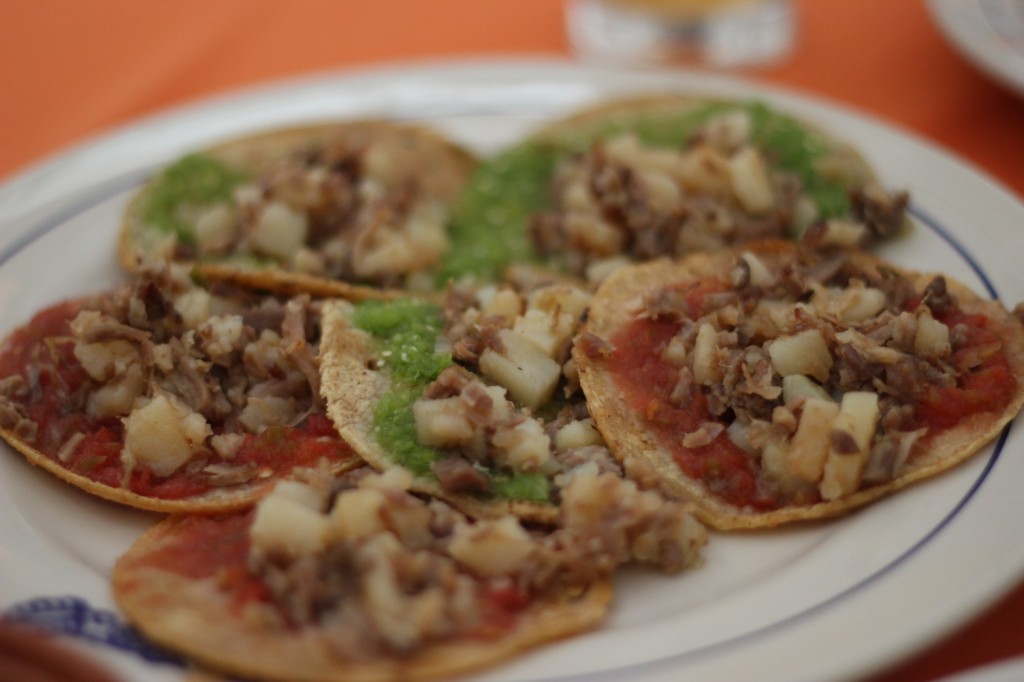 These tiny, multi-colored sauced tacos sealed the deal, topped with a meat and potato combination. I said silent apologies in my head for ever having doubted the person who recommended this place, and even came to enjoy the mall people watching for a little bit. That said, they do have non-mall locations, which I might seek out next time.
El Cardenal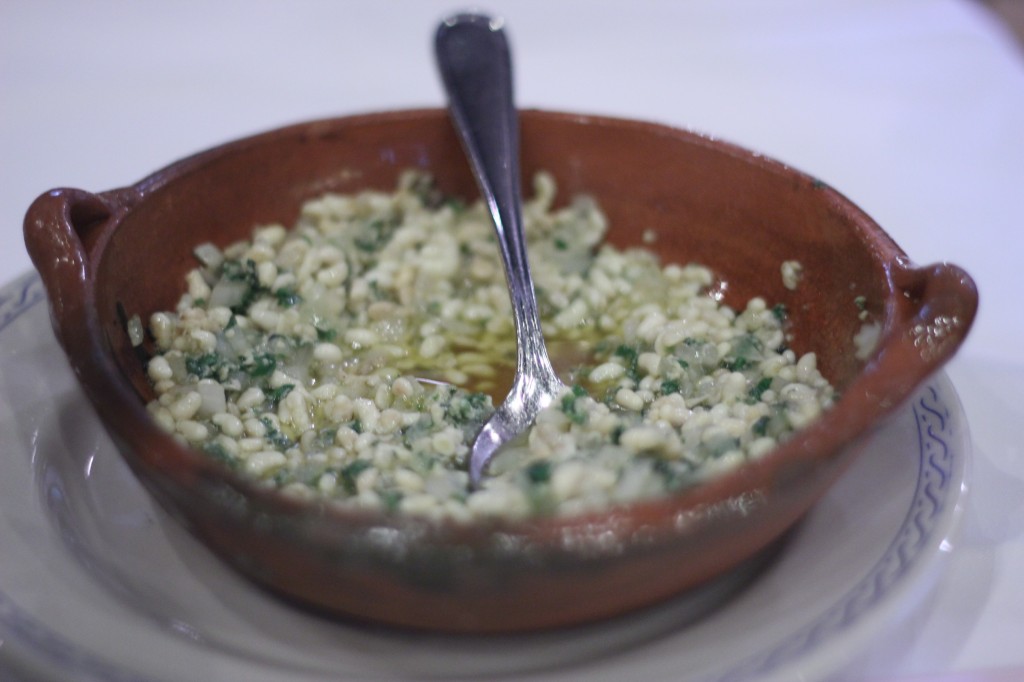 Lastly, I gotta give a shout out to El Cardenal. Located in a hotel right near the Central Historico (aka where you'll be at least once if you're visiting), it's pretty convenient. Also, they serve these amazing ant eggs called 'escamole'. Fried in a heavy garlic oil, they have a texture not unlike the salmon roe you'll find at sushi restaurants, but slightly earthier. Just slip them into a tortilla, and you've got a taco.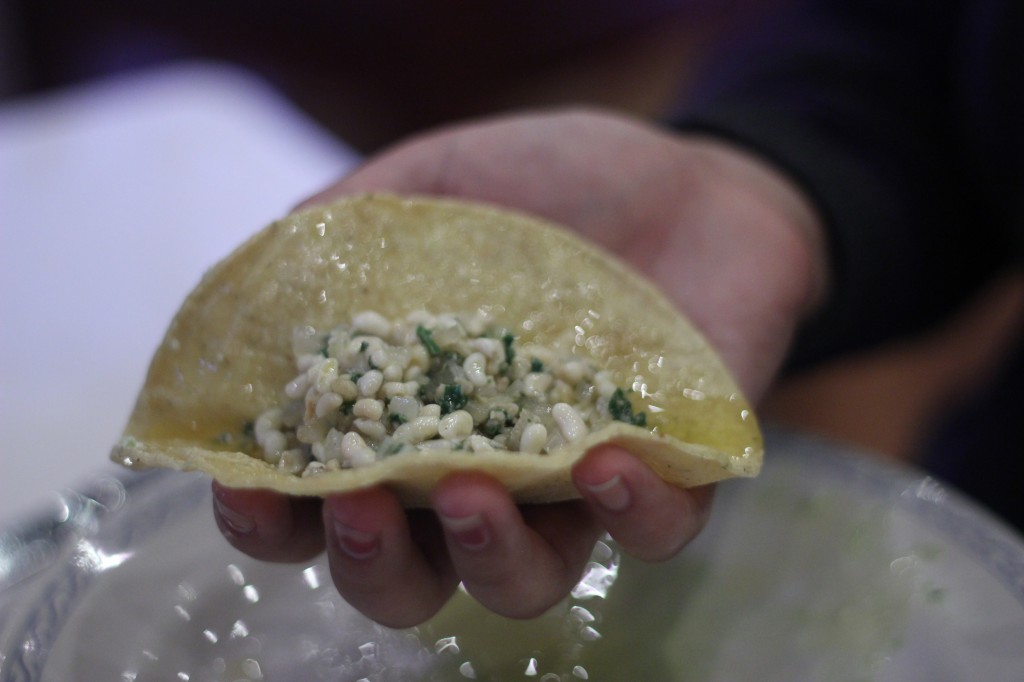 Also, if you're not into ant eggs, they've got like a hundred other things on the menu, of which I only tried a few, but all of which were delicious.
All in all, I was overwhelmed by the amount of high-end, amazing food in Mexico City, and at the low, low prices. While the street food was great, it was the wide range of foods, from all price ranges and locations, that has me constantly dreaming of how to make my next trip there happen.