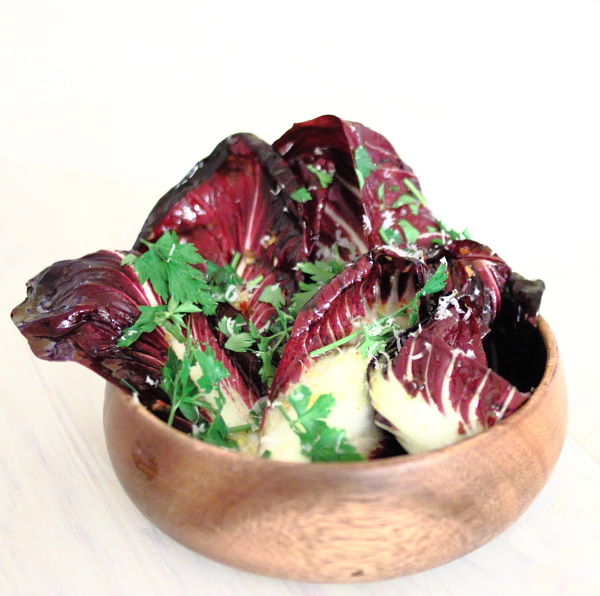 Thanksgiving's over and holiday parties are getting started. With all that heavy food (not to mention the cocktails), even those who are not the biggest salad fans need to try to sneak in a vegetable or two. Not saying I hate salad personally, just that I'd rather eat stuffing than salad. I might rather eat stuffing than about anything, though.
For those who share my preferences, this is the go-to salad. Strong flavors from the anchovy, the garlic, and the bitter radicchio punch you in the palate like a prizefighter. The wallop makes up for the fact that you're eating rabbit food. The Treviso type of radicchio is shown here, but the salad also works well with Chioggia, the more cabbage-like raddicchio, the sturdiness standing up for the slightly less bitter chicory. Based on versions I've had at two of my favorite restaurants, Tasty n' Sons in Portland, Oregon (which I consider one of the best restaurants in the world and worth every second of the wait), and from chef Ethan Stowell in Seattle, this makes a worthwhile healthy addition to a holiday table (we had it at Thanksgiving, it was a hit).
[amd-recipeseo-recipe:15]
*I'd like to add a footnote to thank Local Roots Farm for straightening my slightly garbled vegetable nomenclature. What I originally called 'radicchio' is actually the Chioggia type of radicchio, while Treviso is another type of radicchio. And neither are a lettuce, both are chicories. Whew! So much to learn, so glad for helpful farms speaking up on Twitter.