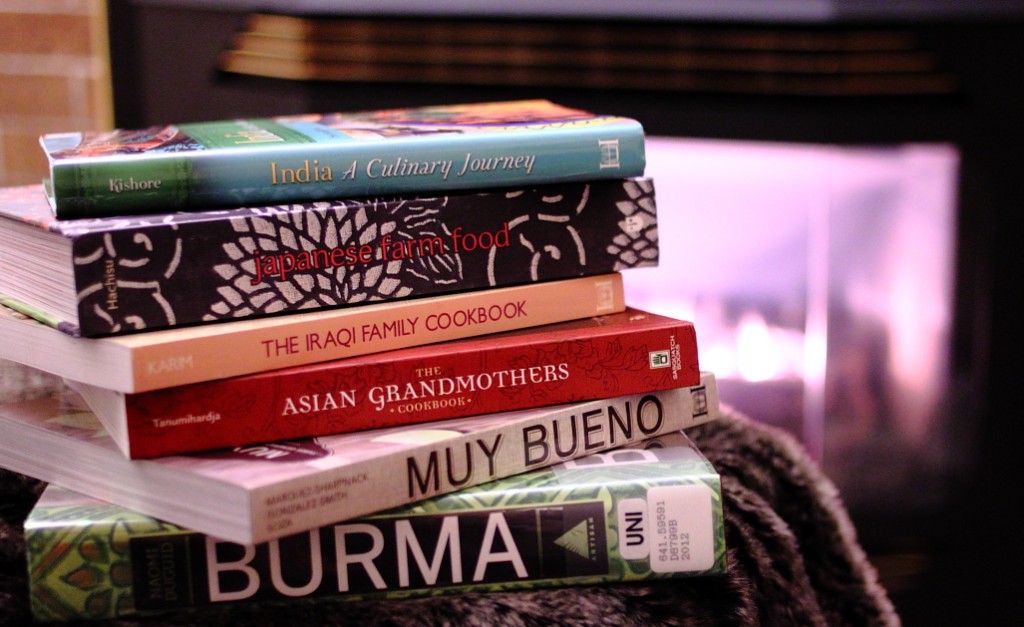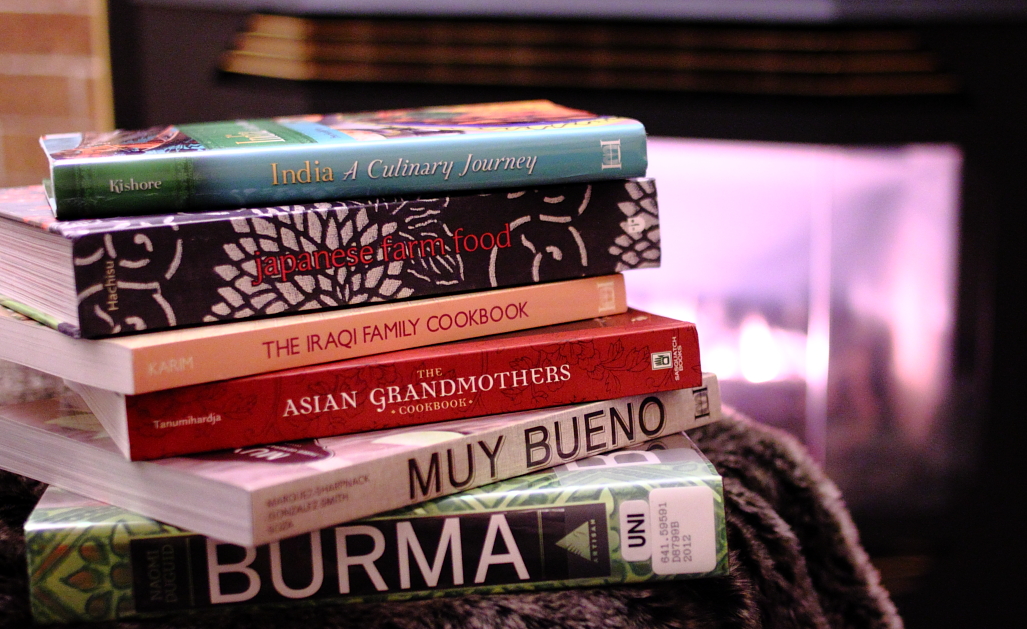 Everybody and their monkey is putting out a gift guide, and obviously, I wanted to jump in on the fun with my own area of expertise: what to buy for people who love to cook and eat (or at the least, read about cooking or eating) food from all over the world. Since the monkeys write poorly and everybody else tends to stick to mainly Euro-American-centric stuff, I thought I'd better get the word out about some tasty tomes.
I devour over 75 cookbooks a year. Figuratively, of course. Between those sent to me by publishers, the ones I buy myself, the ones I take from the public library, and the ones I get from my own private library (or, as I like to call her, mom), I have my hands on more cookbooks than most people. How long they stay in my hands (and off the junk shelf/out of the donation bin) is usually a pretty good sign of how good they are. Here are the 6 that have spent the year on my coffee table, nightstand, and kitchen counter.
1) Muy Bueno
Muy Bueno: Three Generations of Authentic Mexican Flavor
 is a cookbook I hadn't heard of until it dropped on my doorstep. I opened it directly to the most shimmeringly tantalizing bowl of menudo (hominy and tripe soup). A hangover cure in a bowl, it's a dish that immediately makes me feel like I'm getting hugs from the Mexican grandmother that I don't have. Further glances turned up recipes ranging from startlingly authentic (lengua entomatado–beef tongue with tomatoes) to modern and simple (guacamole, bacon-wrapped shrimp with jalapeño). The sweet family stories that accompany each recipe are good enough to be bedtime reading. As long as you don't mind waking up hungry.
2) The Asian Grandmothers Cookbook
The Asian Grandmothers Cookbook: Home Cooking from Asian American Kitchens
 actually came out in 2009, but I'm cheating and using it because the paperback version came out this year. I'd heard about it when it first came out, but never got around to getting my hands on a copy. Once I did, I realized that while these aren't necessarily the recipes I'd be most likely to cook with, it is an absolutely fascinating study of cooking anthropology. Each story of an Asian grandmother living in the US is interesting from a historic perspective, how they got here, what they did when they arrived (especially if you're a history nerd like me). Then many of the recipes show how the dishes went from the original, authentic version, to the dish made as it could be in America, with the ingredients available. Whether substituting chayote for hard-to-find Bengali white pumpkin, or finding a way to use up Thanksgiving leftovers in rice porridge (jook), this book is a fascinating study in cultural evolution.
3) The Iraqi Family Cookbook
The Iraqi Family Cookbook
 is a fairly simple book. The photos are camera-phone simple and the headnotes are direct (example: "This recipe is very popular in northern Iraq"). In exchange, it offers what I'm assuming from the lack of tailoring to less-adventurous palates, is sheer authenticity. Any cookbook with the audacity to unapologetically offer a recipe for lamb brains (sorry, no picture) has won my vote. Equally interesting, but far less intimidating (and easier to find ingredients for) is the section of pickles that belong on every Iraqi table. Whether you're in it for the fermented barley juice (for the barley soup, natch) or the array of beautiful breads, this book  served me well as an introduction to a cuisine I knew little about.
 4) Japanese Farm Food
Japanese Farm Food
 is beautifully designed in this simple manner with patterned fabric as accents, in a manner that just begs the reader to touch the pages. Though you can't actually feel the fabric, you'll still want to turn the pages–especially the 20 devoted to sauces and dressings in the back, an amazing resource for home cooks who like to put their own spin on things. For those who like to follow recipes, the book covers everything from simple vegetables (edamame with sea salt) to egg custard with flowering mustard in sour orange halves. The author loses focus sometimes and moves into restaurant dishes or dishes the text seems to indicate she doesn't like or doesn't know as much about. However, the rest of the time, when she's focused on vegetables, rice, eggs, and the farm staples, the results are simply crave-inducing. Okay, simmered daikon with mustard might not draw out your drool, but if you know the stomach-warming affect that she describes at the top of the recipe, you'll know what makes this book great.
5) India A Culinary Journey
India: A Culinary Journey
. It's the Indian book I'd sort of been waiting for. I've long been frustrated by what's out there. And don't even think about suggesting Madhur Jaffrey, or I'll tell you about my cookbook club's experience with her recipes. India is a huge country. One that I barely even have the culinary knowledge to pick where I'd want a recipe to be from. Dosas from the south, tandoori from the north? So that's where this book comes in. This book has been on my nightstand for months, as I open it to a different region and learn about Kerala's fish in coconut gravy or the bread pudding of Hyderabad. What about zucchini and poppyseed curry from Orissa and Bihar? I had never even heard of these places, and yet, I am now obsessed with wanting to cook the food of the region. From street food to festivals, from homestyle to restaurant food, this really gives a great and wide-reaching introduction to Indian food. And makes for excellent educational reading.
6) Burma
Burma: Rivers of Flavor
 is possibly the book I've waited for most excitedly in the last few years. I've been a fan of Naomi Duguid's books with her ex-partner Jeffrey Alford (and not just because she has the best name ever), and watched her tweets intently (read: enviously) as she researched the book. Back on the homefront, though, there's no relief for Burmese food cravings. 3 hours north, Vancouver's Bo Laksa King taunts me with tasty takeout. Trips to San Francisco often involve a stop at Burmese Kitchen or Burma Superstar, and Rangoon in Philadelphia recently quenched a thirst. But Seattle? No Burmese food to be found. So I'm hoping to keep this book handy to learn my way around the Burmese kitchen. I have big plans to ferment my own tea leaves to make tea leaf salad, and this winter I'll definitely be fighting the cold with khaut swe, rice noodles topped with simmered meat and pea tendrils.
So, what other books have led you to discover new foods and new recipes this year?
*Please note that some of these books were sent to me by the publishers, and that the links are affiliate links. That means if you purchase something linked here, I get some money, and you get the satisfaction of supporting your friendly neighborhood food blogger. Thanks!