Like so many of our trips, our Hawaii vacation quickly spiraled into 'research.' As in, I carted us all over creation looking for the best bites the islands have to offer. If you've been watching my columns on Serious Eats, you might have seen me talk about some of the things I ate. But right here, right now, I'm going to tell you about the seven best bites I had in the seven days we spent in Hawaii. **Note: The Hawaii Visitors and Convention Bureau helped out with my transportation and lodging costs for this trip, though I chose all meal locations and paid for all meals, except where noted. 
Spam Omelet, Liliha Bakery
I can't explain what made this so good. Maybe it was the fact that it was 2 in the morning local time (5 in the morning on the time I'd woken up on), and I was in a new city with an old friend, who, it being Halloween, was dressed as Magnum P.I.–complete with eyeliner-applied chest hair and all. The salty meat was chopped up with nicely caramelized onions, the whole thing had the inverse ratio of messiness to deliciousness down pat. Friendly locals on the other barstools were happy to opine on our ordering, and it just felt right. Not pictured? The buttery bun with secret-ingredient house jam that came with.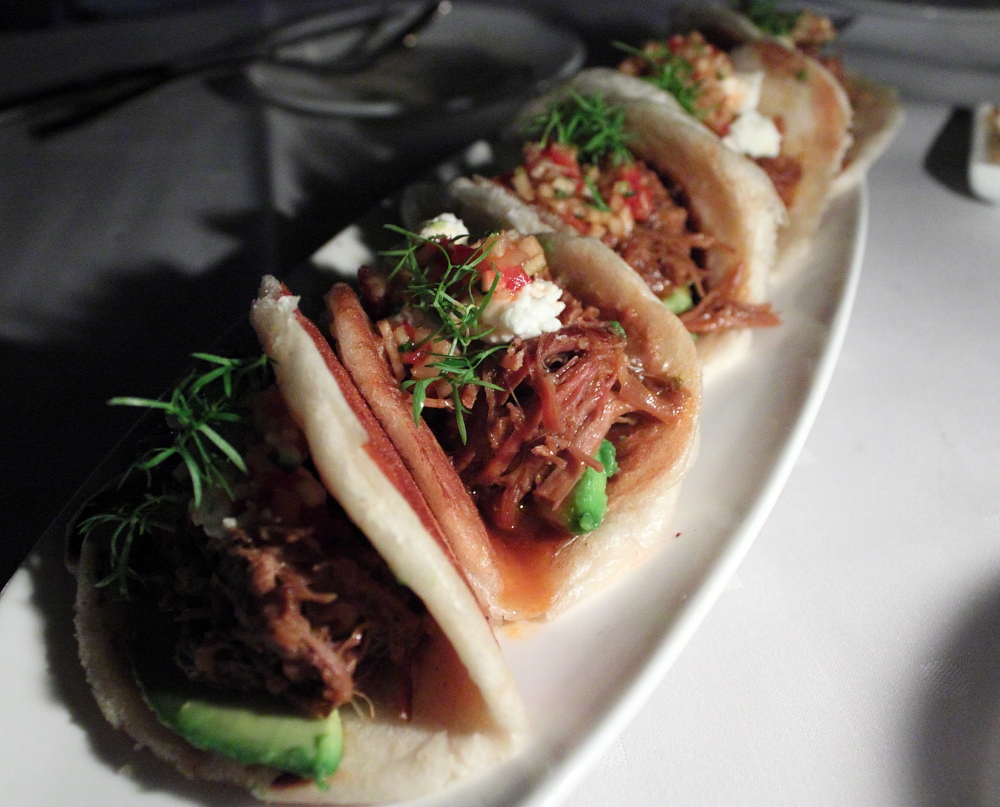 Goat Barbacoa Tacos, Canoe House
It was actually a set menu media (read: free) dinner at this fancy-pants restaurant, and these were not on the menu. Luckily we were seated next to the PR lady, who kept mentioning things. House-made local-pig bacon? "Oh, would you guys want to try that?" She'd ask, innocently. Um, yes, yes, we would. "Oh, you guys like goat?" She wondered. The five people within earshot all started babbling incoherently at high volume about how much we love goat. "Chef will bring out his goat tacos," she said, calming us down. We were not prepared for this. Yes, what's inside is falling apart local goat meat, 'Korean-braised' according to the menu, and it was incredibly good, especially with the crisp daikon salsa on top. The clincher, the thing that made me declare this one of the best bites of my year, though, was that the whole thing was wrapped in a flaky pastry. She called it a bao bun, but it was less like a soft Chinese bao, and more like the crispness of a scallion pancake. It was the perfect foil for the soft goat, and I was won over.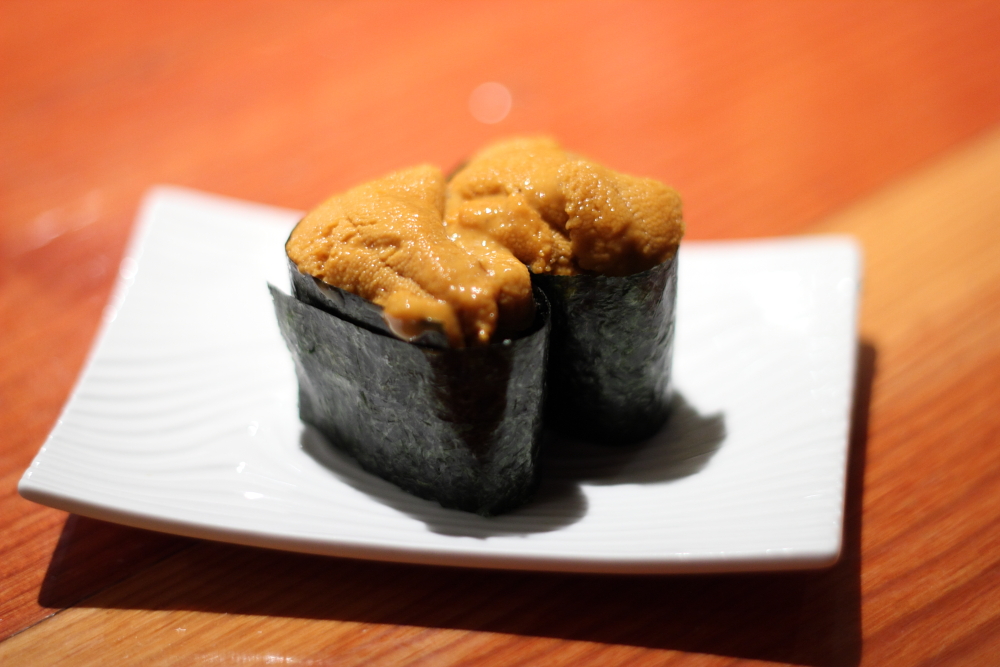 Uni Nigiri, Sushi Izakaya Gaku
Really, I could put nearly anything we had at Gaku up here and feel comfortable. The whole meal, no matter what we ordered, was flawlessly fresh and perfectly presented. Uni happens to be one of my favorite foods, so it was the winner. Sitting at the sushi bar, we spent most of the time watching what went out and pointing at what looked good, as well as soliciting excellent recommendations from our server and chef. We were led to local fish like moi, which I'd never heard of, and Japanese specialties like something called tofu jelly, which I simply had never tried. If you have one dinner to spare on Oahu, you will not regret spending it at Gaku. Reservations are hard to come by, but we headed over at 7:30 and only waited about 30 minutes for a spot.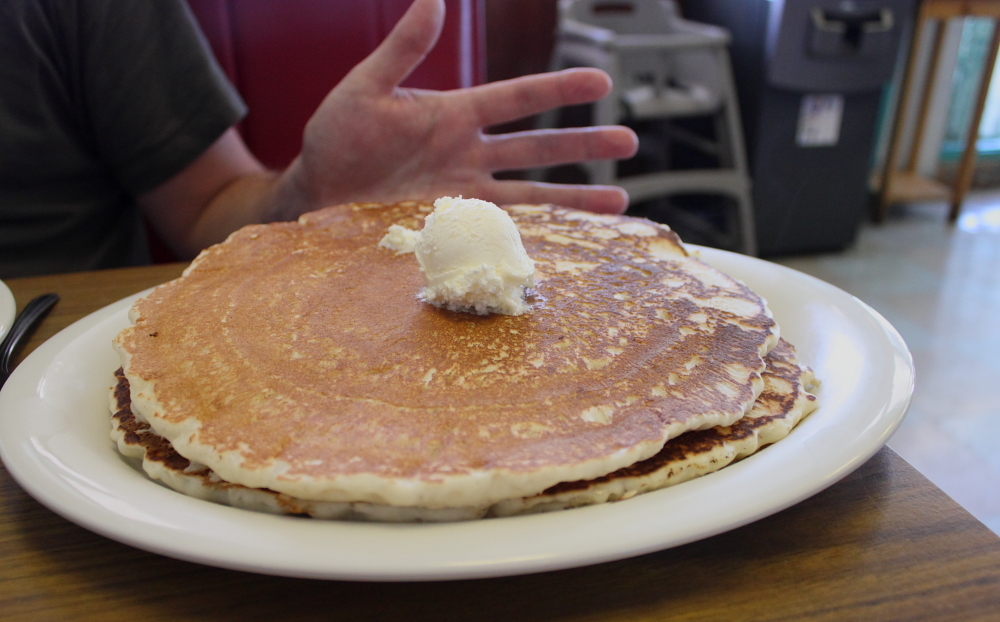 Pancake, Hawaiian Style Cafe
It was simply the best pancake I've ever had. Again, a restaurant full of stellar bites–we returned a second time, despite it being a 25 minute drive each way from our hotel. Among the many huge, impressive Hawaiian foods that were on order (the pulehu lamb ribs were a star), it struck me that the simple pancake could be easily dismissed as an afterthought. It's only one of the sides available for the omelettes, a choice along with toast, hash browns, or rice. Not here, here the pancakes get far more attention then they deserve, and it shows, in the hint of sour in the dough, in the sweetness–just a touch, and the simple beauty of the massive stack.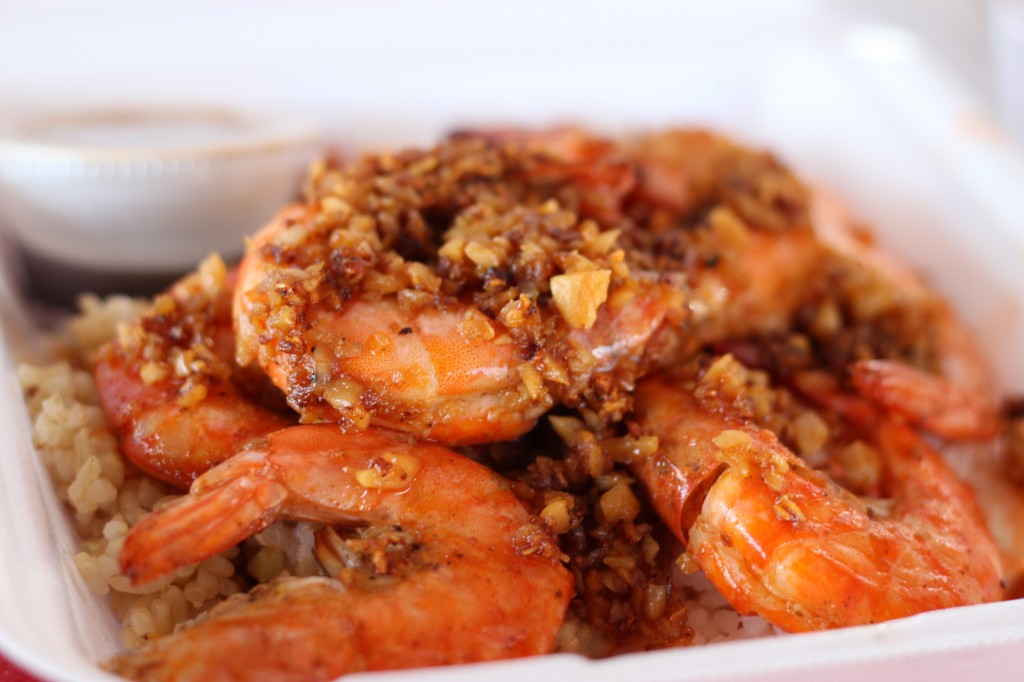 Butter Garlic Shrimp, Romy's Kahuku Prawns and Shrimp
Apparently shrimp is a contentious subject on Oahu. The North Shore is lined with various trucks and shacks serving their own version. We heard nasty rumors about some serving Costco shrimp from people. From others, complaints about service and waits. Everyone we talked to had their favorite and most were willing to get nasty to defend their shrimp spot. We chose to go to Romy's because it's vertically integrated–meaning they harvest the prawns right there, next to the shack where they cook them. I can't compare them to anywhere else, all I can say is that both the butter garlic and the hot and spicy versions were (literally) finger-lickin' good. It's hard to go wrong with butter and garlic, but it's not easy to go this right, where they meld perfectly, the browning on the garlic adding sweetness to both the butter and the shrimp.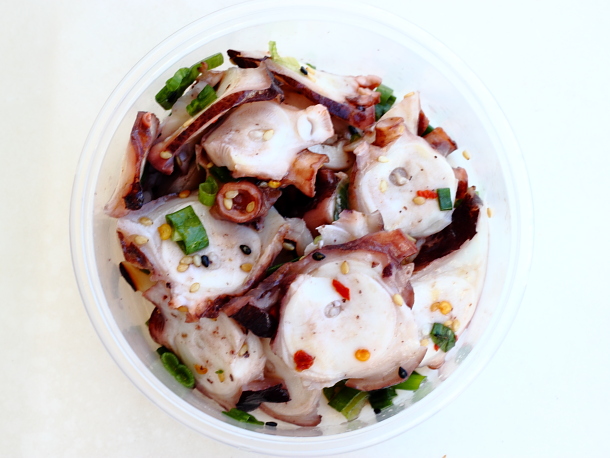 Island Style Poke, Tamashiro Market
We ate a lot of poke, Hawaiian fish salad, while we were there. Like, at least once a day. As many times as we could. What better way to appreciate fresh local fish, a food near and dear to Hawaiian hearts, and stay reasonably healthy on vacation? Poke, all the way. Poke is everywhere, on every menu, in every store. Some of our favorite came from a fish market called Tamashiro. We were standing around, looking, I imagine, fairly confused by the gajillion options, when a nice guy directed us toward this particular poke. "This is the good stuff," he told us, explaining that this is the freshest tako, or octupus, and this preparation was the only one locals love. We took him up on it, with no regrets. Tender octopus gave way with each bite, complete with a nice hit of spices from the chiles. A winner in the imaginary (very tough) poke competition.