Sure, the town is known for its sandwiches (and Rocky, obviously), but we did eat a few non-sandwich meals while exploring Philadelphia. What we found was a town full of food opportunities that we never get in Seattle, and a few that I don't think are found anywhere outside of those specific restaurants. Taco pizza, anyone?
Read on for the bits, bites, and meals that are worth a stop in Philly.
Red Gravy at Villa di Roma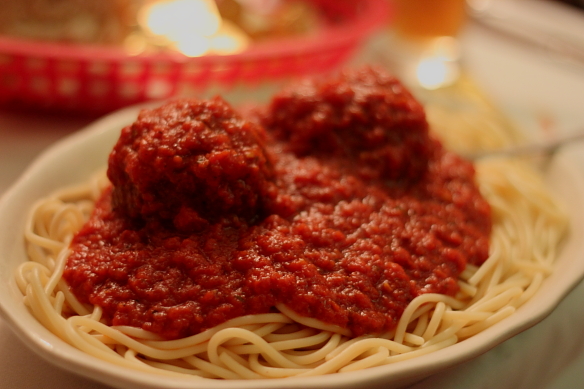 Ignore this entry if you're in New York or New Jersey, because you can probably find this kind of thing near home. The food is nothing like the uber-authentic Italian food or new school regional twists chefs are serving up in Seattle. Instead, what's served here is the same thing Italian-Americans have been serving up at Sunday dinner for generations. It made me nostalgic for a childhood I didn't have, so it must be through some sort of collective memory. Or possibly from watching too many episodes of the Sopranos. Eating the perfectly classic spaghetti and meatballs, with, in the local parlance, red gravy, ordering from the waitress who looks like she remembers when the first meatball was made, is a quintessential Philadelphia experience. You, like me, might have forgotten just how amazing the classic dish is, and why it is so deservedly loved. This version will remind you.
Pizza al Pastor at San Lucas Pizzeria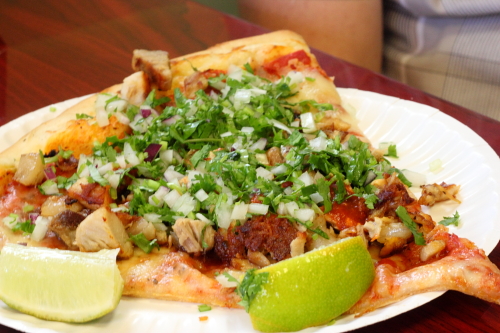 I'm not even sure how this isn't a thing already. Are we declaring new trends for 2013 now? Because I'm voting for this taco/pizza hybrid we found in Philly. I mean, look at it, it's a slice of pizza, covered in street taco fixings. How is there not someone selling this on every corner? Yes, it is just as good as it sounds. It's like tacos and pizzas had a baby and he got one of those crazy x-men genes that gave him superpowers and he used that superpower to be the most awesome food ever.
If you're interested in eating this amazing thing, here's the website to learn more, but I warn you that it plays terrible music on opening, and also it spells its own name wrong. Going in to the shop isn't much more awe inspiring. While other culinary trends are being discovered in Spanish labs or Scandinavian forests, this one is straight out of a ghetto mart. You order through the plastic safety screen, and there's only about three seats, so you might consider takeout. But trust me, it's worth it. In ten years, when taco-pizzas are all the rage, you get to be all hipster and say "I had it before it was cool."
New School Israeli Food at Zahav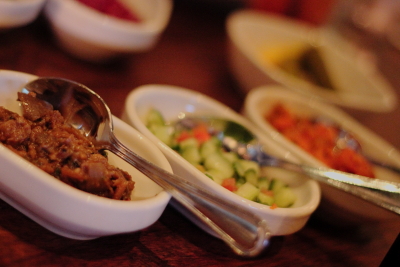 It was like a myth. I'd heard about it for a while, stored it in the back of my brain for later use. Amazing Israeli food, Philadelphia. Filed away, for when it would be called forward. The time I had come. The salatim (pictured), a selection of small salads, started the meal out just I had imagined. The platonic ideal of hummus, surrounded by dips and salads highlighting various vegetables? This is all people need in life. Not that I'd complain about the kibbe naya (raw lamb, one of my all time favorite dishes), or the fried cauliflower either. In fact, one of the standouts of the meal was that there were at least ten different dishes on the table for the four of us, and not a single let down in the bunch. The combination of the traditional Middle Eastern foods I love (kibbe naya, hummus) and the same flavors reinterpreted with sweetbreads and foie gras was exactly what I had hoped for. Well, that and a tasty cocktail, which was also on offer.

Burmese Food at Rangoon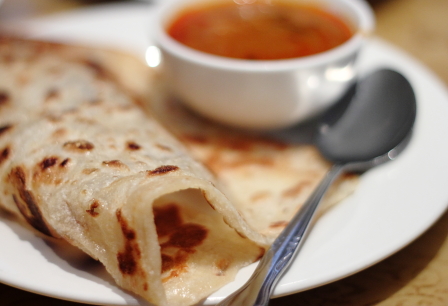 Burma being one of the countries whose cuisine is unrepresented by a restaurant in Seattle (also looking at you, Ghana), I always jump at a chance to get my hands on a good roti canai (flaky pancake served with curry, above), or my personal favorite, tea leaf salad (pictured below). Rangoon's versions of each did not disappoint. Burmese food brings in the crunchy, fresh textures of Thai food, the deep spices of India, and the crispy frying power of Malaysia. Does that not sound like a dream cuisine? Also, I've yet to find one restaurant that doesn't churn out charmingly helpful eating advice along with delectable dishes. So go, ask questions, and enjoy the food of one of the best cuisines you can't find in Seattle.