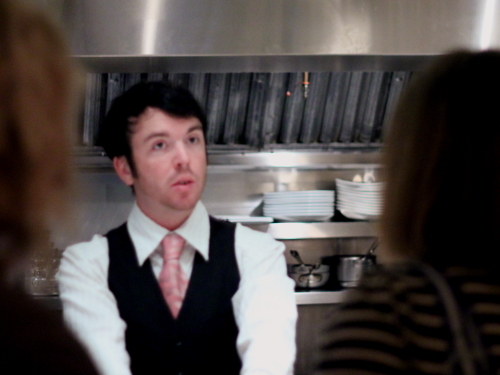 Let's just get this straight: I was the worst server ever. On my second day as a waitress, I dropped chicken fingers on the floor of the Quito pub I worked in, and under the judging eye of both chef and co-worker, I picked them up and served them. As a pizza server in northern Mexico, I probably ate more cheese than ever made it onto one of the pies I was preparing. This is why I work on the marketing side of the food world. So I understand that serving is not an easy gig. But it doesn't seem so hard to remember not to ask, "Sir, did you forget to take your shower today?" (True story: this was actually asked to someone at a table with me. Admittedly, I was in the fifth grade, and he was my vice-principal, so this was the FUNNIEST THING EVER).
Luckily, I'm a taste kind of girl. Service is secondary, ambiance tertiary, to me, following how good the food tastes at a restaurant. That said, if I'm laying down the big bucks, or really, more than about $15 an entree, I'd really prefer that my server not say any of the following things:
"Everything!" as a response to "What's good?" I'm asking because I'd like your opinion, and you've told me you're either a waiter-tron that can't make decisions for yourself or you're too concerned with offending me to pick one item. I asked because I want your opinion. Even better if you can back it up with a reason why–that isn't just "it's my favorite" (the spot prawns arrived fresh this morning, asparagus is chef's favorite, so he treats it like gold, etc.)
"Who had the fish?" If you can't remember places, write down the orders. Nobody minds if the waiter writes down orders, so don't treat it as some sort of mental pissing contest to see who can remember the most orders. Please, when my table of six orders a pile of shared apps plus individual entrees, don't try to keep it all in your head and then auction off our dishes when they arrive.
"And yours will be right out," Deliver all the plates or don't deliver them at all. This one feels like it should be obvious, but somehow, it still happens. Three of our four dishes arrive, and we're told the fourth will be right out. That three minutes? Feels. Like. Eternity. Everyone else's food is taunting them "eat me, my mashed potatoes are steeeeaaaammming hot," and the plate-less person is experiencing endless guilt, saying "eat, eat, don't wait for me." If they do eat, then conversation is silent, and plate-less is just sitting there, with nobody to talk to. If they don't, conversation flow is interrupted as the elephant in the room (or the salmon that's not in the room) blocks it.
"My name is _______ and I'll be your server tonight," Let's be honest, if you're introducing yourself, you probably already work at a place that makes you wear a name-tag, not to mention I'm going to forget it the second it's out of your mouth. And telling me you'll be my server? I'm assuming that's why you're over here asking me if I'd like anything to drink. I'd imagine the only people who couldn't figure that out would be people who are on their first restaurant trip, in which case I hope they stick out their hand and say "Hi, I'm _______ and I'll be your customer today." Also, if I need another beer, I'm damn well not going to worry about which one of you is MY waiter, and I'm sorry, I know that's not convenient. But if my beer gets to empty and nobody's offered me another one, I'm going to start flagging until somebody brings me my brew.
"Oh, we're out of that," when I'm placing my order. Restaurants run out of things, it happens–some nights there's just a run on the fried chicken. But this is knowledge that should be passed on as the menu is handed to the guest, not when I am attempting to place the order, having already dreamed of crispy-fried bird skin, tender thighs and that fluff-tacular biscuit.
"Is everything okay?" Sorry, waiters of the world, I know this is a common one. But what a watered-down, non-question. Put some spunk into it or ask me a question with meaning. "Are you enjoying your meal?" even, at least gives me the opportunity to be enthusiastic. If my summary of your restaurant is "okay," are you going to be happy with that? Better yet, just ask me if there's anything you can get me, because that's really what you're asking: do you need more ketchup, water, cocktails, or, worst case scenario, a different entree because this one sucks. Also, whatever the question is, please let me try the food and drinks you've just dropped before you ask it. I know it's hard to time it for when my mouth isn't full, but just let me sample before you ask.

"Did you save room for/would you like dessert/a dessert menu/to order dessert?" Even as an infrequent dessert order-er, I still always want to see the dessert menu. I want to see what is on offer, and you, as a waiter who makes more money when I order dessert, should always want me to see the dessert menu, just in case you can tempt me. I'm a big girl, if you bring a dessert menu and I don't want any, I'll let you know to just bring the check.
"Are you all finished with that?" If you must ask this type of thing, "Shall I clear this for you," is a better phrasing, but really, signs I might be done with my meal include: a) I haven't eaten it for a while b) there's a napkin over the plate c) it's pushed away from me d) the entire table is done with eating–as in forks are no longer going to mouths.
"Have you been here before?" Your restaurant is not that special. Yes, I can see these are small plates and those are large plates. If there's something truly confusing about your menu, you should explain that on the menu. And if you must explain it in person, please, just explain it. The one guest who hasn't been here before doesn't need to be called out on that.
"No," with disdain, or the accompanying eye-rolls that mean "no" while you say "yes" or "I guess," when I ask for a substitution or special order. I'm pretty low maintenance  but a pregnant friend recently told me about the attitude endured in getting restaurants in town to serve her food that would be safe for her pregnancy. These were not impossible-to-avoid foods (no fresh/raw cheeses, no under cooked meat, that sort of thing), and her requests were consistently met with eye-rolls, eyebrow raises, and general push-back. Another friend, when ordering a non-alcoholic cocktail, reports that the bartender made fun of her for not drinking, going so far as to pretend to snore, insinuating that anyone who doesn't drink is that boring. Seriously, Seattle servers, this is the best we can do?
What's your server pet peeve?