I'm going to deviate just a touch from the topic of eating food for a second…but there's still food preparation involved.
Lady Camp was one of the most inspiring things I've done in a long time. I travel across oceans all the time, but here, just 45 minutes from my house, I met people from the foreign lands that we call "across the mountains" with strange religions (I believe they're called "republicans"). They were tall and short, old as my grandmother, and young enough that I had to use the phrase "back in my day," more than once. The common thread? They were as enthusiastic as I am about spending time outside, and many even more specifically, about catching, killing, and preparing their own food.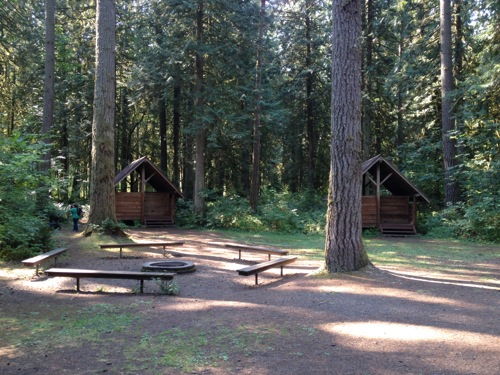 I stumbled on what I came to call Lady Camp while searching for a way to learn to hunt that didn't involve having friends who hunt (I have none, and there isn't one, by the way). I still might not know much beyond book learning in how to hunt, but I've picked up a new annual tradition: Lady Camp.
Think back to summer camp. The long, sunny days, the arts and craft classes with friends, the evenings around a campfire. Now imagine doing it as an adult: instead of arts and crafts, you can take outdoor cooking or nature photography. Instead of sneaking candy after a bad dining hall meal, you can sip from your flask. And those campfire stories? They're a lot raunchier.
Lady Camp is actually Washington Outdoor Women's yearly Fall Weekend Workshop. It's a Friday evening to Sunday afternoon thing, staying at an actual summer camp. They're a non-profit, and the $250 price tag is pretty reasonable when you consider that you get two nights housing, all your meals, and each person gets to select three skills classes to do while they're there.
I had chosen to attend because two of the classes were on hunting. While I'm no more ready to go out and shoot an animal than I was before the classes, I at least know what I need to do to get there (um, it's still find friends who hunt).
My first class was Field to Freezer. Our instructor, Sharon, was in her early 60s and told stories of field dressing every animal under the sun, explaining technique and tactics with the enthusiasm and encouragement of a kindergarten teacher demonstrating finger-painting. I am 100% sure that if Sarah Palin were to actually have to field dress a moose, Sharon would be the one who would be called on to teach her.
We started with an explanation, using a stuffed animal–Anatomical Andy–she had sewn herself (seriously, this lady is amazing) so that it had all the necessary parts to demonstrating field dressing.
Later, I sawed the rib cage of our demo animal in half while women twice my age helped to crack the spine and remove the innards. It was a bonding experience, to say the least.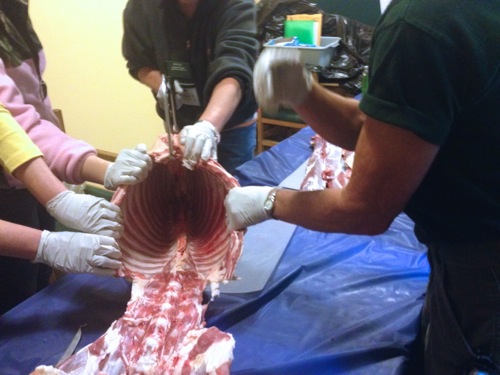 At the end of the class, the eight of us had broken down a lamb carcass and wrapped it to be freezer ready. We split up the parts between the group, and I went home with about 25 pounds worth of lamb. For those interested in less…primal classes, I also took kayaking.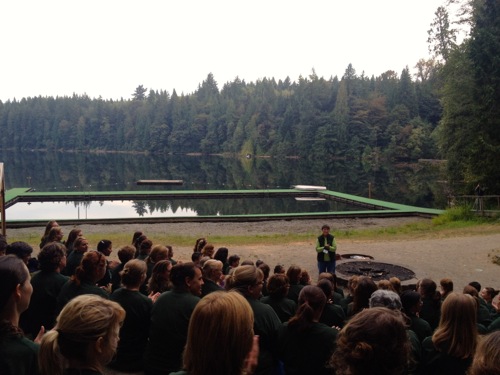 Other than the animal carcass, it was pretty much like camp. On the first day people mingled and met new friends. On the last day we traded email addresses and promised to write (but never did). And now, like in those childhood summer camps, I hope I get to see my camp friends again this year.
I'll be at Lady Camp again this year, if you're also in Washington, you should definitely join. If you're not, I hope your state is cool enough to have something similar.