"There's no food in the house!" Is a common refrain in my house.
Brett will look over at me, eyebrow arched in doubt. "I don't believe you," he'll say, reassuring me of his supreme confidence in my ability to make something, anything for dinner based on what we actually do have.
And I will. In part out of laziness to go to the store, and in part out of being unable to back down from a challenge. It's like the daily Iron Chef battle in my own kitchen: make dinner using only the ingredients already in the house, and get it done before we're both so hungry we've eaten a meals worth of cheese and crackers while I cook.
Over the years of playing this game, I've developed a few go-to dishes that make for a beautiful, filling meal from a few basic pantry items plus whatever else you've got around. Here are mine, one for each season. What are yours?
Celebrate the Arrival of Spring with Pasta Primavera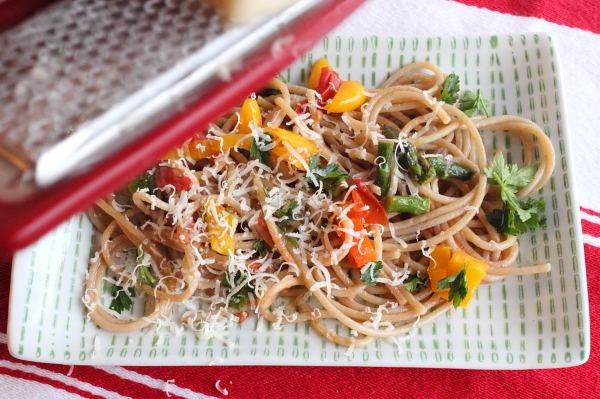 Base ingredients: dried or fresh pasta, olive oil or butter, garlic, Parmesan cheese
Best add-ins: asparagus, herbs (basil, parsley, tarragon, oregano, sage, rosemary, etc), peppers, spinach, broccoli, onions, peas, tomatoes
Bask in the Bounty of Summer with Bagna Cauda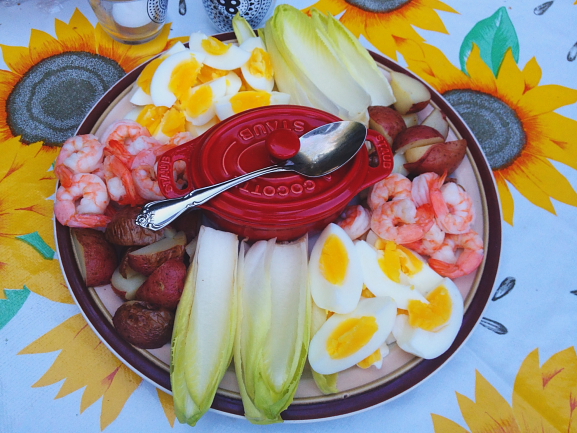 Base ingredients: bagna cauda (anchovies, olive oil, garlic, butter)
Best add-ins: hard or soft boiled eggs, bread, endive, shrimp, potatoes, cauliflower, zucchini, green beans
Find the Fun of Fall with Thai Red Curry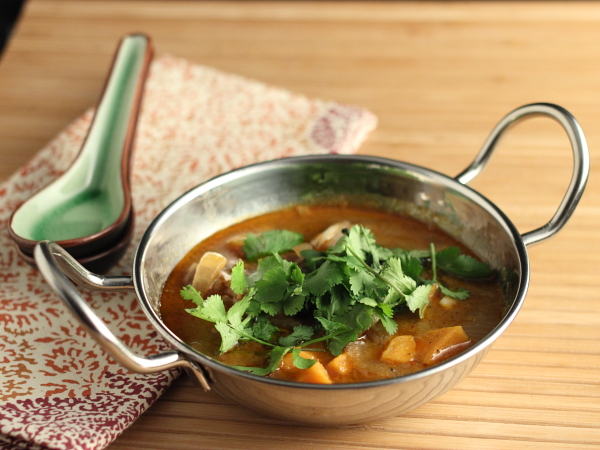 Base ingredients: curry paste* (this is the brand/type I use), coconut milk, plus I sometimes doctor it with ginger, garlic, kaffir lime leaves, and fish sauce
Best add-ins: any meat or fish (I often use lamb or shrimp), Butternut or other winter squash, onions, spinach or kale, bell peppers, eggplant, sweet potato
Stave off Sickness with a Winter Hot Pot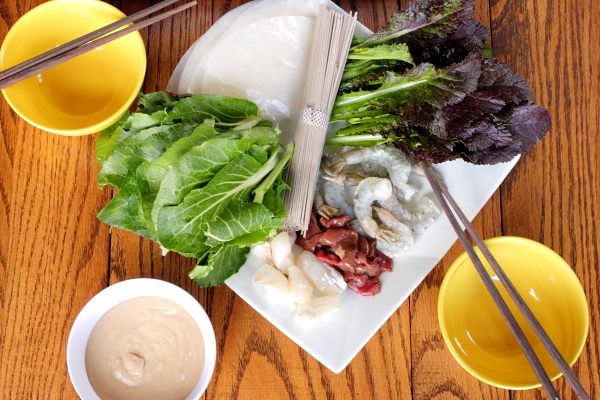 Base ingredients: hot pot packet* (again, the brand I use. Other people make their own broth, or don't use flavoring, but I love this stuff)–here's my usual set up, optional dipping sauce (I make mine with peanut butter or tahini mixed with a touch of soy sauce and coconut milk)

Best add-ins: raw shrimp or squid, meat (thinly sliced, I'm a big fan of offal here, as well as lean beef and lamb), fish (usually mild and white), any Asian noodle, greens (especially cabbage), dried or fresh mushrooms, potato or sweet potato, tofu, daikon, bok choi, pretty much any vegetable that you can slice so thin that it cooks quickly
*This is an affiliate link. I make a few cents if you purchase this item. But you can also buy it at your local grocery store.