Summer in Seattle is the greatest thing ever. There's even proof now, from Seattle's own weather celebrity. Because we're just a strange enough town to have one of those. I have been doing my best to not miss a single second of the excitement, which at times has meant writing articles by hand when the sun wakes me up at six in the morning while camped out in the mind-bogglingly beautiful North Cascades wilderness, because I'm just a strange enough person to do that–and love every second of it.
So to catch you up on what I've been doing while I wasn't here: I ate a lot. See below for details and, if you really care about what I did on my summer vacation, click through the links to see my articles on various other parts of the interwebs.
Burning Beast
If the PR person hadn't used the word "embed" when she asked if I wanted to join Mike Easton of Il Corvo for the weekend of Burning Beast, camping out with the team and documenting their experience, I might have hesitated. Embedding made it sound like I was heading off to war, something hard core, like a real journalist would do. What I did, in fact, was spend a weekend watching some very nice (looking, shirtless) gentleman dig pits and burn beasts while I sat in a camp chair and drank wine and ate the fresh crab, smoked sardines, and boysenberry pies that they cooked.
GM Good Taste Tour
Remember that day it was 85 degrees and super-humid (which, as I link to above, it never is in Seattle), and I had agreed to drink and eat on camera? No? Well it went like this: I'm hot, I'm sticky, I'm awkwardly in a car stuck in traffic with a chef I just met. Then I'm served the best cocktail ever, the celery gimlet from Chef Steps, and suddenly it's going to be all okay. Seriously, I didn't know what to expect when I agreed to do this video, but it turned out to be a great time–and because I pretty much became obsessed with that cocktail, I've got an article coming up on Serious Eats where I had to go back and interview them about that (and other) cocktails. It's a rough life, I know.
Also: Mexico and France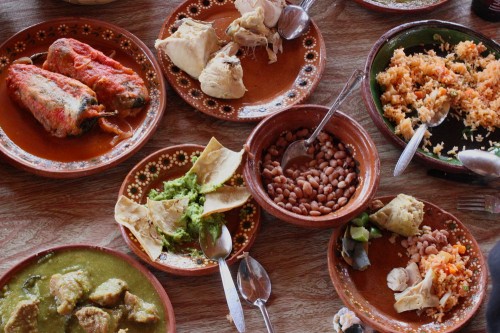 In case you don't follow my every move on Twitter (you should probably start), here's a little catch up on my travels: first, I ate all the things in France. Then less than a month later the lovely people from Avocados from Mexico invited me to do the same in Morelia. And I've still got one more article on Morelia coming up, because seriously, they fed us like we were being slaughtered for foie gras the next day.
Up Next: Feast Portland
The excitement's not over yet, either–summer in Seattle lasts until my birthday–the first fall rain is my annual present from the sky.
[Photo courtesy of Feast Portland]
Before that happens though, first I'll be heading to Lady Camp and then to Feast Portland. I try not to write about events before I go to them because I've been burned in the past–I sincerely hope that nobody actually listened to me and hit up the Taste of Kirkland, because seriously, it wasn't even held in Kirkland, and that was not the only part of its title to which it did not live up. But Feast sounds incredible. The guest list is so ridiculous that I started to list out my favorites restaurants/chefs who'd be there (Andrew Carmellini, Chris Cosentino, Higgins, Girl and the Goat, Gabriel Rucker) but I only got to the G's in alphabetical order before I realized even my edited version was going to be way too long. As an, ahem, sandwich columnist, I'm pretty stoked to watch the likes of Stephanie Izard, Paul Qui, and the chefs of State Bird Provisions go at it for the title of greatest stuff between sliced bread in a sandwich contest. As a culture nerd, I'm not missing the panel on The American Experience through Food. Perhaps it'll answer the question "what is American food?" for once and for all? Eh, I'm not holding my breath. And then there's the night market. As an avowed fan of night markets (okay, I like morning markets a hell of a lot too), I'm not even able to fathom one featuring Pok Pok, Franklin Barbecue (whose many hour lines I am too scared to brave when I'm in Austin next month), Zahav (which I loved when I was in Philadelphia), and Momofuku Milk Bar. So…who's coming with me?