I've been fattened up like a foie gras goose, and I'm ready to be rolled into the slaughterhouse. Only my version of the slaughterhouse is just a dinner made of brown rice, spinach, and salmon. A detox after a gluttonous weekend that had my stomach and tastebuds begging for mercy.
Never have the words "all you can eat caviar bar," been so fearful as when they're combined with "21 of the countries best chefs making Asian or Latin American street food," and "free late-night delivery of grilled-cheese sandwiches."
Yup, remember when I told you I thought Feast Portland was going to be pretty amazing? It was. My article on the Night Market (my favorite of the major events) is already up on Serious Eats, and there will be another one on Thursday about the best drinks from the whole event. And I'll be honest, If I'm going to eat myself to illness and obesity, I want to share a few photos of the ridiculous foods that lured me down that path.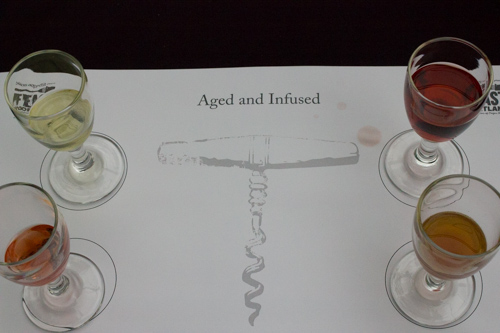 The Aged and Infused panel was fascinating for a cocktail nerd like me. It cemented the need in my life for an iSi (which I now have, after writing this article). The panel went over the science behind fruit infusions, a ground-breaking technique for making limoncello, how to barrel age a negroni overnight, and the making of an obscure amaro called Amer Picon. My biggest regret of the weekend was not having signed up for more of the educational events like this.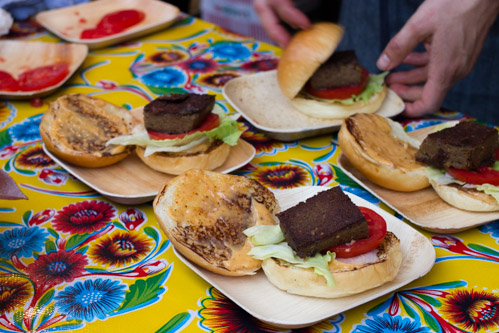 I was covering the Night Market event for Serious Eats, so I was just taking a bite or two of each item to conserve stomach space. Until I got to Naomi Pomeroy's Chinese Sausage and Heirloom Tomato BLT. Really, it was more like a burger. The best burger ever, that is. I took one bite. Then another. "I should really stop eating this very filling item, since I have 15 more items to taste," I thought. Then I took another bite. Two more. "Just throw it in the trash, you don't need any more," I tried to talk reason into myself. The crispy layer on the top of the meat, the pink of the medium rare in the center, they taunted me. I couldn't let them win. I took the last bite.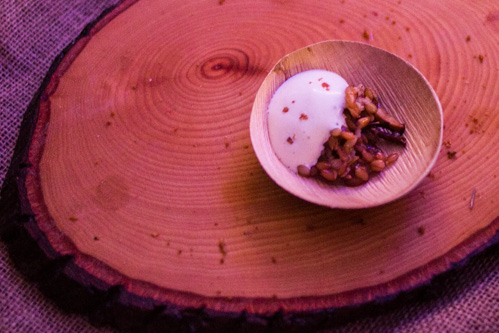 At the High Comfort event, Flour and Water chose not to exhibit their incredible way with dough (they serve positively dreamy pizza and pasta at their San Francisco restaurant). Instead, they paired a fermented ancient grain porridge with woodsy mushrooms and a foam made from Cowgirl Creamery's delightfully stinky Red Hawk cheese. Stink, fermentation, and forests. A fall dream!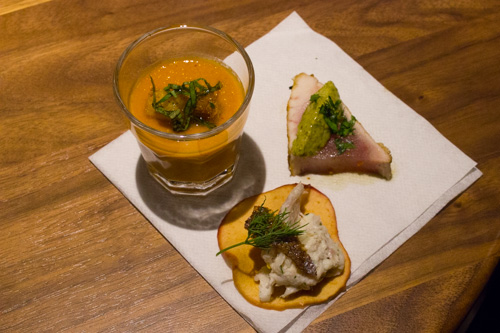 An array of snacks here, from Imperial. These were from the "pre-funk happy hour," event. The tuna with padron pepper sauce was the most impressive of the bunch, but all were good, and between this and the breakfast they hosted the next morning, I am now a big fan of the restaurant. How can I resist a place providing me frybread and eggs in spicy tomato curry at eight in the morning? I can't, is the answer. I can't.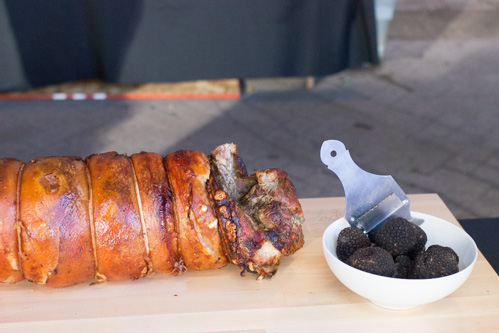 To be honest, I wasn't that enamored of the sandwich that resulted from the display above, but I had to include it because it was just so tempting looking. Lardo, another local Portland spot, had this out on display before the Sandwich Invitational started, and I'm pretty sure this is the definition of culinary foreplay (though it did leave me a little high and dry, as they say). A bowl of big, fresh, black truffles, and a rolled up pile of pig with crispy skin. That's my kryptonite. Just seeing it was enough, nevermind if the sandwich wasn't that good.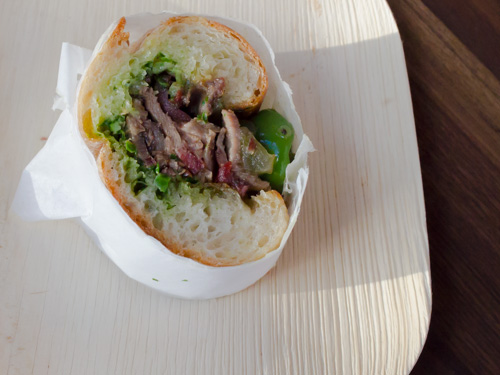 This, on the other hand was the favorite sandwich of both the judges and myself. That green tip on the right side? That's a whole grilled padron pepper. The sliced meat is beef tongue. I was overall pretty disappointed in the sandwiches at the Sandwich Invitational, especially some of the national competitors: overstuffed bologna sandwich from Sean Brock, soggy pancake sandwich from State Bird Provisions, and something that was way too complicated from Paul Qui. Local boys (and girls) made good, though, with Laurelhurst Market turning out this gem.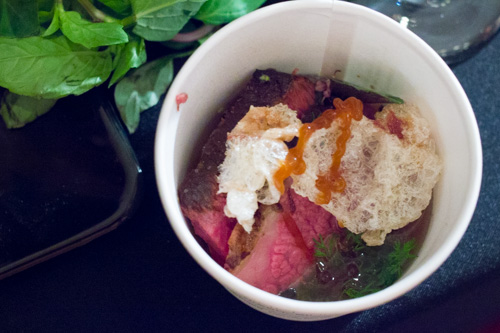 The national chefs had a much better showing at the High Comfort event, where Michael Voltaggio of LA's ink put out something he called pho. I'm not sure it was really pho, perhaps I'd call it "pho-inspired," and I'm not sure his ingredient by ingredient assembly line (resulting in long waits for the dish) was the best idea. But still, if it resulted in this mess of buttery-soft beef, sticky-rich broth, and crunchy beef chicharrones, I'm not going to be the one lodging a complaint.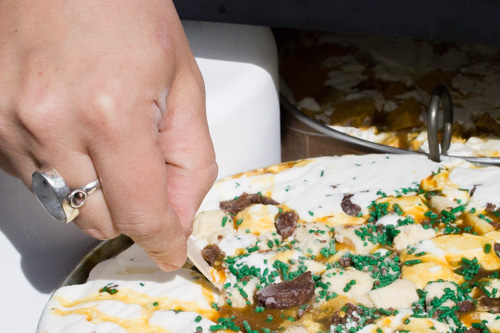 Speaking of Michael Voltaggio, he collaborated (it seems collaboration is a big thing in Portland. The whole thing is like some sort of freaky-deaky chef-driven circle jerk) with Salt & Straw ice cream on this Loaded Baked Potato flavored ice cream. Yup, that's baked potato and sour cream base, loaded with bacon chocolate crumbs, onion juice caramel, and white cheddar cookie dough. And don't forget the sprinkle "scallions." Don't you knock it 'til you've tried it. It is way better than it sounds. Also way better than the Mint Leaves with Sea Urchin Meringues flavor that I had high hopes for (it tasted great, just not much like urchin).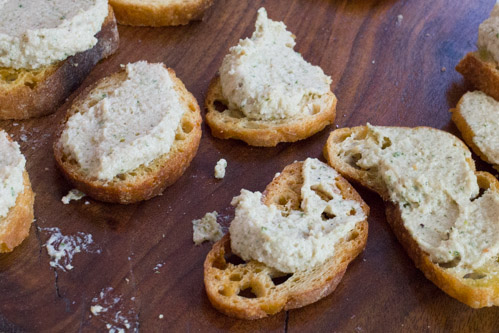 How can you improve on a great cured meat? Whip it with brandy and spread it on toast. I have nothing further than that to say about the Spuma di Mortadella that Olympic Provisions put out at the Grand Tasting. If that isn't tempting enough for you, I may need to reconsider our friendship.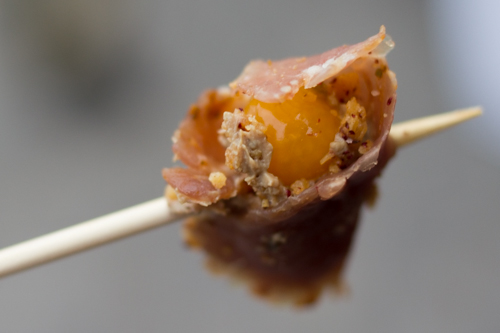 And then we're back to the Night Market. When I first went by Philadelphia restaurant Zahav's booth, this was how they were serving up the air-cured beef, a salty strip, wrapped around the fluffy liver mousse. Later (you can see it if you look at my Serious Eats post), they served it flat. But there was something mysterious and wonderful about the unexpected pillow of soft mousse and crispy gribenes, with a pop from the pickled vegetable. However, both ways were amazing. Yes, I double checked. That's the kind of research I do for you, darling readers. You can thank me later. With ice cream.
Sooooo, I'll see you there next year?