I'd say that the reason my 2013 wrap-up isn't coming out until mid-March of 2014 is because I had a food hangover, but that's not true. Hangover connotes sick, ugly, gross feelings, and I have quite the opposite. Instead, I've retained glee, a glow, and an excitement about what more is to come. 2013 was a year of amazing eating: I visited four countries and six states, and feel that I can confidently declare I ate the best of all of them. But what were the best things that I ate, the best restaurants I went to, the best dining innovations I found? I have the answers for you.
Best Place Setting: Barley Swine (Austin, TX)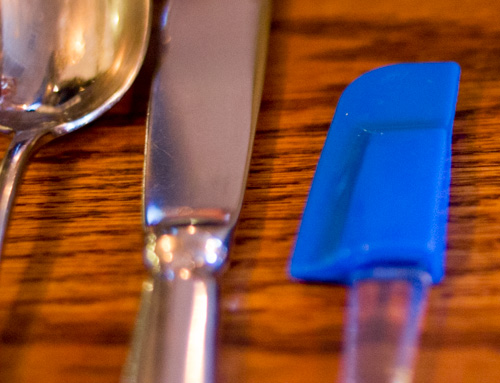 You know how you get to the bottom of a saucy dish and the last little bits of liquid are dancing around the bottom of the bowl, taunting you, "Nanny-nanny-boo-boo you can't get me," and you think, why don't I have the right tool for this job? As you futilely scrape metal against stoneware? Well, Barley Swine in Austin, Texas has solved this problem by including a mini spatula with the place settings for such dishes. My only question when this arrived was "How has nobody thought of this before?"

Best Cocktail: ChefSteps (Seattle, WA)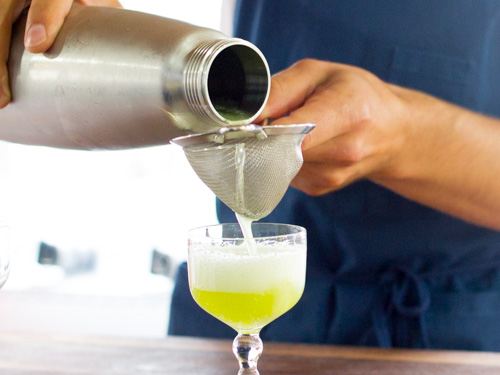 It was about a thousand degrees the day I went on camera for the Good Taste Tour with GM, and I had Spanx and a fancy dress on, praying I wouldn't sweat through my clothes. We pulled up at the first stop, ChefSteps' culinary lab at the Pike Place Market, and were immediately handed the Carbonated Celery Gimlet. It was as if the skies parted, and instead of angels singing, they were just blowing cool, angelic air all over us. Celery-tinted, gin-scented air. I was inspired to go back for more of a cocktail lesson (not only for selfish reasons, like wanting to learn how to make it at home), and had another one, this time at 9am on a reasonably-temperatured day, and it was just as good.
Best Surf and Turf: Takashi (New York, NY)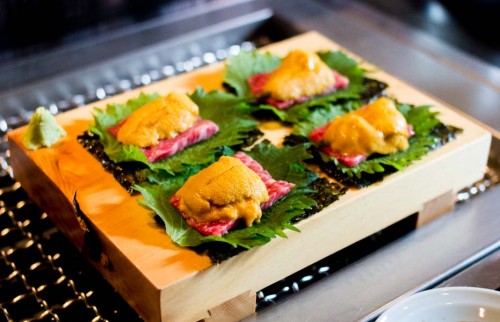 Surf and turf brings to mind heavy-wooded steakhouses, money foolishly spent, and overcooked seafood. But Takashi flipped that on its head, serving the most delicate, entirely raw version. A thin slice of extraordinarily high-quality beef rested on shiso leaf, topped with the creamy dollop of uni (sea urchin roe). It was served, like a piece of sushi, resting on seaweed, with wasabi on the side. A hit of the spicy root made the beef and roe both come alive, forcing the shiso into a rare role of mellowing its dish-mates.

Best Food-Related Experience: Pig Kill (Vashon Island, WA)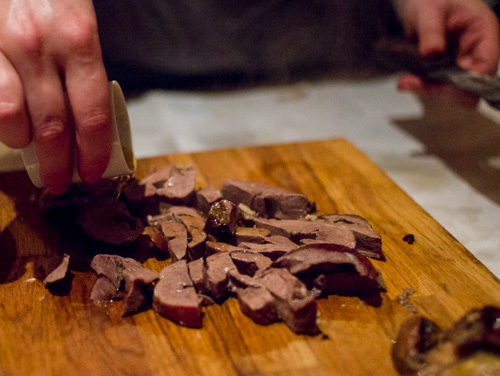 "Oh, also? I signed you up for something," I emailed a friend who was visiting for Thanksgiving. I didn't have the guts (pun intended) to tell her what I'd signed her up for was a day on a backyard farm, helping a butcher friend of mine kill her pigs. We got off on the wrong foot there when we arrived and opened the doors just in time to hear a gunshot and a death squeal. Luckily, after ten hours, two dead pigs, and a lot of hard work by people passionate about how they treat what goes on their plate, we were reminded why we were there, as we sat down to a meal of roasted pig head and grilled pig heart, along with fresh farm veggies.
Best Fancy Meal: Manresa (Los Gatos, CA)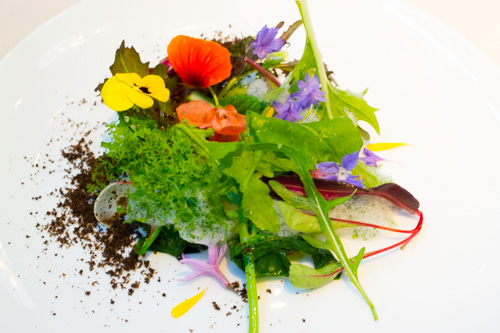 As much as I enjoyed many of my meals in France, my experience at Alinea, and at the French Laundry, Manresa stands out as the best fancy meal I've had in years. It seems odd to say that a restaurant where the service is so heavily choreographed (the waiters practically dancing, their steps so coordinated) had the most personal service of all of these, but it's the truth.  Servers sensed needs, tailored cheeses were, suggested wines, and all the while it felt—whether or not it was the truth—like our enjoyment, not making money, showing off, or sticking to script, was the most important thing. Also, the food was damn good.

Best Salad: Hibiscus Salad at Lu Cocina (Morelia, Mexico)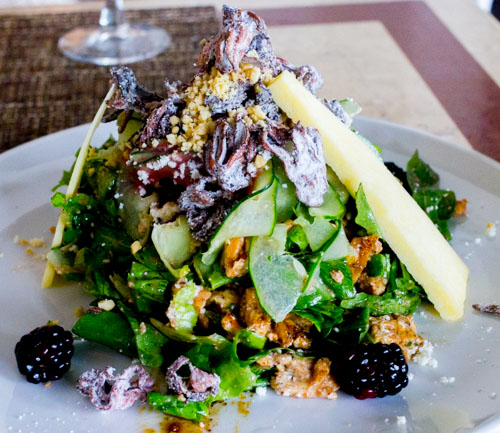 I broke my salad rule. The one that states I'll never suggest it as a meal, the one that states that there's no way it's better than anything else on a menu, not to mention than everything else on the menu—and if it is, is that a place where you want to eat? I broke it because of the Hibiscus Salad at Lu, with its sugar-dusted, crunchy hibiscus flowers; salty, aged cotija cheese; and plump, ripe blackberries, with its backdrop of arugula, toasted nuts, cucumber, and chicken. So I amend my rule: if you're going to eat a salad as a meal, make it this one.