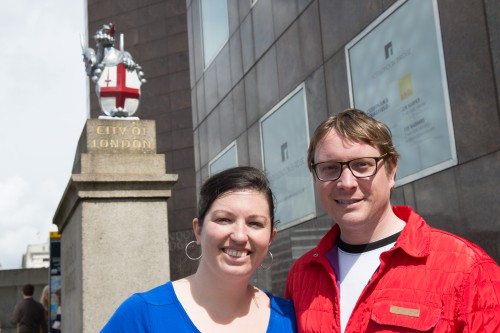 Originally posted on Food Riot, which has since shut down.
There is no time that I'm happier than locating delicious food in foreign cities, exploring cuisines and delicacies that I can't find at home. It doesn't matter if I'm traipsing through the Jamaica neighborhood of Queens for Liberian food or around an actual Caribbean island. The important thing is finding food that changes how I think. Eating in London makes it hard.
I visited London once before, more than a decade ago. Yo! Sushi–Westernized rolls on a conveyor belt—was the height of cool, and we'd saved up. It was our one "splurge" meal on a trip where dinner was generally Stella Artois and crisps from a Tesco. Coming from a place where sushi was less trendy at the time, but suffice it to say, better, it was a big, expensive disappointment. And we couldn't even afford enough sake to drown our sorrows.
The next day in a pub, we ordered cheese sandwiches, and were given dry bread, sprinkled with pre-grated, cold, orange cheese. We hopped the next low-cost airline to Amsterdam, where the french fries were figuratively transcendent, and the brownies literally so.
This trip, it was time for London to redeem itself. When I travel, I look for food that demonstrates something can be fresher, deeper, more intense than I'd ever imagined it to be–the pho in Hanoi versus the (still excellent) pho we get at home in Seattle. I travel for food that I didn't even realize was a food before—the time I accidentally ate donkey breakfast sandwiches in Beijing–followed closely by purposefully eating donkey stir-fry. My trips are in search of food that makes me realize what a special place I am in–as was the case watching an abuelita in small-town Mexico carefully pull out ingredients from her fridge to demonstrate how she makes a pambazo sandwich.
But London, I'm sorry. You didn't do it. I didn't do it. I couldn't find that food. In anticipation of the comments I'm sure to receive: I'm not saying there's no good food in London (in fact, we did find some). I'm simply saying that, from my travels—Paris, New York, Quito, Beijing, you name it—it was the hardest to find what I wanted in London: heart-breakingly good, totally mind-spinning, incredible food.
I found glimpses of it–I know it's out there. In my "There's no way it can live up to the hype" category, I was still wowed by Beigel Bake's hot salt beef sandwich. The langoustine from the Clove Club (recently named number 87 on the World's Best Restaurants list) was fresh and tender. It's a sea creature that it's difficult to find at all on my side of the pond (and certainly not fresh), so such a simple, bright preparation was easy to swallow (the single animal, about the size of a crawfish for nearly $50 was more difficult). Lahore Kebab House redeemed an earlier experience at a place that, while highly recommended, I took to calling "The Cheesecake Factory of London Indian Food."
Anyone who knows London will notice these are all in one area. I did leave the area, I promise. I ate at St. John, I went to Borough Market, I went to Nopi. I ate good things. But I didn't eat great things. I did have trouble getting there. I speak the language, and yet getting on the tube from one place to another continually proved more difficult than it was in Beijing, where things worked with amazing efficiency. Getting a cab is no better solution–unless one is made of money.
In the "Cheesecake Factory," I maligned our bad luck, our miscalculations. I know there's better food in London. Where is the Flushing to London's Manhattan, the San Gabriel Valley to its LA, the Richmond to its Vancouver? I didn't have the time to find out. Instead, I left London disappointed. Disappointed in myself for not ferreting out better places. Disappointed in London for not serving them to me on a silver platter. And mostly disappointed that I didn't discover Lahore Kebab House until our final night, because I very well could have eaten there ten more times.