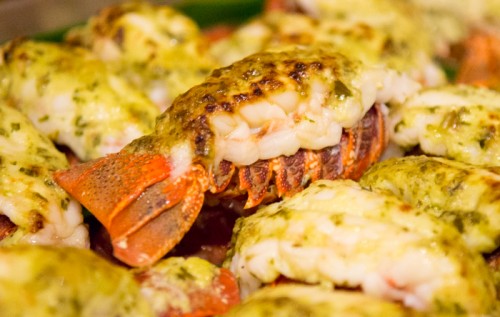 As one of the only places in the United States where raw fish is considered a completely normal breakfast, Hawaii is one of my favorite places to eat in the country. So obviously, when the Kauai Visitors Bureau invited me down to find the best bites on Kauai, I wasn't about to say no to a free trip to the land of Spam musubi (don't even try to challenge me on the tastiness of canned lunch meat wrapped in seaweed, over rice) and tropical fruits. As the rain starts to fall and drizzle and pour here in Seattle, there is no better time to start dreaming of island cuisine.
Best Bites on Kauai–Breakfast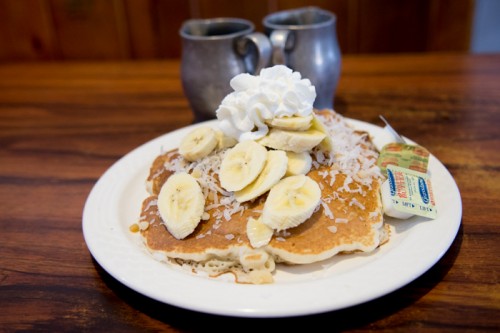 Nothing on Kauai escapes the filter of island life, from the local apple bananas (it's the type of banana, no apples involved) on diner-style pancakes at the Ono Family Restaurant to the ones in the special Hawaii-only banana pies at McDonald's. I tried only one of those two. Guess which one.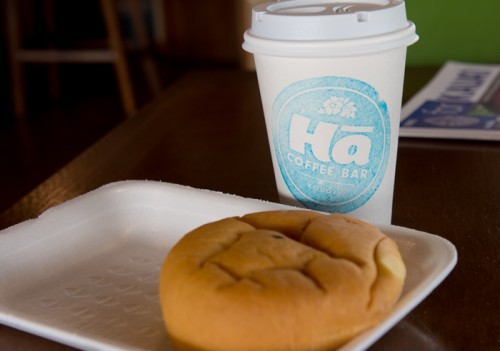 Coffee during the work day is slurped down in a hurry, if it's good, that's great, but if it's bad, it's still hot and caffeinated. Coffee on a trip is a long, slow treat to be lingered over. Ha Coffee Bar in Lihue serves the kind of coffee you want to linger over. My cup was full of pour over drip from Ka'u (which is an area of the Big Island where I'd visited a coffee farm a few years before). They had a variety of other options, including a few from the Kauai Coffee Company, which I visited the previous day. If you're a complete coffee nerd (hi!) KCC won't do much for you, but if you're driving by and interested in learning a bit–and trying about different 20 coffees–it's worth a stop.
I didn't make it to the Kauai Juice Company's own shop in Kapa'a on the eastern side of the island, but as part of the Kauai Culinary Tour the the Visitor's Bureau arranged for me, we stopped in at Merriman's Fish House and they served us the most refreshing glass of juice–then told us it came from the Kauai Juice Company.
I warned you that one of the greatest things about Hawaii is that raw fish is a totally acceptable breakfast, so you shouldn't be surprised that the seasoned idako–marinated baby octopus–that I found at Ishihara Market in Waimea was one of my favorite breakfasts. The market is worth a stop, even if you're not ready for raw fish, for all sorts of local snacks, bento boxes, souvenirs, and any groceries you might need for the trip. If you're on the other side of the island, I also found good poke at Pono Market in Kapa'a and Ara's Sakana-Ya in Lihue.
Best Bites on Kauai–Lunch/Dinner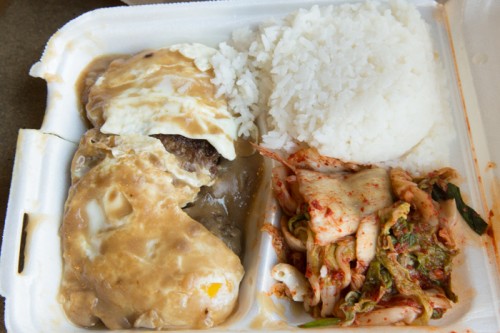 The loco moco from Garden Island Barbecue from the Chinese/Hawaiian restaurant in Lihue is not much to look at, and definitely not after it survived my grabbing this to-go on my way to the airport. I'm not sure if I was more excited that the gravy didn't get it stopped at security or just how dang good that gravy was once I finally opened it on the plane. And then there was the kim chee revelation: I know it goes against the traditions of Hawaii, but the fact is, I'm not a huge macaroni salad fan. So I love that Garden Island let's you pick kim chee in place of mac salad on their plate lunches. In fact, with the thick, rich gravy poured over the hamburger patty and eggs that make up a loco moco, kim chee was just what was needed to balance the plate.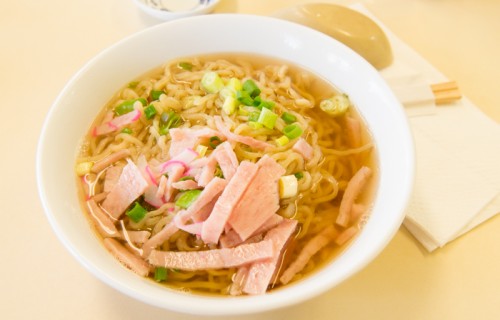 I also need to unequivocally, no holds barred, tell you that you must get to Hamura Saimin when you're on the island. When a place is as recommended as it was to me, followed with "proof" like its James Beard award, I'm usually pretty wary. It's not that I don't trust people, but by the time something is that popular, I expect nothing but Guy Fieri wanna-bes and food that long since ceased to be as awesome as it once was. Thankfully, that was not the case when I slipped into a seat at the table that snakes around the room. Instead, the saimin (Hawaiian-style ramen) was calming. "Relax," it told me with its clear, salty broth. "We know what we're doing," it said with the chewiness of the noodles. "Don't take yourself so damn seriously," it finished with the sprinkling of lunchmeat-style pork. Nobody in the room seemed to look up from their own noodles and sticks of barbecued meat much, but I did catch the eye of a local to get him to pass the home-made hot sauce (chiles in vinegar). He nodded approvingly, then said something I didn't catch as I poured it into my bowl. I poured in some more. Whatever it was he said, his enthusiastic grunt after my second pour leads me to believe it was "you'll want more of that."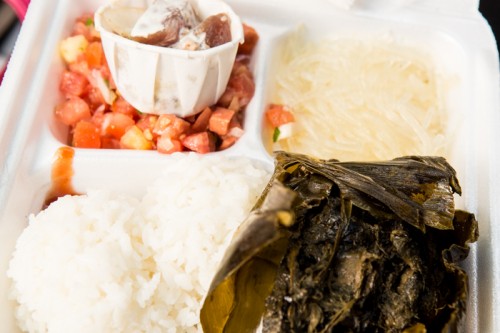 Yes, I'm going to recommend you go to a fish market and by pork. Koloa Fish Market in Koloa town does sell fish, and you can get a fine poke there, but their plate lunches are everything a Hawaiian plate lunch could ever want to be. The lau lau (pork stuffed with vegetables and a bit of fish, then wrapped in taro leaves) was juicy and tasted like the islands. The lomi lomi salmon, like a salmon salsa is as fresh as that pork is cooked. The combo plate is like a greatest hits of local food–a little ahi poke (in the cup), the lomi lomi salmon, chicken long rice (the clear, noodle type stuff in the upper right corner), the lau lau and rice. Also, there's enough food for a family of four on this plate, which is as typically Hawaiian as it gets.
Best Bites on Kauai–Dessert and other Miscellaneous Snacks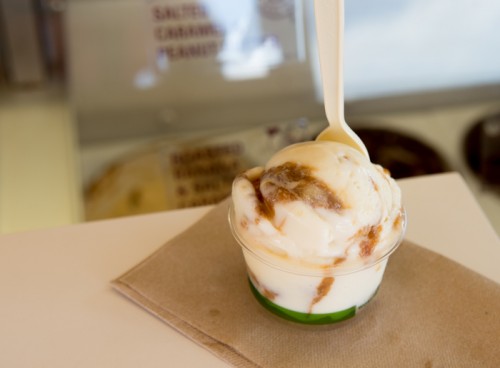 Lappert's Hawaii now has locations around the islands, but when you're on Kauai, you can visit the original location in Hanapepe for a scoop of roasted banana salted caramel ice cream. The local bananas are roasted with brown sugar, which basically increases the caramelization exponentially–and then salted caramel caramel comes into play. The local ingredients–bananas and sea salt–are what makes the flavor, but it's Lappert's creamy, small-batch base that makes the texture.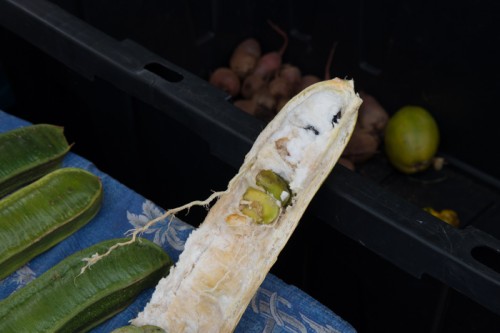 What the hell is this? That's what I was wondering, too, when I saw it at the Kauai Culinary Market. I was there as part of a Tasting Kauai Tour, again, thanks to the visitor's bureau, and we spotted this, in among the cherimoyas, guavas, and various other tropical treasures. It's called an ice cream bean, and that white fluffy stuff is what you actually eat. I'm not sure it tastes as good as its namesake (definitely doesn't compete with the Lappert's above here), but it was like a slightly acidic cotton candy.
Another find from the same market was the Monkeypod Jam lilikoi curd. It tastes like sunshine. Sunshine with the texture of cake frosting. Could the world get any better? Not only did I buy a jar after sampling at the market, I got home, panicked that my jar would run out soon, and sprung for the pricey shipping to get more to my house in Seattle. Since the shipping was $15 for up to six jars, I clearly had to get enough to last me a long time. Right?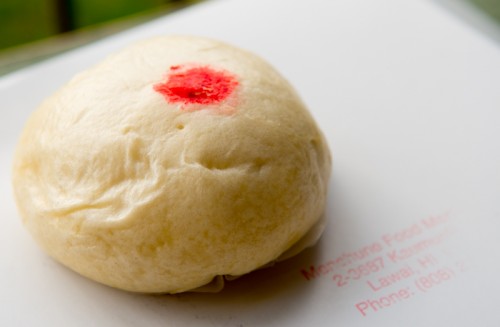 I'd gotten a tip that there was some good stuff at the Lawai Menehune Food Mart, and also that it was "sort of like a 7-11." I disagree, only because what came to mind after shopping there was the old AM/PM slogan, "too much good stuff." I left the market with malasadas (like doughnut holes), butter mochi, peanut butter mochi, an ensemada (which is like a cinnamon roll, only instead of goopy cinnamon, there's butter), their famous manju (crumbly pastry filled with red bean and other flavors) and this manapua. Like a Chinese char siu bao, it's a steamed bun stuffed with barbecued pork. It's also the type of thing that it's hard to define what makes a really good one until you realize it's become the version to which you compare all other manapua. That is this one. And so far, none have managed to come close to how good it was.