Bang, bang. Biang.
Do you hear that? It's the sound of of handmade noodles. They're knocking on your door, telling you to get off your lazy butt. That they're as easy to make as they are get at a restaurant—and that's only an option if you live in one of the few parts of the world where there is a Shaanxi restaurant.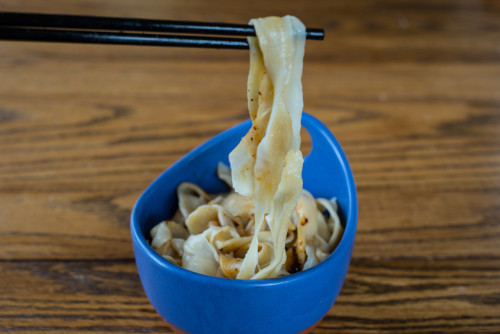 Biang.
That's the sound of your jaw hitting the floor. Give me an hour, and I'll give you the best bowl of noodles you've ever made at home. The texture alone of these noodles sings a siren song from the province of Shaanxi, broad swaths of bouncy dough, a canvas awaiting an artistic brushstroke of spicy sauce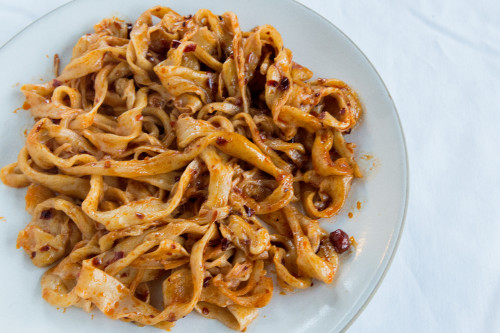 Biang. BIANG.
That's the sound of me hitting my knee on the desk as I crawl under it in embarrassment when I have to admit that I just copped a lot of my recipe from Martha. Danny Bowien went on her show, showed her how to make them. The video and the recipe differ somewhat, and it took me a few tries to find the happy medium between the two and figure out how to make the high-gluten flour required. The magical formula for a noodle that is easier to make than most pastas, that can be made in an evening, that doesn't require strange ingredients.
Biang, biang, biang.
That's the sound of you plodding off to try my recipe.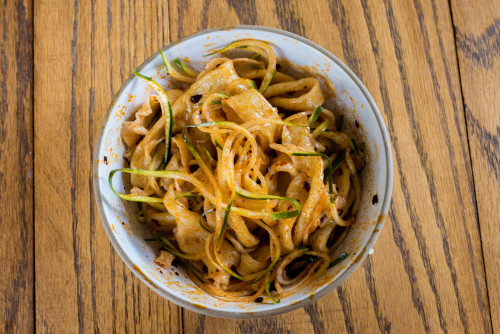 Biang Biang Noodles
Prep time:
Cook time:
Total time:
Ingredients
1 Tbsp Vital Wheat Gluten
1 Cup All-purpose Flour
Salt (a pinch)
9 Tbsp water (it's half a cup plus a tablespoon, if that math is easier. I wish it worked with a rounder number, but, science.)
Oil (as needed, but about .25 of a cup)
Instructions
Mix the dry goods (flour, gluten, salt) in a large bowl (you'll want to add the water right into it).
Slowly add the water, mixing as you go. I recommend doing this mixing with a chopstick, until it gets to a manageable texture, then you can jump in with your hands.
Once the texture becomes like a shaggy ball, cover with plastic wrap--if you use a large piece, you'll be able to reuse as you need it, over and over. If your dough is too dry to become a shaggy ball, slowly add water until it does.
Let it rest for 15 minutes.
Take the ball out and knead it for 5 minutes. As it starts to get smooth, roll it as if you were making a snake out of Play-doh, so it becomes long and thin, then double it over and repeat until you're done kneading, let it stay a snake.
Split your snake into 8 pieces.
Roll each of the eight pieces into a ball, then press it flat and coat with oil.
Go back to each dough ball and press it flat, then pull it so that it stretches and flattens.
Cover dough with plastic and let stand for 15 minutes.
Uncover the dough, and give it another stretch in the same manner--they'll be much stretchier now.
Cover and let stand 15 more minutes. This is a good time to put a large pot of (salted, if you'd like) water on to boil.
Uncover the dough, pull it a little to stretch, and begin "biang"-ing.
To bang the noodles, hold each end of the dough between your thumb and forefinger, and stretch it until it starts to resist, then throw the center down against your rolling surface, with the motion you might use to shake sand off a beach towel, but with your thumbs pointing toward each other, not out. You'll likely bang each noodle 2-3 times before it gets as wide as you can handle.
Once you're done banging, go to one end of the noodle and split it long-wise until almost the end. The noodle will start to tear itself, and soon you'll have one very long noodle. Put it aside and repeat the banging process with the other 7 dough strips.
Boil the noodles for about 2 minutes. They'll float when they're done.
Dress the noodles as you wish. I tend to be okay with just a dollop of Lao Gan Ma hot sauce or XO sauce.
MATH SIDE NOTE:
You want your flour to have about 15% protein. So you need to look on the back of your flour and see how many grams of protein you have per gram of flour. Then you need to look on the vital wheat gluten and see how many grams of protein you have in that. Then you have to do math to figure out how to make that 15%.
If the last bang I hear is you smacking me in the head because I've asked you to do math to make this, just use King Arthur all-purpose flour. That's what I used to make these calculations. You can try with a different flour without calculating, but the first time I did that, it resulted in floppy noodles. Ewwww, floppy noodles. Aside from not having the trademark chew, they were hard to get a satisfying "whomp" of biang noise from when I made them.
With King Arthur AP, it had 4 grams of protein for 34 grams of flour (11.8%) and the Bob's Red Mill vital wheat gluten had 23 grams of protein in 30 grams (76.7%). 1 Cup is about 128 grams of flour, which has about 15 grams of protein—and needs about 20 to be at 15%. A tablespoon of wheat gluten weighs about eight grams, which is a little more than 6 grams of protein, which is just what you need. I'd love to pretend that I set up some amazing algebra equation to get to 15% total, but I'm fairly certain, looking back at the maze of numbers on my recipe notes, that I did some rough estimating, then rounded to the nearest tablespoon, then went, HEY GUESS WHAT, IT WORKS. Ummm, this is why I'm a writer, not a mathematician.